"We have found that welfare reforms play a huge part in this," Reverend Alan Dickinson from the North Tyneside food bank told 60 food bank managers and charity workers gathered in a church hall in South Shields yesterday afternoon.
A group of MPs from the all-party parliamentary inquiry into hunger and food poverty listened for two hours as food bank staff described why people in the area around Newcastle were increasingly demanding their help.
The MPs, both Labour and Conservative, making a rare joint excursion from Westminster, were trying to shed light on one of the most contentious issues of the coalition administration: why is it that use of food banks has exploded in the past four years, and how extensive is food poverty across the country?
"People are being asked to survive on less. When you don't have a lot to start with, £5 or £10 a week is a lot to lose," Dickinson said. After opening its doors two years ago in response to local residents calling for help, his organisation is now providing 1,200 meals a week. It is a rapid increase reflected in food banks nationwide, with charities estimating that reliance on handouts has increased by 163% in the last year.
Beneath the grey light from the high church windows (hinting at rain outside), one by one, food bank managers related their frontline experiences, and proffered their own conclusions. "Since welfare reform has come in, we have seen our numbers grow exponentially. The big thing is sanctions," said Alf Dummer, who works at a soup kitchen in Newcastle, referring to the removal of benefits payments as a way of punishing claimants for failing to meet benefits conditions. "Our experience is that people have had to wait months without money."
"We are seeing an awful lot of people who are working come in for food parcels because they have been hit with a big bill," said Graham Wharton from the Salvation Army, explaining that low wages were also a key problem. "We used to be able to call up the benefits office and get them to help with individual cases. That's no longer the case. We have to pick up the fallout from government policies."
Paul Finch, from the Loaves and Fishes food aid project in the ex-mining village of Hetton, Sunderland, said he had also been struck by a rise in delays to benefit payments: "I can't get my head round how people are meant to live on nothing. There are delays for weeks and months." Another volunteer said: "The welfare system appears to have lost its way. The experience of Jobcentres seems to be akin to dealing with the police; what a lot of people need is a lot more support, a lot less stick."
To begin with, it looked as if it might be hard to build up anything substantial from the disparate array of voices giving anecdotal evidence about the causes of food bank use in their area, but gradually a consistent message emerged. Delays in benefits payments and the rising use of sanctions were cited over and over as an emerging problem, forcing people to seek emergency help with food.
The growing use of food banks – the provision of emergency food supplies to people in extreme need – has dogged David Cameron since it became a regular feature of prime minister's question time, about three years ago.
The all-party inquiry was launched by Labour MP Frank Field in February, its objective being to "bring a degree of clarity on the numbers of people who are hungry in Britain," and what the long-term causes of that hunger might be.
The panel consists of two Labour members, Field and South Shields MP Emma Lewell-Buck, and three Conservatives, Sarah Newton, (Truro and Falmouth), John Glen (Salisbury) and Baroness Anne Jenkin. Field co-chairs with the bishop of Truro, Tim Thornton. When they publish their conclusions later this year, it will be a fascinating document to pick through – if only to examine how members from the cross-party group manage to agree on the long-term causes, or if they don't, what elegant solution they find that will allow them to straddle the ideological gulf that divides them on this.
All parties accept that there has been a huge surge in the numbers of people turning to food banks (although the Conservatives have questioned some of the available figures), but there is profound disagreement on the cause of this surge. On the left, the food bank is seen as a scandal, triggered by low wages and the government's welfare reform programme, which, among other things, has effectively ended the crisis payment system, increased council tax payments, and brought in the spare room subsidy – better known as the bedroom tax.
The government line is that the rise in food bank use is merely a reflection of the increased efficiency and availability of these services – it is not poverty that makes people visit food banks, but the fact that they exist. They also point out that growing food bank use is an issue internationally. The Department for Work and Pensions press office points out in an email that "it has also been reported that in Germany approximately 1.5 million people are using food banks each month".
Field called on the government to investigate this phenomenon 18 months ago, but launched an independent inquiry when it became clear that this was not going to happen, prompted by his unease at the spread of food banks.
"I found it shocking that in a country with our overall national income people need food banks," he said. "But we need to get beyond the shock and awe to understand what is happening." He describes the food banks as a "barium meal in an x-ray, really showing up the weaknesses in our society".
Earlier, the group examined cans of tinned spaghetti and heard from volunteers sorting donations into emergency parcels in South Tyneside. Standing beneath the store cupboard's "great wall of soup" (all food banks get disproportionate quantities of tinned soup) Jean Burnside, chief executive of the Key Project in South Tyneside, told them: "In 2008, before the financial crisis we gave out 26 food packets, by 2013 this had increased to 339. This year we have given out 222 packs already."
Field asked her how she explained the increase. "Because of austerity. We have got very high unemployment. Benefits … sanctions … I have worked with charities for 30 years and I have never seen it this bad," she said.
He and the other MPs on the panel have already visited Salisbury, Birkenhead and Truro, and held sessions in London. This is the first time Field has taken part in a nationwide fact-finding inquiry in 35 years as an MP – a mark of how rarely politicians get beyond Westminster and their own constituencies.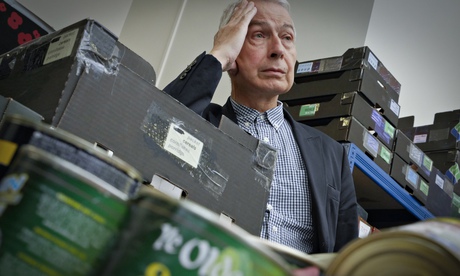 In earlier sessions, they heard from a man whose benefits were sanctioned (ie cut) because he missed a job appointment when he attended his mother's funeral; they were told how a man, who didn't know how to use a computer, found he had been sanctioned because he had not applied for enough jobs online. Families told MPs of their worries about the looming summer holidays, when shopping bills go up, because there's no lunch meal at school.
The group's preliminary research suggests a quarter of people relying on food banks are in work. "If there are so many people in work using food banks, then is there a problem with the minimum wage?" Field asked; the panel is considering whether having a higher minimum wage, set by the employment sector, would help.
They will also "be calling on the DWP to run a system that is not marred by incompetence", Field said.
MP John Glen said he thought the causes went beyond welfare reform and also pointed out, twice, that the numbers of people using them were rising under the last Labour government.
"There are a multitude of causes. The cost of housing, food and electricity are increasing for the poorest in society – which means that the amount of discretionary spend available is getting smaller." The inquiry has released figures showing that these costs have increased at a greater rate than earnings since 2003, with food up by 46.4% and fuel up by 154%, significantly more than earnings, which have risen by 27.9% and overall inflation (up 37.5%).
"I am sick of the way that the debate has become so binary," he said, adding that he hoped the inquiry's work would "take some of the politics out of the food bank debate".
But the politics of this issue will take some quelling. Ed Miliband has repeatedly used the rise of food banks as a key weapon in his cost-of-living offensive against the government, describing their proliferation as a "serious indictment" of the government's values. Meanwhile, Conservative ministers have refused to accept any link between welfare reform and the rise of the food bank.
Cameron no longer hails food banks as a happy example of "big society". (He was chastened on this by Miliband, who told him: "I never thought the big society was about feeding hungry children in Britain"). But in a letter to Field this week, the secretary of state for work and pensions, Iain Duncan Smith, said he "welcomed" the work done by local food bank initiatives.
There has been a concerted effort by ministers to look for reasons that might explain the explosion of food banks other than benefit changes and the recession.
Education secretary Michael Gove suggested that food bank users were themselves to blame, guilty of taking decisions that showed they were "not best able to manage their finances", while Lord Freud, Conservative minister for welfare reform, said food banks were "a free good, and by definition there is an almost infinite demand for a free good". Duncan Smith, accused the Trussell Trust (the largest food bank network) of publicity-seeking and "scaremongering". The charity has grown dramatically in the past four years, and last year gave food parcels to more than 900,000 people, an increase of 163% on the previous year, but the DWP has questioned its figures, suggesting they may inadvertently double-count repeat food bank users. Last year George Osborne suggested food bank use had increased "because people have been made aware of the food bank service through local Jobcentres".
Only the Scottish office minister, David Mundell, has said there "isn't any doubt" that sanctions are responsible for some of the soaring numbers of people in Scotland using food banks.
But among academics and those at the frontline, there is more agreement. In March, a report by the centre-right Policy Exchange thinktank concluded that the coalition's tightening of benefit sanctions – under which jobseekers can lose up to four weeks' of payments for missing an interview – was leaving many dependent on food handouts. The Trussell Trust also points to the fall-out from the government's welfare reform programme, stating that half of all referrals to the food banks last year were the result of benefits delays or changes; 83% of the charity's food banks report that "sanctioning" is causing rising numbers of people to turn to them.
After listening to a morning of evidence, Labour's Lewell-Buck said that she didn't think the search for causes was that complicated. "Every agency was saying they are seeing an increase in benefit delay, that there is no compassion within the DWP any more," she said. She hoped the committee would be able to come to an agreement on the diagnosis of the problem. "There are obviously tensions on the panel, because we are coming from different standpoints. But we are all working to find a good solution."
Field said he wanted to broaden the committee's horizons by also looking at supermarket waste; just 2% of surplus, fit-for-consumption food generated by supermarkets and food manufacturers is redistributed, while 98% is turned into compost or energy or disposed of in landfill. "I genuinely think all of us are learning. It isn't just sanctions, though clearly sanctions don't help, to put it mildly," Field said.
"Something is happening in western societies so that people at the bottom are being kicked. Real wages are being pushed down: partly through technology, partly through globalisation and partly through immigration – so there is a wider group of people who are near the bottom without any cover, and they are wickedly exposed when the first financial shock comes along." He believes that since Labour is unlikely to reverse much of this government's welfare reform programme, this is an issue his party also needs to focus on.
Several volunteers told the panel that they were sorry their organisations were thriving. John Marshall, from the Milton Keynes food bank, said: "We have a welfare state, which is meant to help. We are not a solution to any problem."
Field said this was one of the most difficult challenges. "People say that food banks should not exist, let's just close them. But no one has come up with a proposal for how to close them," he said.