As a potential GP commissioner, I cannot see any substantial changes to the government's NHS plans (Lansley wins over Tory and Lib Dem MPs with reshaped health plans, 15 June). Unfettered privatisation will still go ahead. The government's repetition of carefully chosen words to push their ill-considered ideas in the face of opposition points to a lack of sound, justifiable motive. The harms of privatisation have not been addressed by simply changing what Andrew Lansley says Monitor will focus on. "Promoting collaboration" is another rhetorical fancy like "patient choice", which will mean nothing when the big businesses in privatised healthcare (likely from the US) get their teeth into our health service.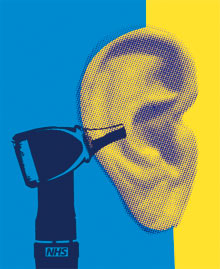 Asking GPs to commission health services with only 75% of a budget and our hands tied is not going to achieve the desired outcome unless said desired outcome is for the government to be able to blame someone else when provision falls apart, and then use that as an excuse to sell hospitals and more GP surgeries.
I don't want to profit from buying shares in the NHS; I want to see the best possible healthcare reach the maximum number of patients as equitably as possible. Rationing is involved and costs will rise as people live longer. There is a mature, public debate to be had about how best to anticipate this. Carving up the NHS and selling it off in pieces is a disgraceful mistake that will come back to haunt not wealthy politicians who have long retired, but the ordinary, the poor, the vulnerable, the increasingly dispossessed, and all of our children.
Dr Nick Mann
GP, Hackney
• The government has now accepted many of the recommendations of the NHS Future Forum. We have heard that doctors are claiming a victory, NHS managers have welcomed it, nurses are happy with the changes and private health firms are unhappy with parts of it. But who is the NHS for? Not GPs, not nurses or private companies, but patients. Where is the patient voice?
And what are patients concerned about? They are concerned that their GPs will be spending so much time with their balance sheet that they will not have time for their patients. They are worried that they cannot hold their healthcare provider to account either financially or clinically, yet now they are to be given even more money to control. And they are worried that patients will not be involved in decision-making and this will be yet another box-ticking exercise.
Nobody is talking about these points. If the patient viewpoint is truly important to these reforms, then the patient voice needs to be not only heard, but heeded.
Katherine Murphy
Chief executive, The Patients Association
• One aspect of the proposed NHS changes seems to have gone unnoticed: what is happening to the "purchaser/provider split"? Over the past 20 years, successive governments have apparently subscribed to the principle that the potentially compromising conflict of interest between the commissioning and providing of care should be minimised by separating the two functions as clearly as possible.
Yet now, if the intention is to do away with it (as seems implicit in plans involving clinicians in commissioning – not only GPs but now those working in secondary, hospital care via representation on consortiums and clinical senates), then surely it should be done as an outcome of informed decision-making.
The recommendations of the Future Forum report are going in the same direction as the bill. As a result, sectional interests, including those of GPs, may conflict with citizens' interests. If ditching the purchaser/provider split were the result of reasoned consideration, this might be acceptable – but it is not. Better to scrap the bill and start again.
Gillian Dalley
London
• According to Steve Field, chair of the NHS Future Forum: "Over 6,700 people have attended listening events with members of the forum, 3,000 comments have been posted on the website, over 25,000 people have emailed us and 600 people have completed a questionnaire."
So, out of an adult population in England and Wales of more than 40 million, just over 35,000 at most have responded to the hand-picked forum's so-called listening exercise. That equates to a response rate of 0.008%. Hardly a ringing endorsement to usher in plans to destroy the NHS.
Dr Mike Squires
London
• Putting GPs in charge, even in the reworded version of the Tory NHS changes, is the fundamental flaw in Lansley's reforms and, like most of the changes he proposed, remains untouched (Report, 14 June). GPs do not have the management skills to run the NHS, they are not accountants and managers, and most have enough problems managing their own practices. How will they control costs in hospitals and elsewhere in the NHS, such as drug costs? And without tackling these aspects, how will these reforms cut costs, which is what this is mostly about?
What will happen when a patient needs treatment for a disease where there are two options: one more expensive than the other? How many GPs, now to be responsible for the budget of the whole NHS in their area, will opt for the expensive one? This is the fundamental flaw at the heart of Lansley's reforms and even I, as a patient, can see how unworkable this will become within days.
David R Reed
London
• Guy's hospital: man in bow tie raises his voice and waves his arms around. David Cameron immediately instructs his entourage to leave the unit, providing clear evidence for the cynics among us that we really do have a listening premier.
Les Bright
Exeter, Devon
• What a truly shocking dog's dinner. The two key changes proposed in the health and social care bill were: commissioning by GPs, not by providers, and certainly not by PCTs, which were to be abolished, too full of nasty bureaucrats; and turning Monitor into a very different beast, an economic regulator. Neither of these changes now are to be pursued.
So, what are we left with? Lots of belated protestations of love for the NHS, health and wellbeing boards, and swaths of demoralised PCT/strategic heatlh authority staff, many of whom have already been paid redundancy sums, only for very similar structures to be resurrected. No white paper was need; no bill was needed. How much has all of this cost, in terms of hard cash, anxiety and huge amounts of wasted time? And the government laments inefficiency…
Dr Jane Roberts
Consultant child and adolescent psychiatrist, London
• If the aim of the ongoing NHS reforms is – as it should to be – the safeguarding and improvement of patient care, this cannot be achieved without also addressing the ongoing crisis in social care. What is needed is a much more integrated health and social care system.
With local authorities cutting social care services, which are often vital for preventing hospital admissions, it would be shortsighted to ignore the knock-on effect these cuts will have on an already stretched NHS. Without urgently needed support, the shortfall in social care provision will quickly undermine improvements to the NHS, leaving patients worse off. Voluntary organisations have an important role to play in providing health and social care to those in need, and the reforms must not squeeze out their skills and expertise.
The pause may be at an end, but we urge the government to continue listening to the experiences of organisations like the British Red Cross who work with some of the most vulnerable people in the country on a daily basis.
George McNamara
Head of public policy, British Red Cross
• I am surprised to see Denis Campbell (Report, 14 June) take such a sanguine view of the government's response to the NHS Future Forum report. Andrew Lansley himself is adamant that his reforms are safe. In particular, GP commissioning goes ahead as planned and privatisation (now "encouraged" rather than "promoted" by Monitor) carries on undiminished. The only real concession appears to be maintaining the responsibilities of the secretary of state for health.
The prime aims of this bill are the dismembering of the NHS and the promotion of private health care. These remain intact. Randeep Ramesh (Report, 14 June) rightly states that "when amendments to the bill and guidance are published, the political fight over the NHS will be resumed".
Dr Kevin O'Kane
Chair, BMA London regional council
• You want Monitor to promote competition (cheapest bid wins) if they think it's in the patient's interests – done. You want clinicians to join GPs in putting put health services out for competitive tendering – done. You want "any qualified provider" to be allowed in whenever they're ready – done. People who say this is a U-turn are wrong. We have "listened" – and you've been "done".
James Kirby
Southsea, Hampshire