Can 'smart thinking' books really give you the edge?
Trust your gut, boost your memory, de-bias your decision making… can we train our brains to perform better?
Steven Poole
21, Aug, 2021 @8:00 AM
The Creativity Code by Marcus du Sautoy – review
A wide-ranging study claims that, whether in mathematics or the arts, computers won't create anything of value unless they acquire consciousness
Jonnie Wolf
12, Mar, 2019 @7:00 AM
Can AI become conscious? Bach, Escher and Gödel's 'strange loops' may have the answer
In 1979, a cult book by Douglas Hofstadter explored consciousness via a mathematical idea found in art and music. Now, in the AI revolution, that concept could solve a vital question
Marcus du Sautoy
09, Mar, 2019 @9:00 AM
Could robots make us better humans?
Machines can already write music and beat us at games like chess and Go. But the rise of artificial intelligence should inspire hope as well as fear, says Marcus du Sautoy
John Harris
05, Mar, 2019 @10:00 AM
Much ado about nothing: ancient Indian text contains earliest zero symbol
Exclusive: one of the greatest conceptual breakthroughs in mathematics has been traced to the Bakhshali manuscript, dating from the 3rd or 4th century
Hannah Devlin Science correspondent
13, Sep, 2017 @11:01 PM
Magic numbers: can maths equations be beautiful?
The concept of beauty underpins how mathematicians solve quantum theory or describe gravity. From E=mc² to string theory, mathematical beauty has led physicists to draw up some of the most compelling descriptions of reality
Ian Sample
21, Nov, 2016 @7:00 AM
'Science will never know it all': Richard Dawkins, Margaret Atwood and others predict the future
As the 2016 London Literature festival begins, this year exploring the theme 'living in future times', science and sci-fi writers share their visions of humanity's future. Interviews by Lucy Peters
Richard Dawkins, Margaret Atwood, Nikesh Shukla, Marcus du Sautoy and others
04, Oct, 2016 @11:50 AM
What We Cannot Know by Marcus du Sautoy review – the seven edges of knowledge
Among the frontiers identified are time, the cosmos, consciousness and God, but aren't swaths of knowledge concerned with meaning rather than scientific fact?
Jonathan Rée
29, Jun, 2016 @6:30 AM
The week in radio: The Life Scientific; From Punk Get Funk; Between the Ears: The Impossible Book
Marcus du Sautoy made us see the world anew with maths, while ex-punk Norman Cook wallowed joyfully in the past
Miranda Sawyer
12, Jun, 2016 @6:00 AM
What We Cannot Know by Marcus du Sautoy – review
The mathematician and broadcaster happily reveals his own confusions in this refreshing study of the limits of human knowledge
Nicola Davis
15, May, 2016 @8:00 AM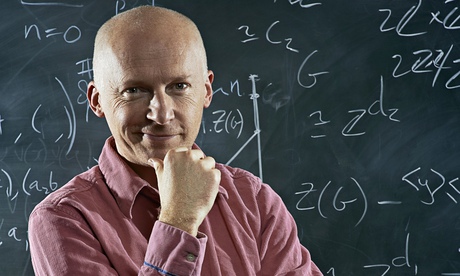 The Secret Rules of Modern Living; Charlie Hebdo: Three Days That Shook Paris review – computers can't explain everything
Professor Du Sautoy is right, algorithms are marvellous – but the really important things in life are beyond computing
Lucy Mangan
25, Sep, 2015 @6:25 AM
Lauren Child: I never know whether writing is more difficult than illustrating
Polly and Faye from Heartlands High School library book group find out about Lauren Child's favourite books, childhood ambitions – and why Marcus du Sautoy writes all the codes in Ruby Redfort. Plus check out the new Ruby Redfort book covers
Polly and Faye from Heartlands High School library groups
18, May, 2015 @7:10 AM