Robin Ince's 24-hour carnival of comics, comets and the Cure
From Harry Hill to Helen Sharman, Ince's Christmas mashup of comedy, science and music – Nine Lessons and Carols for Socially Distanced People – reached dizzy heights
Brian Logan
14, Dec, 2020 @2:53 PM
The vinyl frontier: why do we keep sending music to outer space?
Sónar festival is beaming cutting-edge dance music to an exoplanet 12 light years from Earth. But can such experiments ever be more than hubris?
Michael Hann
21, Nov, 2017 @9:30 AM
'Obviously the threat is there': Chris Hadfield on the danger of asteroid strikes
As June 30th is annouced as Asteroid Day 2017, astronaut Hadfield explains why we should take the possibility of collisions with celestial rocks seriously
Stuart Clark
14, Feb, 2017 @7:00 AM
Starmus festival: enough brains and Brians to fill the multiverse
Brians Cox, Eno and May joined Stephen Hawking and Richard Dawkins in Tenerife to celebrate the synergy between astronomy and music
Andrew Anthony
17, Jul, 2016 @7:00 AM
Back to Earth with a thump: Tim Peake prepares to bid farewell to the ISS
Astronauts Chris Hadfield and Samantha Christoforetti describe the 'wild ride' in the Soyuz capsue and adjustments to life back on Earth that await Tim Peake
Ian Sample Science editor
16, Jun, 2016 @5:32 PM
Chris Hadfield meets Randall Munroe: 'Are we alone in the universe?'
The spaceman and the cartoonist
Chris Hadfield and Randall Munroe
28, Nov, 2015 @8:00 AM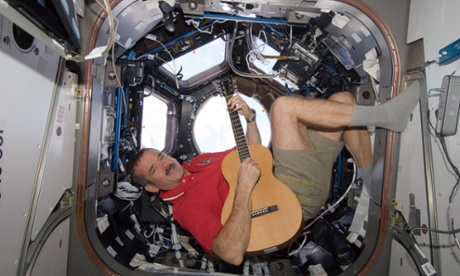 Astronaut Chris Hadfield to release full album
Following his viral cover of David Bowie's Space Oddity, Hadfield plans to release a full album with parts recorded in outer space
Guardian music
15, Apr, 2015 @9:01 AM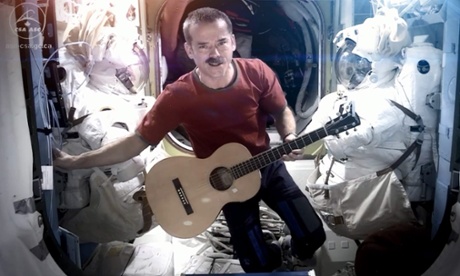 An Astronaut's Guide to Life on Earth by Chris Hadfield – refreshingly grounded space tales
Astronaut Chris Hadfield – famous for his zero-G rendition of Space Oddity aboard the ISS – gives us a personable, very unstarry account of how he made it into space
PD Smith
10, Apr, 2015 @4:15 PM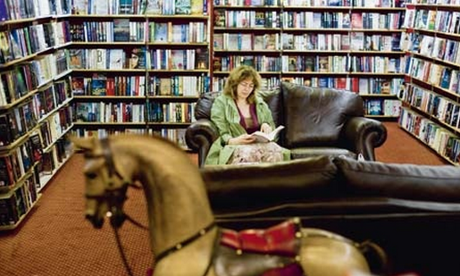 Bestselling books of 2014: did the booksellers get it right?
What effect did Super Thursday have on book sales, and how well did eight leading retailers and pundits fare in predicting the top titles of the year?

Sian Cain
24, Dec, 2014 @11:34 AM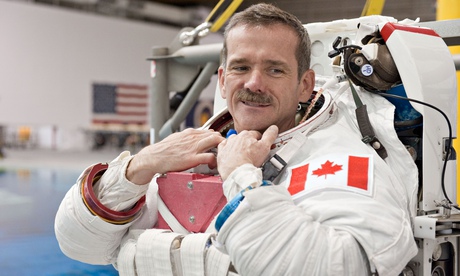 How do astronauts play Scrabble in space? With lots of Velcro
If you lose a piece in the International Space Station you just wait until it turns up in the air filter, writes Chris Hadfield
Chris Hadfield
13, Dec, 2014 @7:00 AM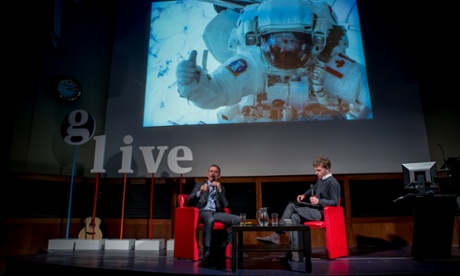 Guardian Live event: Chris Hadfield – space oddities
Guardian Live event: Chris Hadfield on being a rocket man and a lab rat
Joanna Witt
10, Dec, 2014 @12:18 PM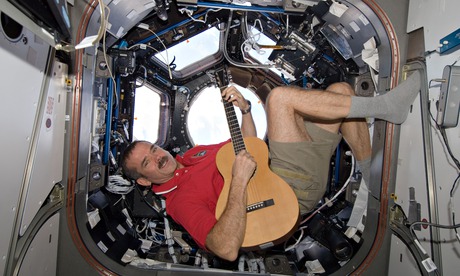 Next giant leap for mankind should be to moon, not Mars, says Chris Hadfield
Astronaut says technology is not good enough for Mars missions and focus should be on permanent lunar base
Nicola Davis
07, Dec, 2014 @9:01 PM