Denmark is sending its first man into space – along with 26 Lego toys to keep him company on the journey.
Andreas Mogensen, a 38-year-old aerospace engineer from Copenhagen, will leave for the International Space Station on 2 September. The specially designed plastic toys joining him will bear the official logo of his mission for the European Space Agency (ESA) and will be given to schoolchildren as a competition prize once the mission is complete.
Mogensen studied aeronautical engineering at Imperial College London before completing a doctorate in aerospace engineering at the University of Texas. He was selected as an astronaut in 2009. Now, he is embarking on a 10-day trip to the ISS as part of the Iriss mission to test new technology and take photos of thunderstorms and lightning – nicknamed project Thor.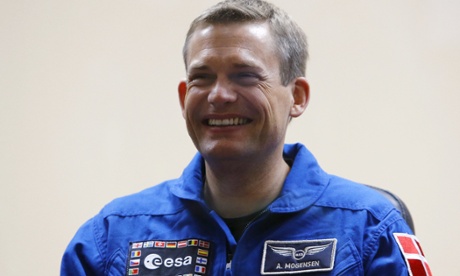 "It's a great honour for me to represent Denmark as an astronaut," Mogensen told fans on an ESA hangout before going into pre-launch lockdown. "It's difficult for me to imagine what it's going to be like … It's not until I'm strapped in the seat and feel the rocket lighting that I'll feel: 'Woah, this is really happening!'"

Mogensen was keen to take a few more reminders of home with him, including Danish flags, a classic rye-bread porridge and a text by Danish philosopher Søren Kierkegaard.
Prof Niels Jørgen Cappelørn, from Copenhagen University, recommended Kierkegaard's classic The Lily of the Field and the Bird of Air, telling the Guardian: "It's all about silence, obedience and joy – something I thought would be an inspiration in space – and an important theme in these texts is passion, which you need to be an astronaut."
Watch Mogensen being launched into space on 2 September at 6.38am (0438 GMT).
Editor's note on 18 February 2022: The author of this article is married to an employee at Lego.