A book for the beach: The Snack Thief by Andrea Camilleri
Tim Maby: Wily but decent, this detective is more concerned with the human characters around him than simple crime-solving
Tim Maby
10, Aug, 2014 @2:00 PM

Notwithstanding by Louis de Bernières: pleasures of the parish pump
From rambunctious nuns to soft-hearted military men, eccentric characters save these stories of village life in rural England from tweeness, writes Tim Maby
Tim Maby
22, Dec, 2013 @10:00 AM

Amazon should shelve the reading recommendations
Tim Maby: Irrelevant, ill-judged and unwelcome, I could do without the online giant's advice on my next book purchase
Tim Maby
28, Oct, 2013 @12:09 PM
Guardian Books podcast: Rebecca Miller and Wu Ming rewrite history
Rebecca Miller investigates the history of Judaism, Jonathan Grimwood imagines the origins of fine taste and Wu Ming visit with another novel with a sideways slant on the 16th century
Claire Armitstead , Lindesay Irvine and Tim Maby
19, Jul, 2013 @12:46 PM

Guardian Books podcast: London Book Fair and Granta's Best Young Novelists
Claire Armitstead tours this year's London Book Fair to find what's selling and what is on its way, and we look at Granta's list of the Best Young British Novelists
Presented by Claire Armitstead with Lindesay Irvine and produced by Tim Maby
19, Apr, 2013 @1:14 PM

Guardian Books podcast: Literature on the couch
We examine what makes us who we are, with Andrew Solomon, Greg Bellow and Stephen Grosz
Presented by Claire Armitstead with Lindesay Irvine and produced by Tim Maby
22, Mar, 2013 @4:15 PM

Old music: Bob Dylan – Blowin' in the Wind
How many roads must a man walk down, before he hails a cab? Bob Dylan could never answer that
Tim Maby
13, Jun, 2012 @10:16 AM

Olympic torch relay - get on track!
The Olympic torch is travelling more than 8,000 miles over 70 days through 1,000-plus communities carried by 8,000 runners, not just on foot but by train and plane, bus and balloon, even by zip-wire. Don't let it pass you by - get on track with our fast and furious facts and figures. Quick!
Graphics: Christine Oliver, Voice: Tim Maby
28, May, 2012 @3:25 PM

Guardian Books podcast: Andrew Miller wins Costa book of the year
Andrew Miller reads from and discusses his novel Pure, which has won this year's Costa book of the year prize, and we listen in to last night's award ceremony
Presented by Claire Armitstead with Lindesay Irvine and produced by Tim Maby
25, Jan, 2012 @12:11 PM
Old Music: The Incredible String Band – The Hedgehog Song
Tim Maby: The psych-folk pioneers stand as a reminder of a period of incredible creativity in British music
Tim Maby
13, Jan, 2012 @12:55 PM
Teaching Carol Ann Duffy's poem at GCSE is risky
Tim Maby: Carol Ann Duffy's poem is deeply evocative of the mindset of violent young men. Teaching it at GCSE is risky
Tim Maby
05, Sep, 2008 @9:00 AM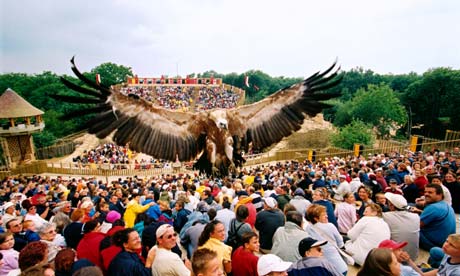 French theatricals
Tim Maby and family visit an unusual theme park in north-west France, where they find no rides or rollercoasters but live battles, fireworks and beautiful scenery.
Tim Maby
20, Aug, 2007 @11:42 AM