My winter of love: It was our first holiday together. Could we find romance in a squalid caravan?
My snowy getaway with a new boyfriend was full of promise – until we arrived at a place unencumbered with luxuries such as heat, lighting or a chemical toilet
Elisabeth Mahoney
25, Dec, 2021 @6:00 AM
'When you work from the heart, it's effortless': the lockdown bakers who turned professional
As the world closed down last year, many people began tending sourdough starters and baking. For some, it became more than a pastime

Elisabeth Mahoney
22, Feb, 2021 @11:30 AM
'I get a buzz every day' – how to turn your foodie passion into a business
Food entrepreneurs on the ecstasy of following their culinary dreams - and the 16-hour days necessary to be successful
Elisabeth Mahoney
25, Apr, 2019 @10:00 AM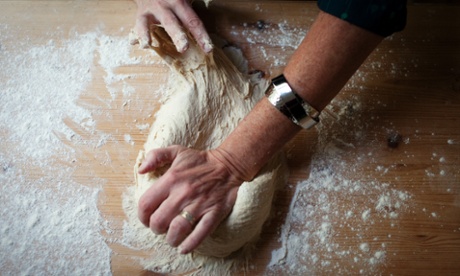 Bake a difference
Still searching for the recipe for happiness? How about flour, water and yeast?
Elisabeth Mahoney
26, Feb, 2015 @6:00 AM

Mishal Husain's debut on the Today programme – radio review
Elisabeth Mahoney: She made presenting the show sound easy, which it isn't, and her items quietly underlined the significance of her appointment
Elisabeth Mahoney
07, Oct, 2013 @11:10 AM

Lessons in loaves from a local baker | Meet the producer
Meet the producer: the founder of the ultra-local One Mile Bakery, Elisabeth Mahoney, shares a speedy recipe for savoury bread
Elisabeth Mahoney
09, Feb, 2013 @7:01 AM

A week in radio: BBC Radio at 90
This collection of radio moments from the past 90 years is a gem of an archive to explore, writes Elisabeth Mahoney
Elisabeth Mahoney
15, Nov, 2012 @8:00 PM

Damon Albarn's barmy composition a fitting birthday tribute to BBC Radio
Audience of millions share 90th birthday to sounds of Big Ben, skylarks singing and Bertrand Russell in Morse Code
Elisabeth Mahoney
14, Nov, 2012 @7:59 PM

A week in radio – Petula Clark: In My Own Words
Why Clark isn't a Dame is a mystery after hearing this excellent documentary
Elisabeth Mahoney
08, Nov, 2012 @8:00 PM

Danny Baker and the wound-up radio stars | Elisabeth Mahoney
Elisabeth Mahoney: Baker, like all radio greats, can create a unique world from the studio. No wonder he lashed out when it came under attack
Elisabeth Mahoney
04, Nov, 2012 @9:30 PM

A week in radio: Lou Reed's New York Shuffle
Elisabeth Mahoney enjoys a properly eclectic selection of tunes, inspired by the passions of two drawling hosts
Elisabeth Mahoney
01, Nov, 2012 @8:00 PM

A week in radio: Janice Long
Radio 2 should celebrate Janice Long's 30 years of national broadcasting by giving her a bigger show, writes Elisabeth Mahoney
Elisabeth Mahoney
25, Oct, 2012 @7:00 PM