Nigel Farage says he is astounded by footage that appears to show an aide of a Ukip parliamentary candidate requesting a falsified receipt for more than £3,000 in order to claim it as official EU expenses.
The Ukip leader told LBC on Friday that the political future of Janice Atkinson, who is an MEP and the party's prospective parliamentary candidate for Folkestone and Hythe, hung in the balance after a sting by the Sun newspaper.
Atkinson was immediately suspended by the party and would face a disciplinary meeting on Monday, Farage said.
Atkinson's claim allegedly related to a lunch costing £950 attended by a number of senior Ukip figures during the party's spring conference in Margate. The Sun said it had filmed a member of Atkinson's staff (paywall) asking for and accepting an invoice for £3,150 at the restaurant the next day.
The newspaper said this would have allowed Atkinson's office to claim the higher total on expenses from a group funded by the European parliament to boost Ukip's finances. The Sun said it had passed on details of the incident to Kent police.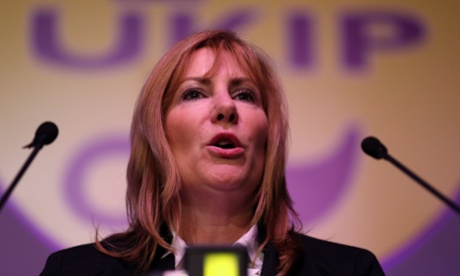 Atkinson has not responded to repeated requests for comment.
Farage said: "I was deeply shocked when I saw it. One of the most incredibly stupid and dishonest things I have ever seen in my life.
"It was a member of staff, as you rightly say. What exactly the relationship between that member of staff asking for a false bill and Janice Atkinson is, I don't know."

Farage said he spoke to Atkinson in the early hours of Friday, but did not yet understand what happened and would wait for the inquiry to conclude.

"It was gone midnight, she was in bed. I said: 'What on earth is going on, what is this?' and she said there was confusion, there was a mess-up; I didn't get a clear answer. We will wait for the inquiry. On the evidence of what we have seen, it does not look very good."
He said the disciplinary hearing would be chaired by a member of the legal profession.

A senior Ukip source said the party was "absolutely aghast" at what is alleged to have happened, especially given it was just 48 days away from the general election. The source said it was possible that Diane James, the Ukip MEP who recently stood down as a candidate for family reasons, could be drafted back in to stand in Folkestone, which is considered an important seat for the party.
Atkinson has previously been forced to apologise for referring to a Thai constituent as a "ting-tong". Farage stood by her on that occasion, saying it was a mistake and apologising to the constituent, Fa Munday, in person.
Atkinson played a high-profile role in the Margate spring conference, giving a speech in which she railed against "Guardianista feministas". She also told the audience she believed she would beat the Conservative MP Damian Collins, who holds a majority of around 10,000.
The decision to withdraw the whip from Atkinson comes less than two months after Ukip suspended Amjad Bashir, also an MEP, over financial matters just before he defected to the Conservative party. He denied any wrongdoing.