Shukrije Sahiti did not expect her baby to survive. She was eight months pregnant, perched on a tractor bumping across Kosovo in the middle of the night in the pouring rain, with no idea where or when her family would find shelter. How could a child come into the world amid such misery, to a mother so paralysed with terror?
It was the end of March 1999, when hundreds of thousands of Kosovan Albanians were being forced from their homes and herded towards the borders. Serbian troops were wiping out entire villages, with the aim of crushing an armed separatist movement, the Kosovo Liberation Army (KLA), in the Albanian-majority province.
The Sahitis fled in a hurry under gunfire, taking whatever they could throw on to the tractor. They pulled their car behind them as a fallback. Shukrije held on to her five-year-old daughter while her husband drove. Together, they were a speck in the human tide flowing south.
"We were on the road all day and all night – it rained and rained," she says. "As we went by, we saw along the way houses burning and dead bodies in the road. When we saw all that, we thought we would never survive."
Shukrije had three sisters, and none of them survived that awful, rain-soaked exodus. The youngest, just 19, was separated from her family by Serbian paramilitaries, who corralled the refugee columns like cowboys herding cattle. It is never quite clear how she died, but her body was found near the town of Peja. Shukrije's second youngest sister was in a refugee camp in Albania when the news reached her. Her family say that, after hearing of her little sister's death, she collapsed and never regained consciousness.
Shukrije's elder sister was diabetic and in a wheelchair even before the war started. She survived the trip to the Albanian border, but then the army ordered the refugee column she was travelling in to turn back, perhaps with the intention of using them as human shields. After many more days on the road, she returned to her home village, which had been torched. She died there.
By the time Shukrije crossed the border with her family at the beginning of May, she was utterly bereft, the last of four sisters, and due to give birth. They finally came to rest outside an Italian military camp near a coastal town called Kavaje. The carabinieri there took her in, and as she approached her due date, they had a helicopter on standby to take her to Italy for a caesarean if necessary. But on 18 May 1999, her waters finally broke and she was taken to the Italian clinic to give birth.
It happened to be a particularly busy day at the camp. Most of the Italian brass were out to meet a VIP visitor. Tony Blair was visiting the Nato forces and the refugee camps, where he was mobbed as a saviour. The Kosovan Albanian refugees who spent their nights huddled around radios knew the British prime minister was pushing harder than any other western leader for decisive Nato intervention to drive back Serbian forces. They chanted, "Nato! Nato!" when they saw him. And when he addressed them, promising they would be returning to their homes, the cheers could be heard in the tent where Shukrije was giving birth to a healthy, 4.2kg boy.
"It seemed like a miracle," her husband says. The Italian medics looked to the new father for a name and he had no hesitation: the baby would be named in honour of the celebrated visitor, with Albanian spelling – he would be called Tonibler.
Fifteen years on, Tonibler Sahiti is doing well at school and likes fixing electronic gear in his spare time; he would like to design websites. "I feel very good when people call my name," he says. "I would like to achieve something like prime minister Blair did. To save people from wars."
Just as Blair promised, the people of Kosovo did go home. Tonibler is growing up in peace in the family village. His father has built a new two-storey home near the site of their old house, with meticulous stonework behind the hearth. There are apple, pear and cherry trees in the garden. If you wanted to conjure up a scene to convey a vision of peace, it would be hard to do better.
As the tale of the long trek into Albania is recounted, Tonibler's grandfather, Brahim, sits in a chair in the corner, his eyes watering under his black beret. When he speaks, his voice trembles: "If Nato hadn't intervened, none of us would be here," he cries. "People were put in basements and executed. Nato came and that's why people survived." Of course Brahim approved of the choice of his grandson's name. "How could I not agree? He showed such support to a suffering people."
For the Sahitis, the decision was a personal response to a chance encounter, so they were surprised to discover a decade or so later that their Tonibler is far from the only one.
When Blair visited the Kosovo capital Pristina in July 2010, Tonibler Sahiti was one of the nine boys on stage to greet him. There were two more Toniblers, two Blers and three Tonis, dressed in identical suits and ties donated for the occasion, who all got the chance to introduce themselves to the nation's hero. They were lined up on stage, waving their hands from side to side in time to We Are The World. There was a crowd of several thousand at the open-air event, some waving union jacks, amid signs proclaiming Blair a "leader, friend and hero". The man himself stood behind the boys as they sang, and behind him was a backdrop featuring a giant image of his face.
There are others who did not attend the ceremony. One Tonibler arrived in Pristina after the show was over and is said to have been inconsolable; a few more were invited but did not appear. It is not exactly a mass phenomenon, but it is the embodiment of one: a deep, national reverence for the man they consider their saviour.
The adulation in Kosovo is all the more striking for the contrast to its object's reputation in his home country, where, following the invasion of Iraq, the Blair name is a brand so toxic the Labour party goes out of its way to avoid him. "The good deed of a person should be remembered for a long time," says Sadete Gashi, another devotee convinced she owes her life to the British politician. "The people who lived through the most chaotic and miserable chapter in our history know what Tony Blair did."
The Gashi family were driven out of their village in the Llap region on 24 March 1999, under artillery fire. Sadete's husband, Naser, hid in the woods with the rest of the men from the village, while she took her infant daughter in her arms and her 30-month-old by the hand, and led them through the driving rain across the hills in search of safety. After a 12-hour scramble through the night, they were given shelter in another village, but were forced out into the open again as the Serbian forces advanced.
On 1 May they found themselves in the midst of a column of exhausted Kosovans passing through a village near the town of Vushtrri. "As we were walking towards the town, we came under fire," Sadete says. "Paramilitary fighters arrived and were staring like drug addicts. They were looking down on us from on top of armoured cars and shouting: 'You want Albania! You go to Albania!' Then they picked out people and started shooting them. I saw a woman cradling her dead husband and son."
In the early hours of 2 May, the column of terrified civilians were herded into an abandoned pig farm that had been reinforced with razor wire into a makeshift detention centre. "One man lit a cigarette lighter near the wire to see where he was going. He was immediately shot and fell," Sadete says. "At 10am the troops came. They took every man and boy over 15, and made them kneel in a field. The woman who had lost her husband and son had another son, 20 years old, and she was terrified. She kept begging him to take bread, saying he would be hungry on his journey. They were loaded on to trucks and a bulldozer drove behind them." The remains of 98 civilians were found after the war in a nearby mass grave by investigators from The Hague war crimes tribunal.
Sadete Gashi and her daughters marched on and by mid-May reached Pristina, where she had some relatives. The Kosovan capital was a terrifying place at the time. It was nearly deserted during the day except for troops and paramilitary groups, who were going from one neighbourhood to another, looting empty homes and collecting the spoils of war. Sadete found an aunt who was still at home, but her house was full of frightened friends and neighbours. There were plenty of empty homes nearby, however. Sadete and her daughters took shelter in one of them, taking tins and packets of food donated by her relatives. As a Kosovan, she had to register with the Serbian military authorities and was given a special pass that she was ordered to carry at all times.
They were kept awake by gunfire, which seemed to be louder and closer each night, until 11 June, when it seemed to be exploding around them. The fighting finally tapered off as dawn came. There was a knock on the door and a voice speaking Albanian. It was a KLA fighter, telling Sadete and her daughters it was safe to come out.
"It was so strange, there were so many people in the street," Sadete says. "Until then, we thought it had been only us. The Serbian soldiers were withdrawing and then we saw soldiers with different uniforms. I could tell they were British from the language. They came walking down the road. No words now can describe that feeling."
The first moment many thousands of Kosovans in Pristina realised they were safe was when British soldiers from the 1st Battalion The Parachute Regiment walked up their street in their maroon berets. The vivid memory deepened the impression that Blair had gone further than other western leaders to come to their rescue.
Sadete did not give birth to a son until 2001, but the passage of time made no difference to her: "Long before I was pregnant, I knew it was going to be Tonibler. And if it had not been a boy, I would have had five girls, or as many as necessary until I could name a boy Tonibler. Others did a lot. He did the most."
The family settled in Pristina after the war and now live in a block of flats in a densely populated district called Sunny Hill. Sadete is a nurse in a neighbourhood clinic. Naser, who survived the war hiding in the woods, teaches physics. Tonibler Gashi sits by his parents listening patiently, no doubt for the umpteenth time, to the rendition of his creation story, the Just So tale of how he came by his unusual name.
He will be 13 this October and is tall for his age – he looks at least a year older – fresh-faced and bright-eyed, with thick, brown hair. He is the youngest child and the only one at home since his elder sisters are out at after-school English classes. His mother rushes back from work to talk about her favourite subject. "Your name is destiny, they say, and look at him. He is even starting to look like Tony Blair!"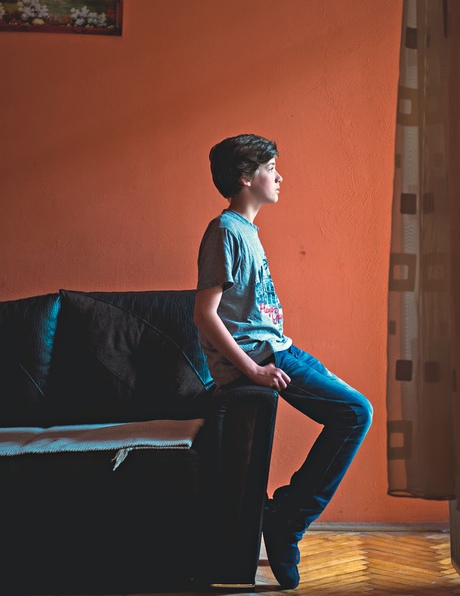 Tonibler himself is getting used to the burden of history placed on him at birth, although it has taken some time. "When I was younger, kids made fun of me because of the name, and I was ashamed," he says. "But now I know what Tony Blair did, I feel proud." Asked what exactly he is proud of, he says: "I don't know a lot, but I know he saved us from the Serbian army and since then we are free."
That hot June day in 1999, British troops were festooned with flowers, kissed and hugged along the road from the Macedonian border to Pristina. But less than 100 yards from the long line of Warrior armoured cars baking in the sun were reminders of why they had come. Scattered among the villages were hundreds of freshly dug graves for victims of atrocities committed by Serbian paramilitaries. More than 10,000 people were killed. Milosevic had ordered many of the bodies to be dug up and taken away by the departing Serbs in a clumsy attempt at a cover-up of his crimes. The bones are still being unearthed in Serbia today.
In retrospect, that bright shining day in June, with Kosovan children thronging around smiling, sunburned squaddies, was the high point for humanitarian intervention. A year after the Kosovo intervention, British troops staged a minor-key reprise in Sierra Leone, where they helped the national army stop the rebels of the Revolutionary United Front from entering the capital, Freetown, where they would almost certainly have massacred the inhabitants. It is the one other place on Earth where there are boys named after Tony Blair.
On closer scrutiny, the Kosovo mission itself was far from clearcut. Western leaders, including Blair, made their plans on the mistaken assumption that a few days of aerial bombardment would convince Milosevic to call off his plan to drive both the KLA and the Kosovans out of the province. But there was much more at stake. Serbs saw Kosovo as the cradle of the nation. Few of them wanted actually to live there, among the despised Albanians, but they were prepared to fight bitterly not to lose it.
When Nato bombed, Milosevic stepped up his operation. Three-quarters of the prewar population of 1.8 million Kosovans were driven from their homes in 1999. Half a million found shelter inside Kosovo's borders, hiding in the woods or in abandoned homes; 800,000 ended up in refugee camps in Albania and Macedonia.
With no plan B, Nato dithered. The bombing campaign was expanded to the rest of Serbia including the capital, Belgrade, but dropping high explosives from high altitude is a blunt instrument. About 500 civilians were killed, half of them Serbian and half Kosovan, "collateral damage" as a result of mistakes and poor intelligence. On 14 April, Nato planes bombed refugee convoys in south-east Kosovo in the belief that they were military columns, leaving 75 dead. On 1 May, they bombed a bridge near Pristane, killing 39 on a civilian bus, and 12 days later killed between 48 and 87 civilians in a bombing raid on supposed military targets in the village of Korisha. The television centre in Belgrade was destroyed, as was the Chinese embassy, with the deaths of three Chinese citizens. The war crimes tribunal in The Hague investigated but ultimately opted not to prosecute.
In the face of these incidents, Tony Blair flew to Washington on 21 April to try to convince President Clinton to lead a ground invasion of Kosovo. Before the president's resolve could be put to the test, however, Milosevic abruptly capitulated. On 3 June 1999, he accepted a peace plan allowing a Nato-led Kosovo Force, K-For, to garrison the territory and safeguard the return of the refugees.
Salvation had come at the darkest hour, but it would be hard to describe the ensuing 15 years as a happy-ever-after. Those who can remember the Milosevic era are grateful simply to be living in peace in their home villages and towns, but even for them the discontents of freedom are beginning to weigh heavier. With every passing year, life seems less like a miracle and more like a challenge. The varied childhoods of the Toniblers and Blers tell the story of Kosovo in all its joys and disappointments. But for their generation, just being alive and free will no longer be enough.
A few minutes' drive from Tonibler Sahiti's home is a constant reminder of the truncated nature of Kosovo's independence. The town of Mitrovica is divided between Serb and Kosovan quarters by the river Ibar. A Serb enclave between the town and the Serbian border has never recognised Kosovo's 2008 declaration of independence, and continues to look towards Belgrade. It remains one of Europe's most volatile flashpoints, driving away trade and allowing distrust to fester in its place.
"Things have not turned out the way we thought they would," Tonibler Sahiti's father, Jahir, says. "We thought the economy would develop faster. We thought there would be more work and we thought that the international community would do more to reunite Mitrovica. Because it is so divided, it has the lowest investment of anywhere in Kosovo."
There are about 100,000 Serbs left in Kosovo, alongside 2 million Kosovan Albanians. Most live in enclaves south of Mitrovica, where some have been victims of reprisals, and Serbian Orthodox churches have been destroyed or vandalised. Such attacks have now tapered off and the southern enclaves have gone some way towards integration with the rest of Kosovo. Last year, the EU brokered a deal between Belgrade and Pristina in which the northern Serbs would have their own police and courts under a Kosovo state umbrella. But the deal did not go as far as Serbian recognition of Kosovo's sovereignty.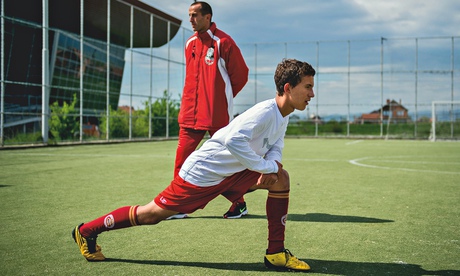 Kosovo was allowed to play its first international friendly football match in March this year, against Haiti. It was a cathartic moment, celebrated inside the country with the fervour of a World Cup final, but it did not bring Kosovo any closer to membership of Fifa. That is the sovereignty deficit that is of most concern to the most sporting of the Blair boys. Last year, Bler Thaqi was named the best under-15 player in Kosovo, and in January he went to a training camp hosted by the Turkish team Galatasaray. But Bler's dreams of kicking a ball for a living depend very much on recognition. "I would like to see myself playing professional football, but there are no prospects for me," he says. "The conditions aren't any good for playing. Maybe there would be greater opportunity if a foreign trainer came here to check for talent."
He is darkly tanned, stick-thin and deadly serious. According to the coach of his youth side, he is by far the most disciplined member of the team. That was evident at a recent training session in his home town, the Pristina suburb of Obilic , where the 14-year-old Bler showed limited patience for the Guardian's photographer getting in the way of his drills.
Like most of his young namesakes, he was conceived in the face of near-extinction. During her pregnancy, his mother, Remzije, slept rough in the forests for two months, trying to escape Serbian mortar fire with her husband, their 17-year-old daughter, Ajtene, and their six-year-old son. To get food, they would have to walk three or four hours through the woods to a KLA-held village, under constant threat of sniper fire and shelling.
They ended up in a refugee camp in Macedonia, but by the time Remzije gave birth to a new baby on 4 August 1999, they were back in Kosovo. It was his father, who died three years ago, who insisted on naming the infant after Tony Blair. "I remember him saying that while others had done a lot for us, Blair did most," Ajtene says. "He would say he was a peaceful man, whose smile gives hope."
By the time the Thaqis returned home, their village had been razed to the ground and they drifted to Obilic because there was shelter there. In Yugoslav days, the town filled with blocks of flats for the workers for the two massive power stations that dominate the skyline. It employed Serbians and Kosovan Albanians, and the town was evenly mixed until the mid-90s, when Milosevic had all the Kosovans summarily fired to make room for Serbian refugees from lost wars in Croatia and Bosnia. The Kosovans were also barred from schools and universities, and were forced to teach their children in secret, improvised classes in basements and flats.
When many of the Serbians fled after the end of the war, it left a lot of empty homes. The Thaqis were evicted from the first apartment they were allocated because the absentee owners had sold it. They have a lease on their new place for 10 years.
Finding a home in Obilic has been a mixed blessing, however. The two power stations, Kosovo A and B, burn brown coal, lignite, a dirty and inefficient fuel. Together, they generate 98% of Kosovo's electricity and explain why Kosovo is the most polluted country in Europe. The EU reckons that their emissions alone shorten Kosovan lifespans by at least five years. On 6 June, a hydrogen tank exploded at the power station closest to the Thaqis' house, killing at least two and injuring 13. The plant was shut down amid fears that a further blast might follow.
On the scrappy playing fields where Bler Thaqi trains, a brown pall hangs over the town. The power company recently installed filters, but they do not work at night. Even though Obilic lies at the feet of the two mighty cooling towers, the system is so inefficient that the town is in blackout for up to eight hours a day. All its people can do when evening falls is to close the windows and hunker down around candles. It is no place for the lungs of a 14-year-old who wants to take on the world at football.
Kosovo's appalling environmental problems are part of a deeper problem: chronic poverty. Injections of €6bn in foreign aid since the 1999 war has made it one of the biggest per capita recipients of overseas assistance on the planet, but that has not rescued the country from destitution. The unemployment rate is nearly 50%.
In Kosovo's Drenica valley, the birthplace and heartland of the KLA guerrilla struggle, the absence of jobs and the collapse of public services is choking rural life. This is where Tonibler Dajaku is growing up, in the hamlet of Rakinice, one of seven sons in a family living on a single income. One of his elder brothers, Niman, has a janitor's job in the village school. Two other brothers are away the day we visit, looking for day labour jobs in nearby Peja.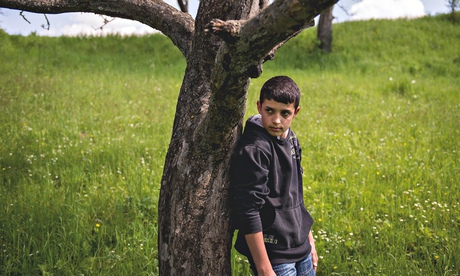 If the Dajaku sons find work, they might make €15 a day, less €5 for the bus fare and lunch. Given that they find work on only one day in two, meaning they lose €5 on bad days, it hardly seems worthwhile as a survival strategy, but at least it offers some hope. Tonibler, who turns 14 this month, helps out on the family vegetable plot after school.
He is eager and agile, and darts around the home like a cat. Like the other Toniblers, he is earnest and hard-working. Asked what his greatest wish is, he says he would like a room of his own in which he can study at night. He helps carry out a table to serve tea among the fruit trees to the sound of evening birdsong. Set on the side of a shallow green valley of fields, coppices and orchards, Rakinice is an astonishingly beautiful spot, but you cannot eat the scenery.
Sefer Dajaku, the boys' father, heard about Tony Blair while listening to a little transistor radio in the forests during the war. Alone among the Toniblers' fathers, he was a KLA member: in the Drenica valley, it comes with the territory. Hashim Thaçi, the movement's political leader during the war and now the country's prime minister, comes from a village two miles away. Sefer, like almost all the Kosovans in the valley, had been fired from his job in a public construction company in 1996, and had been detained and beaten up by police the following year. There seemed little choice but to head for the woods. On the whole, though, he had a quiet war. "We hid and came down at night for food," Sefer says. "We didn't attack because, if we did, they would kill the whole village as a reprisal. We spent a lot of our time trying to persuade people from other villages not to fire at the Serbs."
On his radio, he heard that Britain's prime minister was pushing for Nato intervention, which ultimately allowed him to come out of the hills and restart his life. If he and his wife had had a girl after the war, she would have been named after Madeleine Albright, but when their last child was born, in the military camp of a Moroccan peacekeeping contingent, it was a boy.
One of the most prized possessions in the Dajakus' spartan home is a letter from one of the prime minister's assistants in May 2003, after Sefer had decide to inform Downing Street of Tonibler's existence. "Mr Blair was grateful to you for taking the time and trouble to write to him and very flattered you chose to name your son, Tonibler, after him," the letter says. "Mr Blair sends his best wishes to you all, especially Tonibler. I am returning the photograph and birth certificate to you for safekeeping."
Tonibler Dajaku was one of those invited to the ceremony in Pristina in 2010 to meet his namesake. "All of us had a chance to shake hands and he gave us all a hug. I was supposed to introduce myself, but all that came out was, 'Hello, Tonibler Dajaku,'" Tonibler says. "It was a very emotional moment to meet him for real. Everyone was calling out. Blair cried a bit when he saw all of us, and his wife looked like she was crying, too."
Soon after that climactic date, Tonibler's mother was diagnosed with breast cancer, and in Kosovo any serious illness spells financial catastrophe. The underfunded public health service has been pillaged by a corrupt bureaucracy and its own desperate employees. The Dajakus had to go out and buy the anaesthetics for her surgery, the chemicals for her chemotherapy and the needles to inject them.
To pay for the treatment, the Dajakus sold their two biggest assets, their car and their cow, making it even harder to make ends meet. The elder boys, for example, have to take public transport to look for work in Peja, and the family took out a loan at a commercial interest rate to buy a new cow.
Asked how Kosovo has turned out, compared with his expectations in 1999, Sefer takes a measured view. "First of all I'm happy we are all alive today, thanks to all the fighters and the victims. We have no one to blame but ourselves to have such a government and a parliament, who are no better than a herd of sheep. I believe there is a better generation of leaders to come, Tonibler's generation, but I think the new leaders should be educated in the west. Maybe those educated abroad might bring true democracy."
There is another point of view, that the west saved Kosovo but recast it in its own image, with disastrous results. Under US and European tutelage, the young state is run on free-market open-economy lines that have arguably benefited a small minority in Pristina and foreign companies, at the expense of ordinary people. The hollowing out of the health service has allowed private pharmacies to flourish, selling imported medical supplies at commercial prices. Lax environmental standards have allowed the power company to keep down costs at the expense of the nation's lungs. In the private banking sector, it is significantly cheaper to get a loan for consumption than for agriculture, so it is more expensive for Kosovan farmers to produce food than it is to buy from abroad. Despite its fertile land, Kosovo imports onions from Egypt, garlic from China and tomatoes from Turkey. So the rich loam around the Dajakus' house lies fallow while the men go in the futile search for work.
"After the war, there has been an agenda on the part of the international community that you need to privatise everything quick and fast, and foreign direct investment will come," says Shpend Ahmeti, a 36-year-old former World Bank economist who is now Pristina's reformist mayor, from a small protest party called Vetevendosje (meaning "self-determination"). "It never came. We privatise everything, while foreign products are protected more than domestic goods, because they receive export subsidies and dump in our markets."
Several of Kosovo's "liberators" have returned as would-be entrepreneurs, to investigate opportunities offered by the sell-off of the country's public corporations. Blair has played no discernible direct part in the privatisation jamboree, though there is something unmistakably Blairite in the state he helped bring into existence.
The problems faced by Avni Podrimaj are a vivid example of Kosovo's malaise. In theory, he is just the sort of man the country needs. He runs a company that imports Italian paints and building supplies, but is now trying to make the paints in Peja, in a small factory employing around two dozen people. It could expand and soak up some of the country's vast pool of unemployed workers, but is instead being squeezed by corrupt government officials. The company is owed €60,000 in VAT refunds it earned by exporting its wares, but tax officials refuse to pay, and have threatened to take reprisals if Podrimaj makes a stink. "They treat us like criminals," he says. "I don't have the courage to ask for my money back. They said they would come in and close me down if I did... This country's cancer is corruption. The politicians want to make a lifetime's earning in one term, so they steal a lot. More than the country can bear."
Podrimaj has three sons, the youngest of whom was born just after the war and is turning 15 in August. His name is Bler. The name was suggested by an Italian business partner and friend who sheltered the family when they were driven out of Kosovo in March 1999. "He had told me before the war that the only ones who would help us would be the English," Podrimaj says. "He said: 'Once the English are convinced you are in the right, they will not let you down.'"
So Bler came to be the youngest scion of the Podrimaj line, an old clan with deep roots in the borderlands at the foot of the Montenegrin mountains. The young man is in many ways reminiscent of the other boys: polite, with thick, well-combed hair and well-meaning ambitions. "I want to do something that people won't forget. I would like Kosovo to be an important place in Europe, so it can help other countries," he says.
There are no rebels or drop-outs among the Toniblers, because such traits are a luxury for a people who barely survived being wiped out and for whom education still feels like a precious gift. On top of that, they were all born to parents ambitious and worldly enough to name them after a foreign statesman.
However, Avni Podrimaj did not sent his son to the 2010 spectacle with Tony Blair. It sounded too much like a circus, he says. And he is now so disillusioned with the new Kosovo, he wants to get Bler and his other sons out of the country as soon as possible. "I have lost hope here. My mission is to give my children a good education and I tell them to get out – go wherever you can," he says. "One day they will return and go out on the streets. We are not able. We are afraid. It will need a post-Milosevic generation. They will ask for something better."
• To see Julian Borger's film about the Toniblers of Kosovo, go to theguardian.com/video