The new chief adjudicator for schools, Ian Craig, has urged parents who are unhappy with the school allocated to their child to appeal to overturn the decision.
Nearly one-fifth of families have failed to get their first choice of secondary school this year, and those who feel they have been unfairly treated should challenge the decision, he said. Craig, who takes up the post responsible for policing admissions in April, said: "If they [schools] are still breaking the code they will be found out quite quickly ... we will be sampling schools and reporting to the secretary of state."
Research published yesterday by academics at the London School of Economics suggested that a minority of schools - mostly faith schools - are still breaking the two-year-old code of admissions which forbids the interviewing of applicants or discriminatory questions about parents' marital status or occupations.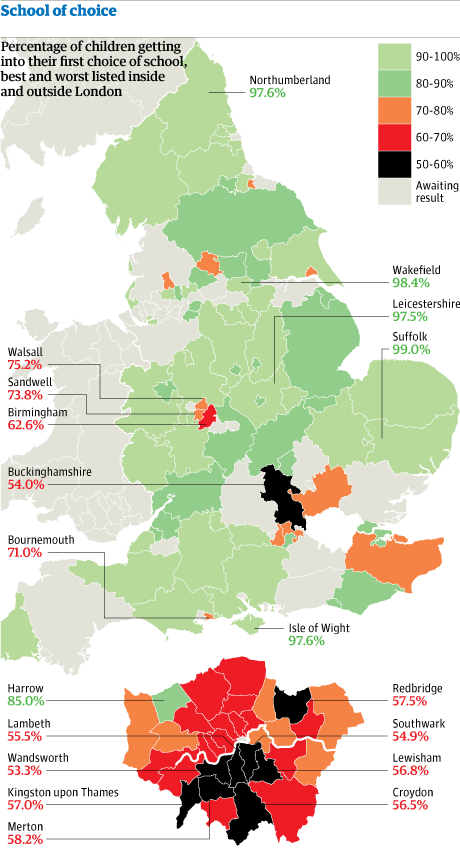 Ed Balls, the education secretary, has already ordered the code to be tightened after a review by Craig's predecessor, Sir Philip Hunter, found widespread flouting of the rules. Craig said that parents unhappy with their favoured school's decision should appeal. "I would understand why a parent and child are disappointed if they don't get their first-choice school," Craig said. "If they think they have a case they should appeal," he said.
But he insisted they should consider the alternative they have been offered. "I know schools which parents still talk about being excellent on the basis of their experience 10 or 20 years before. They are nowhere near the best schools now, but are perceived on reputations as good."
John Dunford, general secretary of the Association of School and College Leaders, urged parents to consider the options they have been given before appealing, as the appeals process can prove time-consuming for schools to deal with.