Got your ticket for Glastonbury 2014? Ready and raring to go? Or just keen to see the full listings (including newly announced stage and time details) anyway? Well, either way, you're in the right place.
Arcade Fire, Metallica and Kasabian are set to headline the the sold-out event at the end of June at Worthy Farm in Somerset. But as we know Glastonbury is about so much more than just the headline names. Take a look at the embedded spreadsheet to see who the other acts set to entertain the thousands of (possibly muddy) revellers are.
Stage times for each act have just been announced so if you're looking to plan your festival schedule or are just curious, you can also explore these in the spreadsheet. Details of stage, day, start and end time by artist are included.
Although you won't be able to filter this Google spreadsheet, if you're concerned about clashes you could download the document and then use the filters on each column header to select specific days and times which will help you to see if there are any potential clashes.
Or if you prefer to see at a glance, then check out Clashfinder which has a useful display of the line up by stage and time for each day of the festival.
When is Glastonbury?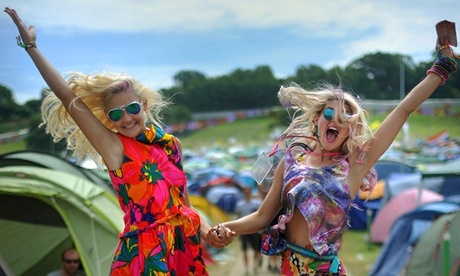 Glastonbury festival opens takes place between Wednesday June 25 and Sunday June 29, 2014. The acts kick off on the very first day and the entertainment will run through till the closing night on Sunday.
You can follow all the Guardian coverage of the festival here.

Can you do anything interesting with this data?
• The Guardian is the official media partner of Glastonbury Festival
Download the data

• DATA: download the full spreadsheet
More open data
Data journalism and data visualisations from the Guardian
Development and aid data
• Search the world's global development data with our gateway
Can you do more with this data?
• Contact us at data@theguardian.com
• Follow us on Twitter
• Like us on Facebook