7.50am:
The earthquake has cut much of the communication to Haiti including airports, but harrowing eyewitness accounts have emerged.
"Everything started shaking, people were screaming, houses started collapsing, it's total chaos," said Joseph Guyler Delva, a Reuters reporter.
This footage which appears to show a dust cloud from a destroyed urban area appeared on YouTube.
Many of the initial accounts of the devastation were posted to Twitter, according to the New York Times Lede blog. The LA Times has a compiled a list of Twitter user who say they are in Port-au-Prince. The New York Times has another useful Twitter list. Twitter users continue to report aftershocks. "Did anyone feel this one?" asked Frederic Dupoux a few minutes ago.
Several UN personnel are unaccounted for, after the headquarters of the UN Stabilisation Mission in Haiti (Minustah) was seriously damaged.
The UN secretary general Ban Ki-moon said: "My heart goes out to the people of Haiti. I am following developments closely."
The US Geological Survey said the quake was a 7.0 in magnitude and the epicentre was just south-west of the capital Port-au-Prince.
8.00am:
Several government buildings in Port-au-Prince have been damaged, including presidential palace, the tax office, the ministry of commerce and the foreign ministry.
The president, Rene Preval, and his wife have survived the quake, according to the BBC.
8.09am:
Here's are before and after images of the Presidential Palace.
8.15am:
Many survivors have gathered to sing hymns, according to Christian blogger Troy Livesay.
"Church groups are singing throughout the city all through the night in prayer. It is a beautiful sound in the middle of a horrible tragedy," he tweets.
The cathedral in Port-au-Prince appears to have been largely destroyed, judging by this picture.
8.22am:
"There must be thousands of people dead," Sara Fajardo, a spokeswoman for Catholic Relief Services, told the Los Angeles Times.
8.32am:
The damage is staggering even in in a country accustomed to tragedy and disaster, writes an AP journalist based in Port-au-Prince.
Women covered in dust crawled from the rubble wailing as others wandered through the streets holding hands.
Here's some footage uploaded to Vimeo which appears to show people trapped in rubble. It was apparently taken by an aid agency in south of Haiti, "a long way from ground zero".
8.57am:
The US Geological Survey points out that the population in the area hit generally lives in "structures are vulnerable to earthquake shaking". It has produced this "exposure map" of the areas affected.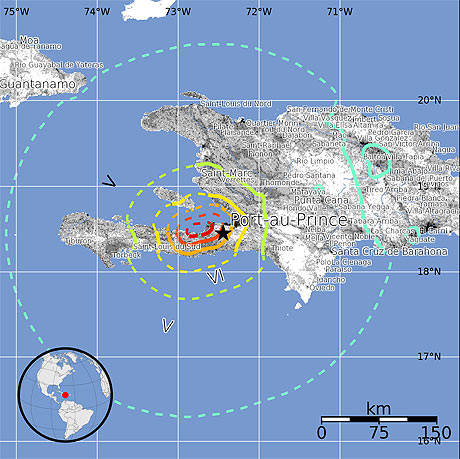 9.04am:
Louis Belanger, a spokesman for Oxfam told CNN that it cannot currently fly in directly to Port-au-Prince Haiti because airport is closed due to damage to a control tower. It's looking to get in aid through the neighbouring Dominican Republic.
But Jane Cocking, humanitarian director of Oxfam, said the charity already teams in Haiti.
"At this stage it is too early to tell the severity of the earthquake in Haiti, but the early signs are not good with communications down across the country.
"Oxfam has its emergency response team for Latin America based in Haiti so we are well prepared, with a public health, water and sanitation team in Port au Prince ready to respond. We also have emergency supplies in Panama that we are preparing to send in as soon as possible."
9.15am:
Relief Web is carrying regular updates on the response from aid agencies across the world.
It includes this statement from the UN:

Contacts with the UN on the ground have been severely hampered as communications networks in Haiti have been disabled by the earth quake. For the moment, a large number of personnel remain unaccounted for. The United Nations can confirm that the headquarters of the United Nations Stabilisation Mission in Haiti (Minustah) in Port-au-Prince has sustained serious damage along with other UN installations.
9.28am:
Tracy Reines, director of response operations for the American Red Cross, discusses its strategy for getting aid to Haiti.
9.34am:
The Haiti-born singer Wyclef Jean is appealing for aid.
In a statement he said:
I cannot stress enough what a human disaster this is, and idle hands will only make this tragedy worse. The over 2 million people in Port-au-Prince tonight face catastrophe alone. We must act now.
He was speaking to a friend in Haiti when the earthquake struck, he told CNN according to Monsters and Critics.
"I was on the phone to a friend in Haiti and she said 'I think an earthquake is coming ….' Then the phone went off. After that I texted and it took 45 minutes to get a text back. She told me she was outside with her kids and the buildings had started collapsing."
9.52am:
The Guardian has compiled a film of the latest grim footage of the aftermath of the disaster [Warning: disturbing content].
9.59am:
The French aid agency Medecins sans Frontieres reports serious damage to its hospitals in Port-au-Prince. At one of them patients, including new born babies, have had to be evacuated.

MSF is deeply concerned for the safety of our patients and staff. Additional staff will be deployed to reinforce the existing MSF staff on the ground and to assess the emerging needs from the earthquake in the coming days.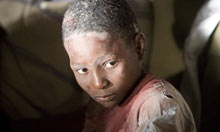 10.18am:
"The hospitals cannot handle all these victims," Dr Louis-Gerard Gilles, a former senator, said as he helped survivors. "Haiti needs to pray. We all need to pray together."
10.29am:
There is a stream of anxious tweets from people struggling to contact friends and relatives in Petionville, a hillside district of Port-au-Prince.
Karen Ashmore, sent out this plea: "Needs to be rescued. Please go help. Trapped in her collapsed house: Jillian Thorpe, Rue Charles Perrault #36, Morne Hercule, Petionville."
"My Mom Rachel Friedman is in Petionville Haiti. She is a Canadian Citizen, and we can't get no phones," writes Shari Lackman.
"Looking for a family in Haiti, they are at 98 Rue Gregoire", writes Plussizemommy.
10.47am:
The French foreign minister Bernard Kouchner is giving a press conference. He confirms that a French mission in Port-au-Prince has been destroyed and personnel are missing.
He says French aid efforts are on a "war footing". He says: "This is a terrible catastrophe." Kouchner, who is the co-founder of Medicins sans Frontieres, talks of the importance of getting to Haiti but also staying there in the medium and long term.
10.56am:
Kouchner confirmed that the Hotel Montana collapsed with up to 400 guests inside. He warned that the initial death tolls were likely to increase as more news emerges.
11.01am:
The International Committee of the Red Cross said the earthquake caused "massive destruction in all the main neighborhoods" of Port-au-Prince.
Its spokesman Simon Schorno told The Associated Press: "Haitian Red Cross staff are trying to do what they can but are completely overwhelmed, so there's no structured response at this point."
11.19am:
More on missing UN personnel.
At least 11 peacekeepers were reportedly killed, eight from China and three from Jordan, according to AP>
Alain Le Roy, head of the UN peacekeeping told reporters that UN troops, mostly from Brazil, were trying to rescue people from the wreckage of the UN's five-story building in Port-au-Prince.
"As we speak no one has been rescued from this main headquarters. There will be casualties, but we cannot give figures for the time being," Le Roy said.
11.27am:
A statement is due to be made to the Commons at 12.30pm about the earthquake, according to the BBC.
The statement will be made by the international development secretary Douglas Alexander.
11.34am:
Up to 3 million people have been affected by the disaster, according estimates by the International Federation of the Red Cross.
Spokesman Paul Conneally says the fact that the quake occurred very close to Port-au-Prince was "not a good indicator". He told CNN that the aid agencies had 48 hour window to rescue those trapped in the rubble.
11.37am:
The Haitian broadcaster Carel Pedre says most people slept on the streets last night in Port-au-Prince.
In a Skype on CNN he said the Red Cross estimate that 3 million people had been affected seemed accurate. "We need help," he pleaded.
11.44am:
"We stand ready to provide whatever humanitarian assistance may be required," said a spokesman for the department for International Development.
A DFID humanitarian assessment has been sent to Haiti to assess the scale of the damage.
11.48am:
"Countless countless - countless houses, churches, hospitals, schools, and businesses have collapsed," the Christian blogger Troy Livesay writes in a harrowing update:

The few things we can confirm – yes the four story Caribbean Market building is completely demolished. Yes it was open. Yes the National Palace collapsed. Yes Gov't buildings nearby the Palace collapsed. Yes St Josephs Boys home is completely collapsed.

Thousands of people are currently trapped. To guess at a number would be like guessing at raindrops in the ocean. Precious lives hang in the balance. When pulled from the rubble there is no place to take them for care Haiti has an almost non existent medical care system for her people.

When the quake hit it took many seconds to even process what was happening. The house was rocking back and forth in a way that I cannot even begin to describe. It felt fake. It felt like a movie. Things were crashing all over the house. It felt like the world was ending. I do not know why my house stands and my children all lie sleeping in their beds right now. It defies logic and my babies were spared while thousands of others were not.
12.02pm:
Pope Benedict XVI has appealed for aid to the victims of the disaster.
Speaking at his weekly audience he said he wanted to make an appeal to the generosity of all "so that our concrete solidarity and the effective support of the international community will not be lacking for these brothers and sisters who are living a moment of need and pain."
12.07pm:
The head of the UN peacekeeping mission the Tunisian diplomat Hedi Annabi, is among those unaccounted for.
He was in the UN building when it collapsed.
12.14pm:
Save the Children has launched a £3m appeal for Haiti.
Gareth Owen, its emergency director said: "This is a major disaster and we are expecting the number of casualties to rise significantly. It's crucial we move fast to get help to thousands of children and their parents who are living in dangerous conditions on the streets without shelter or any way of getting clean water, food or medical assistance."
He said the charity was concerned about the possible outbreak of disease.
12.37pm:
The international development secretary Douglas Alexander is making a statement to parliament about Haiti.
"By any measure this is a terrible tragedy," he says. The government estimates that up to six million people live in the areas hit, with one million people in the worst affected areas.
Alexander said France, the US and Canada are expected to lead the aid effort, but he repeated that the UK will do whatever it can.
12.44pm:
Alexander said a four-person assessment team has been sent to Haiti, a further 64 firefighters are about to fly out to help rescue those trapped. He said the government did not know how many British citizens have been caught up in the disaster. The Foreign Office is working with concerned families.
12.47pm:
"There is no way of estimating" the number of casualties at this stage, the Haitian ambassador to the United States told ABC.
Raymond Joseph said "I'm quite sure we're going to face a disaster of major proportion."
12.59pm:
Hedi Annabi, the head of the UN mission, was killed when the UN building in Port-au-Prince collapsed, according to the French foreign minister Bernard Kouchner.
1.10pm:
Gareth Owen, emergency director for Save the Children, says "we have to assume there has been major loss of life."
In an audio interview he outlines the charity's concern about mudslides and sanitation in the shanty towns of Port-au-Prince.
1.26pm:
UN secretary general Ban Ki-moon said information from Haiti is still "scanty" but he says its clear that impact has been devastated. "We are facing a major humanitarian emergency," he told a press conference in New York.
He confirmed that Annabi is missing and many people are still trapped in the rubble of the UN's building in Port-au-Prince.
1.29pm:
Ban said he does not know exactly how many UN staff are missing, but he says there were up to 150 in building when the earthquake struck. He could not confirm French government reports that Annabi was killed.
Annabi was meeting a visiting Chinese delegation at the time, Ban says.
His deputy is also missing.
1.38pm:
Bodies are being placed on the streets and covered with sheets according to another grim frontline update from AP. "Passersby lifted the sheets to see if a loved one was underneath," its reporter said.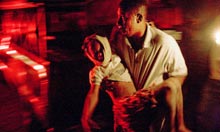 1.44pm:
"Most of Port-au-Prince is destroyed," Haiti's first lady Elisabeth Delatour said, according to Raymond Joseph, the Haitian ambassador to the US.
2.14pm:
Susan Westwood, a nurse from Stirling working in an orphanage just outside Port-au-Prince, emailed the BBC: "I was in the intensive care room looking after a nine-month-old baby girl when the earthquake hit. The floor started shaking violently and the whole building shook from side to side. It lasted about 45 seconds. After that, there was a constant shuddering. The babies were really frightened and started to cry. Other staff and carers were screaming, they were so terrified. It was very upsetting."
2.30pm:
Aid worker Jillian Thorpe, who was reported as missing (10.29am), has been rescued alive from the rubble.
2.37pm:
A US Navy hospital ship, USNS Comfort is being sent to Haiti, according to ABC News.
2.45pm:
Barack Obama will make a statement on Haiti at about 3pm our time.
You should be able to watch the president live here.
(That's it from me, my colleague Peter Walker is about to take over).
3.08pm:
Via the New York Times, here's a graphic eyewitness account from Bob Poff of the Salvation Army:
When the earthquake struck, I was driving down the mountain from Petionville. Our truck was being tossed to and fro like a toy, and when it stopped, I looked out the windows to see buildings "pancaking" down, like I have never witnessed before. Traffic, of course, came to a stand-still, while thousands of people poured out into the streets, crying, carrying bloody bodies, looking for anyone who could help them. We piled as many bodies into the back of our truck, and took them down the hill with us, hoping to find medical attention. All of them were older, scared, bleeding, and terrified. It took about 2 hours to go less than 1 mile. Traffic was horrible, devastation was everywhere, and suffering humanity was front and center.
3.12pm:
The Catholic archbishop of Port-au-Prince, Monsignor Joseph Serge Miot, 63, is among the dead, AP reports. It's quoting a priest at a French missionary organisation who was told by colleagues in Haiti that Miot's body was found in the wreckage of his office.
3.21pm:
Obama is speaking. He begins by offering the "deep condolences and unwavering support of the American people".
The US will send rescue teams urgently, he says, with relief to follow. Efforts will be coordinated between the United States Agency for International Development (USAID), and the state and defence departments
3.24pm:
The US has yet to account for all its embassy personnel, Obama adds in a brief statement. He ends: "I pledge to the people of Haiti that you will have a friend in the United States."
3.26pm:
The Miami Herald has the first words from Haiti's president, René Préval, since the quake. There had been fears for his safety given the collapse of the Presidential Palace (see 8:09am). Préval says thousands of people have died in "unimaginable" scenes. His wife, first lady Elisabeth Préval, adds:
This is a catastrophe. I'm stepping over dead bodies. A lot of people are buried under buildings. The general hospital has collapsed. We need support. We need help. We need engineers.
3.37pm:
The aid organisation Care International has passed us another vivid account of the sheer scale of the chaos, this from their country director for Haiti, Sophie Perez:
It was terrifying. The quake lasted for more than a minute. We were at the office when it happened, and the whole office was shaking really hard. People were screaming, crying, running. Everything was moving. I saw a building of nine floors completely collapse right in front of me. A bank collapsed. Even if a building isn't totally destroyed, you can't access the area because of the danger.
Our staff who were with me in the office are safe, but most of their houses are collapsed. I've heard other aid workers from other agencies are still missing. Everyone is trying to find their families. It seems the whole city was affected – to the north, south, everywhere. It was difficult to get through the streets. Buildings have collapsed everywhere, and there is rubble blocking the roads. Many areas you can't go by car. You can only get through by foot, because there is so much debris.
Last night, people were sleeping outside because they were afraid to go back inside their homes. Many of the houses are destroyed anyway. There were eight aftershocks last night. Thousands of people were sleeping in the streets.
3.47pm:
Slight update on the situation at the UN headquarters in Port-au-Prince (see 11:19am and others). The UN's peacekeeping chief, Alain Le Roy, says that while there are fewer than five confirmed deaths when the five-storey building collapsed, more than 100 more people are missing.
3.51pm:
For US readers out there, the White House website has details of ways concerned Americans can give money to Haiti relief efforts. The simplest seems to be texting 'HAITI' to 90999, which will see $10 donated via your mobile bill, apparently,
4.12pm:
As with all such chaotic situations, it's extremely difficult to gauge the scale of what's happened here, and there's a temptation to seize on every higher estimated death toll without question. But it's looking increasingly like this is a major disaster, both in terms of deaths but also through the longer-term impact on what is already the poorest country in its region. Here's a couple more pointers:
:: Haiti's ambassador to the Organisation of American States regional forum believes there are "tens of thousands of victims", he tells the AFP news agency.
:: The International Red Cross says up to a third of the country's 9 million people could need emergency aid.
4.17pm:
As an aside, it's interesting to see Sky and BBC switch from coverage of the quake to stories about snow in the UK. Understandably, the more hyperbolic coverage of the 'big freeze' has suddenly disappeared.
4.34pm:
The US aid effort is rumbling into action, according to Reuters. An alert from the news agency says Washington defence officials hope giant C-130 transport planes will begin flying in aid later today. This will presumably be via the Dominican Republic, unless Haiti's airport is made useable pretty fast.
4.39pm:
The British Red Cross has put together a Flickr gallery of the quake aftermath, mainly, it would seem, taken on mobile phones. As well as pics of crumbled buildings there are lots of the night-time streets crammed with sleeping people, a sight I imagine we will see a lot more of.
4.51pm:
We have a three-strong line-up at a State Department press conference in Washington, on now. First up is Cheryl Mills, chief of staff to Hillary Clinton. Here's what she's saying:
:: Initial assessments are that the main damage was in Port-au-Prince, with other areas less badly damaged.
:: No US embassy staff were killed, although some were injured, four seriously. There are 45,000 US citizens in the country.
4.56pm:
Next we have Rajiv Shah, head of USAID. The next 72 hours will be "very focused on saving lives" amid the rubble, he says. This is a personal instruction from Obama, he notes, adding that 15 people from US rescue teams are already there. He says: "We are committed to a significant effort." It really sounds like Obama wants to make a big effort to help the US's near, desperately poor neighbour.
4.57pm:
And finally – it's General Doug Fraser, in charge of the US southern command, based in Miami. Interestingly, he says that Haiti's main airport is "functional" even though the control tower was badly damaged. US forces will focus first on making the airport useable. There are US Navy ships with helicopters in the area, and an aircraft carrier will arrive tomorrow, he says.
5.04pm:
There's a full transcript of Obama's comments on Haiti on the White House website.
5.14pm:
An alert from CNN: Haiti's prime minister, Jean-Max Bellerive, says he fears that "hundreds of thousands" of people are dead. That is, of course, fairly speculative at the moment, but it's interesting nonetheless.
5.19pm:
Now for a touch of economic context, to give a sense of the challenge faced given Haiti's already severe poverty. According to World Bank figures, Haiti has a national income per capita of $660, as against an equivalent figure of £47,580 in the US – a factor of 72. Now these are not distant countries. Haiti is less than 600 miles from Florida, and they have close links. Apart from the 45,000 US nationals in Haiti (see 4.51pm) there are at least half a million Americans of Haitian origin.
5.37pm:
It's now just over 24 hours since the earthquake, so let's have a recap of what we've learned since then.
The quake
:: The main tremor measured 7.0 and devastated large parts of Port-au-Prince, including the presidential palace and the city's cathedral. The US state department says it believes other parts of the half-island were less severely affected.
:: The death toll will not be know for a long time, but it is likely to be very high. The country's prime minister has mentioned the notion of "hundreds of thousands" of deaths. The president has talked of thousands of dead.
:: A vast number of people are homeless and sleeping on the streets. The Red Cross estimates that a third of the country's nine million people could be affected.
:: A number of UN staff, including the head of the organisation's mission in Haiti, are missing after the UN headquarters collapsed.
:: The impact of the disaster is especially acute given the poverty of Haiti and its already very limited infrastructure.
2. The aid effort
:: Countries around the world have begin promising major aid, notably the US, where Barack Obama pledged a "swift, coordinated, and aggressive effort to save lives".
:: US warships are en route to Haiti's waters, and the first aid transport planes should arrive later today.
:: The US military says the airport at Port-au-Prince is "functional" if damaged
:: The UN is to immediately release £6m from its emergency response fund.
5.49pm:
Here's some CBS-aired footage of someone being rescued from the wreckage of what I believe is the UN headquarters in Port-au-Prince.
5.52pm:
Here's some rare and vivid first-hand testimony from outside Port-au-Prince. Emmet Murphy from a US charity called ACDI/VOCA sent this email, passed on to me via Matthew Weaver, after a narrow escape en route to the southern city of Jacmel:
It is a complete devastation here. Personally, I am lucky to be alive. I was driving back to Jacmel in the mountains when the entire mountain seemed to fall down all around me, people were pannicking, building collapsed on the roadside and a huge dust plume raised from the valley floor. Seconds later and I would have been crushed by an avalanche that blocked the road and I had to abandon the car and continue on foot.

Jacmel is a disaster zone, many houses collapsed or severely damaged, everyone was on the streets when I got to town, there must be many deaths judging from the way the houses collapsed, and given poor construction practices & materials. We are unable to get a line through to Port au Prince where we have some staff, internet is working and it looks really bad judging from pictures on the internet newsites. Both Jacmel and Port au Prince where about equidistant from the epicenter in Leogane.
6.35pm:
This is Daniel Nasaw in Washington, taking over our live blog. Thanks a lot Peter and Martin. If anyone has tips, please forward them to me on Twitter at DanielNasaw, or at daniel.nasaw (at) guardian dot co dot uk.
Meanwhile, the Vatican news agency Fides (in Italian) reports that hundreds of seminarians and priests are among the dead. Apostolic Nuncio to Haiti Archbishop Bernardito Auza, tells the agency:
The national palace is on the ground. This morning I went to express my condolences and solidarity to the president, who was saved because he was outside with his family. His private house is destroyed. All the ministries were destroyed. The parliament with the senators, schools with children, supermarkets, all reduced to nothing. The UN headquarters was reduced to a cloud of cement and hundreds of people were trapped, including Hedi Annabi, the head of the UN mission.
...
Everywhere one heard cries from beneath the rubble.
6.46pm:
The Pentagon is dispatching the USS Carl Vinson, a nuclear powered aircraft carrier, and three amphibious ships to Haiti, Reuters reports.
6.51pm:
Reader Rob forwards an account from Gretchen at the Life Line Christian Mission compound in Grand Goave, about 30 miles west-southwest of Port-au-Prince.
Gretchen reports a second quake occurred about midnight, and additional tremors continued every ten minutes through the night. Haitians, including many with severe injuries, have packed into the compound, and about 1am a woman went into labour. The hospital in Grand Goave collapsed, and Gretchen notes the agency does not typically provide critical and emergency care.
"We don't do much trauma work and have little supplies," she writes. "If the UN or someone can drop us some supplies we can begin working."
Gretchen said the staff are trying to get the school kitchen up and running to feed the locals, but she notes most of the classrooms are destroyed.
7.02pm:
A US coast guard helicopter has begun evacuating injured American citizens from the US embassy at Port-au-Prince, the state department reports. Spokesman PJ Crowley says they have no confirmed American deaths, but about a dozen who are injured.
7.08pm:
Haitian consul general to the UN Felix Augustin just told reporters the country desperately needs medical supplies, heavy equipment, water, and doctors and nurses "to go down to Haiti as soon as they can".
He said the government is arranging transport with Jet Blue and American Airlines, and said the government of Guyana has pledged $1m in relief funds.
He also warned relief workers to bring their own food and water.
"We cannot provide things that we do not have," he said.
7.17pm:
Leading Senator Youri Latortue tells the Associated Press that 500,000 could be dead, though he acknowledges he has no way of knowing.
7.20pm:
The Guardian's Ed Pilkington has just arrived in the Dominican Republic and is traveling to Haiti tomorrow with an aid agency.
7.25pm:
Felix Augustin, Haiti's consul general to the UN, tells reporters: "More than 100,000 are dead".
7.26pm:
Some background on Haiti, the world's first independent black republic and site of history's only successful large-scale slave revolt, from the CIA world factbook.
7.28pm:
Foreign office minister Baroness Kinnock says the French embassy in Haiti will assist British nationals there. The foreign office says British nationals in Haiti should contact the British Embassy in Santo Domingo at +1 829 726 0753 or the foreign office in London at +44 20 7008 1500.
7.40pm:
A flickr photostream from the Salvation Army.

7.46pm:
AP has some of the first aerial images from Haiti.
7.55pm:
US Secretary of State Hillary Clinton says, "We've exhausted the supply of medical supplies that we had at the Embassy". She reports that Haitian President President Preval has been unable to communicate with his own cabinet.
8.05pm:
Susan Candiotti of CNN reports seeing "block after block after block" of dead in the streets of Port-au-Prince and pancaked homes.
8.09pm:
Seismologists with the US geological survey explain the science behind the devastating earthquake.
"Haiti has a poor economy and not a wonderful building style for earthquake resistance," says Michael Blanpied, associate coordinator for the agency's Earthquake Hazards Program. He says American military personnel at Guantanamo Bay, Cuba, reported feeling tremors.
8.22pm:
The FBI warns of bogus charities soliciting donations for Haiti.
Past tragedies and natural disasters have prompted individuals with criminal intent to solicit contributions purportedly for a charitable organization and/or a good cause.
8.34pm:
CNN broadcasts an interview with a very tired Haitian President René Préval, who says he has no place to sleep tonight because the presidential palace was destroyed.
"I have plenty of time to look for a bed but now I am working how to rescue the people," he said. "Sleeping is not a problem."
Preval says the country needs rescue workers, doctors, medicine and all manner of medical help. He said many of the nation's hospitals have collapsed, and those that remain in operation are full. He says it is too early to tell, but repeats a report he said he saw on CNN that more than 100,000 are dead.
His message to the world: "I want to thank all the countries that started to help us. United states, France, Canada, Cuba, Venezuela, Argentina, Dominican Republican, Israel".
8.37pm:
Here is a brilliant article our Latin America correspondent Rory Carroll did in 2008 on hunger in Haiti. The piece will give you a sense of the abject poverty there even before the earthquake.
8.41pm:
CNN's Rick Sanchez says it's "a race against time" in Haiti. We were waiting for that cliche. Thanks Rick for providing the first instance.
But he's right, of course. Countless people remain trapped in the rubble, darkness is moving in, food and medicine are running out and sanitation is deteriorating.
8.56pm:
Some more Guardian work on how hard life in Haiti was even before the earthquake, from our environment correspondent Suzanne Goldenberg and former multimedia producer Glenn Østen Anderson:
A series of interviews in the southern peninsula right near the epicenter.
This video opens in Gonaives, in the north of the country, but finishes in a Port-au-Prince slum. It's all about the lack of infrastructure ahead of a hurricane -- but the lesson is the same for an earthquake.
9.30pm:
The United Nations said 14 of its Haiti staff were killed and 150 remain missing after the earthquake.
9.53pm:
That's it from us for tonight. Thanks for reading and for your comments and tips. And God help the Haitian people.