Readers recommend playlist: songs mentioning compass points
To the north, south, east and west this week with artists MIA, Frank Turner, Black Sabbath and Warren Zevon

Scott Blair
08, Mar, 2018 @12:00 PM
Readers recommend playlist: songs about being trapped
Nina Simone, Warren Zevon and Corb Lund are among the artists stuck in various states of mire in this week's reader-curated playlist

Scott Blair
20, Jul, 2017 @11:00 AM
Readers recommend playlist: your songs about volunteering
Our reader explores the nominations you put forward and picks a playlist including Fats Domino, Alison Krauss, Motörhead … and Paper Lace

Scott Blair
10, Nov, 2016 @12:00 PM
Readers recommend playlist: your songs with unusual rhymes
From Bill Bailey's ode to Billy Bragg to the woes of marriage, here are some of music's most weird and wonderful rhymes
Scott Blair
29, Sep, 2016 @11:00 AM
Readers recommend: songs about hotels – results
RR's veteran Marconius checks in with songs from last week's topic
Marco den Ouden Ouden
15, Jan, 2015 @12:57 PM

Warren Zevon: the man behind the demons
Hadley Freeman: The singer/songwriter, best known for Werewolves of London, died 10 years ago next month. His family and friends, including the writer Stephen King, explain why, despite his dark side, they still miss him
Hadley Freeman
01, Aug, 2013 @4:54 PM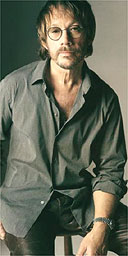 Between rock and a hard place
James Fenton reflects on a collaboration between the late Warren Zevon and the poet Paul Muldoon
James Fenton
20, Sep, 2003 @1:43 AM

CD: Warren Zevon, The Wind
(Artemis Records/Rykodisc)
Alexis Petridis
12, Sep, 2003 @12:43 AM
Obituary: Warren Zevon
Cult musician and songwriter revered by Dylan and Springsteen has died aged 56.
Adam Sweeting
09, Sep, 2003 @1:29 AM
Last of the great songwriter satirists
Warren Zevon sounds gruffer and more despairing than ever - which suits Bob Flynn
Poor, poor, pitiful me
So your new album's all about old age and disease, then? Warren Zevon waits several moments before replying. "I think it has more to do with death," he decides, in his gravelly baritone. " 'Timor mortis conturbat me.' You know that poem?"
Adam Sweeting
17, May, 2000 @1:14 AM