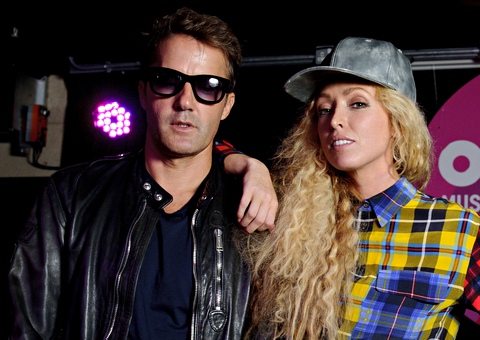 The Ting Tings: Super Critical review – catchy but superficial
The follow-up to a difficult second album is all surface and short on hooks, writes Killian Fox
Killian Fox
25, Oct, 2014 @11:05 PM

This week's new tracks
Beyoncé | Calvin Harris Feat Ne-Yo | Levellers | Norah Jones | The Ting Tings
Priya Elan
20, Apr, 2012 @11:05 PM

Englebert Humperdinck for Eurovision? It's a stroke of genius | Deborah Orr
Deborah Orr: Great news, firstly, that Englebert is still alive. Who knew? Even better that he is going to represent Britain at Eurovision
Deborah Orr
03, Mar, 2012 @12:05 AM

The Ting Tings: Sounds from Nowheresville – review
The sophomore curse strikes the Ting Tings hard on songs that vanish as soon as they leave the speaker, writes Alexis Petridis
Alexis Petridis
23, Feb, 2012 @3:30 PM

The week in music - in pictures
The week's highlights from planet pop and beyond

The Ting Tings and that difficult second album
The Ting Tings recorded songs their label loved – so they ripped them up and started again. Are they tempting fate, asks Tom Lamont
Tom Lamont
29, Jan, 2012 @12:05 AM

The Ting Tings urge label to rush-release leaked album
Band ask Columbia Records to issue Sounds from Nowheresville a month early following online leak
Sean Michaels
24, Jan, 2012 @11:19 AM

The Ting Tings – review
The benefit of taking time off became clear, with more sophisticated new tracks and old ones infused with fresh blood, writes Caroline Sullivan
Caroline Sullivan
23, Nov, 2011 @7:30 PM

Strokes director Warren Fu trained at Star Wars to go back to the future
Eye-catching new videos for Mark Ronson and the Ting Tings are the latest on You Only Live Once man's CV
Lauren Cochrane
25, Sep, 2010 @8:57 AM

Beyoncé nominated for 10 Grammys alongside ... the Ting Tings?
That's not their name! That's not their name! Er, yes it is actually, as the Manchester band are nominated for the Grammy awards along with Beyoncé, Taylor Swift and the Black Eyed Peas
Rosie Swash
03, Dec, 2009 @4:16 PM
Pop review: The Ting Tings | Somerset House, London
Somerset House, London
The hot pop duo of 2008 are back and ready to take on the young pretenders, writes Paul Lester
Paul Lester
16, Jul, 2009 @10:00 PM

Glastonbury on TV: In which the important topic of stagewear is addressed, several times
Anna Pickard: Some go to the festival for the music, some for the experience, some for the cow watching. But when you switch over to Glastonbury on TV, is it really because you want to know whether the Ting Tings prefer pleats in their pleather catsuits?
Anna Pickard
26, Jun, 2009 @11:45 PM