The Go! Team: Semicircle review – a psychedelic tonic
(Memphis Industries)
Emily Mackay
14, Jan, 2018 @8:00 AM
Readers recommend playlist: songs about hope and resilience
From Beethoven to Bob Dylan, here are the top picks for tracks to get us through hard times
Chris Wheatley
08, Sep, 2016 @11:04 AM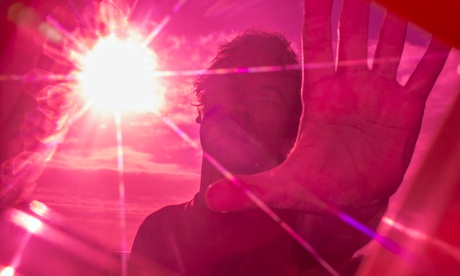 The Go! Team: The Scene Between review – a frothy confection
A barrage of vintage sounds and short interludes of strangeness build into an entertaining fourth album
Jon Dennis
26, Mar, 2015 @9:45 PM
Deer Shed festival – review
The family-friendly Deer Shed festival provided a 'very civilised' afternoon lineup, but the evening brought spicier acts, and then a shared mournful moment in impromptu tribute to Amy Winehouse, writes Dave Simpson
Dave Simpson
25, Jul, 2011 @5:01 PM
The great rock'n'roll sellout
Gone are the days when bands would be scorned for getting into bed with corporate sponsors and brands, so what ever happened to "selling out"? Dorian Lynskey finds out
Dorian Lynskey
30, Jun, 2011 @9:00 PM
The Go! Team: Rolling Blackouts – review
The Go! Team's latest is organic, original, ebullient... but probably not for grown-ups, says Kitty Empire
Kitty Empire
30, Jan, 2011 @12:05 AM

The Go! Team - Rolling Blackouts: Exclusive album stream
Hear the Go! Team's third album of 'girl-shouting, trumpet-squealing, double dutch blaxploitation' before anyone else
guardian.co.uk/music
25, Jan, 2011 @3:29 PM

New music exclusive: The Go! Team – Buy Nothing Day
Michael Cragg: The Go! Team are back with more giddy cut'n'paste pop. And this time they've got a little help from an indie-pop friend
Michael Cragg
07, Dec, 2010 @10:32 AM
Click to download: The Bee's knees
Chris Salmon finds Simon Fuller's new site surprisingly on the money, and the Go! Team in generous mood
Chris Salmon
24, Jul, 2008 @11:01 PM
The Go! Team - Proof of Youth
GRIP LIKE A VICE
0.12 Beyond the wan, grey confines of miserablist indie, there's a mad, bouncy, technicoloured party going on - a party where every tambourine-basher, rapper and sampler-twiddler are having the time of their merry young lives. Oh yes! The Go! Team, Brighton's bubbliest six-piece, are back, kicking off proceedings with a lovely, soft Far-Eastern guitar motif. Have the Team let their fizziness flatten, like an old bottle of Dandelion and Burdock?
0.22 Eh up, the drums are kicking in.
0.27 And vocals! My Burdock runneth over!
1.23 "Girls are you with us? 'Cos we all know what we're talking about -all the ladies...YEAH!" Ninja's rapping vocal is louche, arch-eyebrowed, and snaps around her words like smooth fingers.Organs roll, drums bang, tussle and rustle, and shouty vocals echo behind her - this, it would appear, is the sound of a band having the most fun in the world.

CD: The Go! Team, Proof of Youth
Maddy Costa
13, Sep, 2007 @11:12 PM
Trash hits
Confusing, tough and above all, exciting - that's how Go! Team want to sound. Dorian Lynskey puts the masters of sass to the test.
Dorian Lynskey
30, Aug, 2007 @11:03 PM