Ed Sheeran: No 6 Collaborations Project review – smarm, charm and a watertight winning formula
The affable everyman dabbles in grime, hip-hop, balladry and Latino love songs as he zooms down the middle of the road to world domination
Alexis Petridis
12, Jul, 2019 @2:34 PM
From Kurt Cobain to Adele: early demos from the biggest names in music
A pre-fame recording from Amy Winehouse was recently unearthed, defying her estate, and it's one of many resurfaced demos giving early insight into the talents of major stars
Jim Farber
05, Mar, 2018 @11:00 AM
Incubus on nu-metal: 'It always made me cringe'
The most derided genre in rock turns 20 this year, but the bare-chested originators have moved on. Now they're embracing EDM – with a little help from Skrillex
Kate Hutchinson
25, Apr, 2017 @11:15 AM
'I'm like a secret assassin': Poo Bear on writing for Justin Bieber, Skrillex and Sam Smith
The songwriter aka Jason Boyd has been writing hits for more than 20 years, but his collaboration with Bieber on Where R Ü Now? made him an overnight sensation. 'It literally changed music,' he tells Elle Hunt

Elle Hunt
08, Apr, 2017 @10:19 PM
The Sound of LA
From searing political hip-hop and cosmic jazz to acid-soaked rock and new age, Los Angeles is home to some of today's most important music – this is our guide to the acts you need to know
Interviews by Eve Barlow, Design by Sam Morris
07, Feb, 2017 @11:00 AM
Skrillex, Springsteen and Southend emo – now that's what I call an Olympic playlist
What song does Laura Trott play before a points race? Which swimmer gets down with bro-step? And how does Christian rap improve your archery?
Rhodri Marsden
17, Aug, 2016 @3:51 PM
Skrillex and Justin Bieber on Sorry copyright claims: 'We didn't steal this'
Producer of Bieber's No1 denies using loop from Casey Dienel's song Ring the Bell
Guardian music
30, May, 2016 @10:48 AM
Justin Bieber and Skrillex sued over vocal loops on Sorry
Casey Dienel, who records under the name White Hinterland, claims her riff was sampled without permission for the pair's hit single
Guardian music
27, May, 2016 @9:56 AM
Pop, rock, rap, whatever: who killed the music genre?
Skrillex produces Bieber, Rihanna covers Tame Impala, and the genre-bending 1975 top the charts. The people making and consuming music are more stylistically promiscuous than ever. How did we get here?
Peter Robinson
17, Mar, 2016 @7:00 PM
Skrillex And Diplo wins best dance/electronic album at the Grammys 2016 for Jack Ü
The EDM production duo win a gong for their collaboration Jack Ü
Guardian music
15, Feb, 2016 @11:05 PM
The Underground Is Massive: How Electronic Dance Music Conquered America by Michaelangelo Matos – review
Why, after three decades, is rave culture suddenly big business in America? A history of the scene links its rise to the internet
Alexis Forss
31, Dec, 2015 @12:00 PM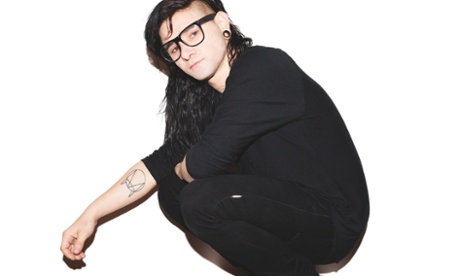 Skrillex: 'I stopped doing interviews because of the Guardian'
The brostep pioneer has taken his aggressive brand of electronica into the pop market this year, collaborating with Justin Bieber, and he's even happy to admit a fondness for Hanson
Peter Robinson
10, Dec, 2015 @6:41 PM