Dame Judi Dench and Sharleen Spiteri delight hotel guests with Abba's Waterloo
Oscar-winning actor accompanied Texas lead singer during impromptu Hogmanay performance
Jane Clinton
01, Jan, 2023 @6:10 PM
Sharleen Spiteri: 'I blew my drink at Paris Hilton. We ended up nose to nose'
After tens of millions of sales and with a UK tour this month, the Texas frontwoman answers readers' questions, from enmity with the reality star to friendship with Thierry Henry
As told to Dave Simpson
21, Jan, 2022 @10:00 AM
Post your questions for Sharleen Spiteri of Texas
As the Scottish band go back on tour after more than three decades of hits, their frontwoman will take on your questions
Ben Beaumont-Thomas
14, Jan, 2022 @1:13 PM
'Sharleen is my homegirl' - how Texas and Wu-Tang Clan became pop's weirdest pals
The soft-rock Scots and the hardcore New York rappers have been mates ever since a riotous recording session got them banned from a studio. Is their friendship about to score them another hit?
Stevie Chick
15, Dec, 2020 @4:08 PM
The night Sharleen Spiteri got to hang out with Harry Dean Stanton
It was 1989 and a 22-year-old singer from Glasgow was fronting up her band Texas, when she spotted her idol standing at the side of the stage…
Sharleen Spiteri
09, Apr, 2017 @5:00 AM
My first love song: musicians remember the soundtracks to their teenage crushes
A shaggy Texan, a firebreathing dancer, Liz Taylor … stars relive their first loves – and the tunes that bring them back
Interviews by Paul Lester
14, Feb, 2017 @7:00 AM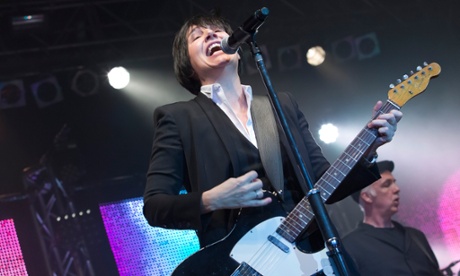 Texas review – sparkling pop singles and monster stage presence
Velvet-voiced Sharleen Spiteri dominates the show from the second she arrives – and not even a Peter Kay cameo can put her off her stride
Dave Simpson
22, Apr, 2015 @4:29 PM

Yes or No? Scotland's stars take sides in independence debate
Sean Connery and Frankie Boyle say yes. David Tennant and Susan Boyle say no. Will Scots be swayed by the celebrity vote?
Kevin McKenna
12, Jul, 2014 @10:43 PM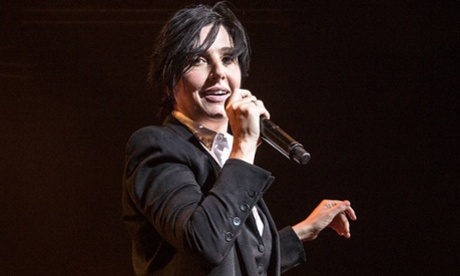 Sharleen Spiteri criticises YouTube's 'take it or leave it' music licensing deals
Texas star: 'Songwriters fully support independent record labels in their fight to get better terms and deals from YouTube'. By Stuart Dredge
Stuart Dredge
08, Jul, 2014 @9:19 AM

Truth and Soul: the production team making Texas sound vintage, and helping Lee Fields rewrite history
These New York sessioneer-producers minted the sound that took Amy Winehouse and Adele up the charts; now an army of admirers is coming to them to record the old-fashioned way
Angus Batey
29, May, 2014 @4:15 PM

A day in the life of Radio 2
In his latest exploration of the many sounds of radio, Peter Robinson goes toe to toe with Radio 2's big man, Ken Bruce, Live In Hyde Park
Peter Robinson
05, Oct, 2013 @5:00 AM

BBC Radio 2 in the Park – review
Glimmers of greatness amid a safe-as-houses bland-out at Radio 2's one-day festival, writes Ian Gittins
Ian Gittins
09, Sep, 2013 @11:51 AM