I'm now the oldest person at the rock concert – should I be worried? | Adrian Chiles
My engineer and I were the oldest by far at a crowded student gig, watching Scouting for Girls play live, warm lager in hand. I'm not sure what gave us away …

Adrian Chiles
28, Nov, 2019 @7:00 AM
'Snowed in 50 times': highest pub in UK goes up for sale
At 1,732ft above sea level, Yorkshire pub the Tan Hill Inn needs owner with stamina, eccentricity and love, says landlady
Frances Perraudin North of England reporter
30, Jul, 2017 @1:50 PM

What are the worst Best Ofs of all time?
JJ Dunning: If Scouting for Girls can have a definitive collection, then the possibilities are endless. Here's our selection of some of the most unnecessary greatest hits collections out there
JJ Dunning
07, Aug, 2013 @4:38 PM

Former DJ Hero developers set sights on mobile with 8linQ
Stuart Dredge: UK studio is preparing to release its first iPhone music game, armed with major label tracks
Stuart Dredge
13, Jul, 2011 @3:15 PM

Ivor Novello awards: Plan B and Everything Everything lead nominations
Songs by Kylie Minogue, Scouting for Girls, Foals and Tinie Tempah also in running for awards next month
Adam Gabbatt
19, Apr, 2011 @4:25 PM

Scouting for Girls | Pop review
Academy, Leeds
Young (and not so young) girls holler along with every word – disturbingly so, writes Dave Simpson
Dave Simpson
09, May, 2010 @8:50 PM
Scouting for Girls: Everybody Wants to Be on TV | CD review
Scouting for Girls might be a huge success, but they don't charm Caroline Sullivan
Caroline Sullivan
08, Apr, 2010 @10:30 PM
Peter Robinson on the death of landfill indie music
How did a clutch of arty female electro acts end up being tipped as the future of pop? Blame Scouting For Girls and the slow death of identikit guitar music, says Peter Robinson
Peter Robinson
17, Jan, 2009 @12:01 AM
Pop review: Scouting for Girls, Hammersmith Apollo, London
Hammersmith Apollo, LondonScouting for Girls' Roy Stride works tirelessly to engage and entertain the crowd in the first of three sold-out London shows, says Betty Clarke
Betty Clarke
28, Nov, 2008 @3:06 AM
Scouting for street cred
Culture secretary Andy Burnham and Tory MP John Whittingdale fell over themselves to show how down with the kids they were at the House of Commons culture, media and sport select committee today. Talking about ticket touting, Burnham let slip he had been to a gig with his wife last week. "Have you heard of a band called Scouting for Girls?" he asked committee chairman Whittingdale. "Of course," the Tory shot back indignantly. Next week, the lads discuss The Hoosiers.
Monkey
17, Jul, 2008 @4:46 PM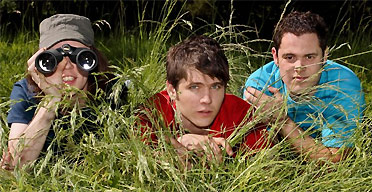 Scouting for Plain White Wombats conquer the charts
Chart news: Scouting for Girls stays the number one album, while the group's zany brethren (and Basshunter, of course) litter the singles chart
Rosie Swash
28, Jan, 2008 @1:08 PM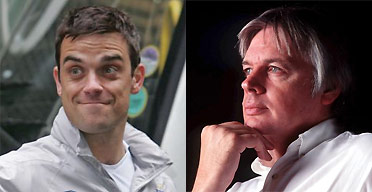 Icke chump: Robbie Williams has a new pal
In the news: Did a mutual interest in UFOs bring the two together? Elsewhere, Scouting for Girls take it on the chin, while Madonna takes it on the shins. Also, Britney
Rosie Swash
24, Jan, 2008 @12:45 PM