Andrea Chénier, ROH review – a singers' evening that won't start a revolution
Sondra Radvanovsky thrills and Roberto Alagna goes for loudness in David McVicar's old-school production of Giordano's French revolution-set opera
Martin Kettle
21, May, 2019 @1:29 PM

La Scala's catcalling loggionisti continue their restiveness
Roberto Alagna pulls out of Jules Massenet's Werther, blaming the opera house's vociferous upper gallery
Lizzy Davies in Rome
07, Sep, 2014 @2:27 PM

La Scala's new boss takes aim at 'crazy' catcalling of the loggionisti opera fans
Pavarotti and Alagna both suffered from the jeers of La Scala's aficionados. Now manager Alexander Pereira has had enough
Lizzy Davies in Rome
20, Mar, 2014 @6:39 PM

Angela Gheorghiu's serious claims might not be taken seriously
Tim Ashley: The Romanian soprano has spoken about the 'violence' she says she faced at the hands of ex-husband Roberto Alagna. But some might treat her claims with scepticism
Tim Ashley
03, Jul, 2013 @5:00 PM

L'elisir d'amore; Bath Mozartfest; Gautier Capuçon & Gabriela Montero – review
Roberto Alagna's passion carries the day in Donizetti's well-crafted souffle of a tale, writes Fiona Maddocks
Fiona Maddocks
18, Nov, 2012 @12:04 AM
Anna Netrebko Live at the Metropolitan Opera – review
Anna Netrebko's performances at the New York Met reveal not only the power of her voice, but also its beauty, writes Tim Ashley
Tim Ashley
13, Oct, 2011 @8:00 PM
Portrait of the artist: Roberto Alagna, tenor
'I have to take care of my voice. For me, it is like a daughter or a wife. I have to be gentle with her'
Laura Barnett
12, Oct, 2009 @9:45 PM
How to turn a boo into a boon
Instead of that ignominious retreat from the stage of La Scala, the booing could have sparked Roberto Alagna's greatest triumph. If only he'd listened to me.
Stephen Moss
22, Dec, 2006 @12:22 PM
The Observer Profile: Angela Gheorghiu and Roberto Alagna
Ed Vulliamy: They may be among the greatest opera singers of our time, but their peers now wonder whether the couple's tantrums are undermining their talent.
Ed Vulliamy
17, Dec, 2006 @2:08 AM

A tantrum too far
First tenor Roberto Alagna storms out of Aida, then his wife Angela Gheorghiu quits the Royal Opera House. Are they too big for their boots, asks Martin Kettle.
Martin Kettle
13, Dec, 2006 @10:44 AM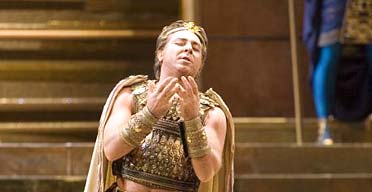 Tenor who quit will sue La Scala
The tenor Roberto Alagna, who walked out of La Scala in mid-opera after being booed, claimed yesterday he had been under physical risk from the audience.
John Hooper in Rome
13, Dec, 2006 @10:19 AM
Never let La Scala's boo boys scent blood
It's shocking that Roberto Alagna was jeered offstage at La Scala - but he should never have been tackling the role
Martin Kettle
12, Dec, 2006 @4:08 PM