Plastic People of the Universe

Ivan Jirous obituary
Czech poet and artistic director of the dissident band the Plastic People of the Universe
Paul Wilson
29, Nov, 2011 @11:15 PM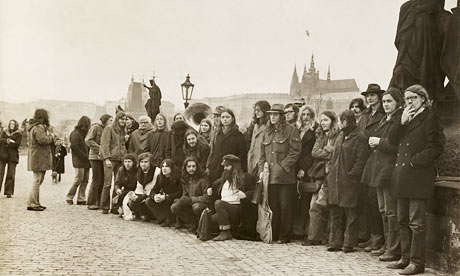 1989 and all that: Plastic People of the Universe and the Velvet Revolution
Banned and jailed under Czech communism, the Plastic People of the Universe helped to bring the regime down in 1989. Inspired by Frank Zappa and the Velvet Underground, and friends with Vaclav Havel, their incredible 40-year history is one in which music and politics are inseparable
Ed Vulliamy
05, Sep, 2009 @11:07 PM

Children of the revolution
Jailed, banned but never crushed, one underground rock group were instrumental in the fall of Czech communism 20 years ago. Ed Vulliamy tells their incredible story
Ed Vulliamy
05, Sep, 2009 @11:01 PM
Obituary: Egon Bondy
Obituary: Dissident Czech writer and lyricist for Plastic People of the Universe.
Ken Hunt
19, Apr, 2007 @11:07 PM
Plastic People of the Universe, Queen Elizabeth Hall, London
Queen Elizabeth Hall, London
John L Walters
27, Jan, 2007 @11:48 PM
Obituary: Mejla Hlavsa
Czech rock musician whose band embodied the spirit of the velvet revolution.
Kate Connolly
08, Jan, 2001 @1:35 AM
Hear this
"The lyrics of the Plastic People include rude expressions and nonsense whose artistic and formal value is absolutely insignificant." Forget the Pistols, or the Stones, they didn't have the Czechoslovakian Ministry of Culture giving them such enthusiastic reviews. As Document - Happy Hearts Club Banned (8pm, R4) explains, The Plastic People Of The Universe were just about the most dangerous force in underground rock of all time, continually hounded by the secret police, jailed, recording in Vaclav Havel's home and releasing Zappa/Velvet Underground-influenced albums that were illegal to own.
Ricahrd VineHarold Jackson
17, Feb, 2000 @1:02 AM
Rock Czechs
Rock bands may be famed for their lax attitude to authority but only one has ever helped overthrow a government. Richard Vine uncovers the bizarre story of the Czechoslovakian group, Plastic People Of The Universe.