Sunday with Olly Murs: 'I'm obsessed with Crunchy Nut cornflakes at the moment'
The singer tells Michael Segalov about his Bake Off-themed Sundays, box at Manchester United and prima donna dog
Michael Segalov
18, Dec, 2022 @6:45 AM
Olly Murs looks back: 'Our house was like Witham's Got Talent, without the talent'
The singer and presenter on staying true to his Essex roots, X Factor fame and losing his friend Caroline Flack
Harriet Gibsone
03, Dec, 2022 @12:00 PM
Starstruck: the bizarre twist on Stars in Their Eyes
Three strangers all pretending to be the same celeb! One of the oddest judging panels ever! Olly Murs! ITV's bombastic new singing contest is very, very bad
Joel Golby
12, Feb, 2022 @7:00 AM
Spencer Matthews and Olly Murs – the perfect reality crime fighters
The former Made in Chelsea star got held up this week in a real-life heist and Murs was once forced to evacuate Selfridges, making them the ideal pair to sort out violent crime
Marina Hyde
30, May, 2019 @4:57 PM
2018: the year in pop culture
Featuring Cardi B, Sting and Shaggy, Sharp Objects, Teddy from Atlanta, bad sex, Hereditary, Black Panther's influence, and... dogs
Issy Sampson, Steve Rose, Fiona Sturges, Ellen E Jones, Michael Cragg, Gavin Haynes and Rebecca Nicholson
22, Dec, 2018 @7:00 AM
Saturday's best TV: Strictly Come Dancing; National Book Awards
Who will pick up the Glitterball trophy? Plus! An antidote to literary awards and a party with Olly Murs
Mike Bradley, Hannah J Davies, Phil Harrison, Paul Howlett, David Stubbs, Hannah Verdier
15, Dec, 2018 @6:00 AM
Is 24/11 truther Olly Murs right about a coverup at Selfridges?
I determine to find out in the interests of truth. And, more importantly, because, if he's right, Piers Morgan is wrong. Plus: why Margaret Atwood blames Star Wars for 9/11
Peter Robinson
12, Apr, 2018 @4:41 PM
Olly Murs suggests Oxford Circus terror scare could have been a 'cover-up'
The musician claimed to have heard 'gunshots' in Selfridges when police evacuated the central London street in November 2017
Laura Snapes
09, Apr, 2018 @10:57 AM
Accounts frozen at charity backed by One Direction
Believe in Magic, also reportedly supported by Olly Murs, Michael Bublé and Little Mix, investigated after multiple complaints of mismanagement
Holly Watt and Sarah Boseley
06, Apr, 2017 @6:00 PM
Mabel's Thinking Of You: the best of this week's music
The south Londoner delivers the song of the summer, showing off her musical cridentials and the influence of her famous parents
Issy Sampson
05, Aug, 2016 @12:00 PM
X Factor: Olly Murs and Caroline Flack quit show
Co-presenters follow Nick Grimshaw in leaving as turmoil at Simon Cowell's ITV talent show continues
Mark Sweney
22, Feb, 2016 @9:19 AM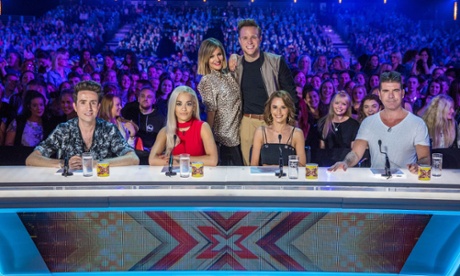 The X Factor is on the ropes: could an injection of fun save it?
With three unsuccessful winners in a row, the show is no longer a guaranteed path to pop success and audience figures have plummeted. So can Olly Murs, Rita Ora and Nick Grimshaw turn it around with a lighter touch?
David Renshaw
29, Aug, 2015 @4:39 PM