Ric Ocasek: Cars frontman who drove new wave into the mainstream
Fired by a passion for everything from the Velvet Underground to the Carpenters, Ocasek forged a hugely influential sound that blended arty experimentation with pure pop
Alexis Petridis
16, Sep, 2019 @1:18 PM
Readers recommend playlist: your songs about loss
This week's reader-curated playlist certainly wasn't at a loss for suggestions – No Doubt, the Divine Comedy and Black Sabbath are among those making the cut

Chaz Cozens
03, Aug, 2017 @11:00 AM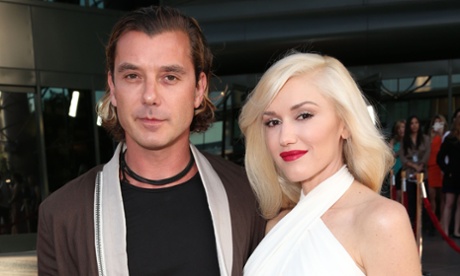 Gwen Stefani and Gavin Rossdale file for divorce
'While the two of us have come to the mutual decision that we will no longer be partners in marriage, we remain partners in parenthood,' the former couple say
Guardian music and Associated Press
04, Aug, 2015 @7:02 AM

This means war: why the fashion headdress must be stopped
Dorian Lynskey: The Native American headdress is a common sight at festivals. It has also been appropriated by fashion brands and stars such as Pharrell Williams. But many are now fighting back against what they see as a crude act of racial stereotyping
Dorian Lynskey
30, Jul, 2014 @4:52 PM

What does the return of the celebrity bindi mean?
The Hindu head ornament has been appropriated by the fashion crowd since the 1960s, but in the age of Tumblr and Instagram does it have any significance left?
Priya Elan
15, Apr, 2014 @5:26 PM

Flavor Flav to Florence + the Machine: the week in music - in pictures
From Marilyn Manson to Martha Wainwright, from Seal to Suggs, marvel at this week's musical snaps
Karin Andreasson
07, Dec, 2012 @1:07 PM

American Music awards 2012 - in pictures
Pink, Justin Bieber, Taylor Swift … stars of the US music world step out in style for the 40th annual American Music awards

No Doubt, exploiting 'hot' Native American stereotypes is never OK | Lisa Charleyboy
Lisa Charleyboy: Gwen Stefani's band has pulled a video featuring her writhing with an eagle feather plume. Let cultural appropriation end here
Lisa Charleyboy
06, Nov, 2012 @12:01 PM

No Doubt's Native American video: why it wasn't looking hot
The band were forced to pull their latest video, with its Native American visuals. Did Gwen Sefani have an attack of 'feather, teepee and tomahawks' syndrome?
Priya Elan
05, Nov, 2012 @5:01 PM

No Doubt pull Looking Hot video amid racism claims
Band apologise for stereotypical depiction of Native Americans, saying they never meant to 'offend, hurt or trivialise'
Sean Michaels
05, Nov, 2012 @10:29 AM
No Doubt: Push and Shove – review
No Doubt's 11-year hiatus has been little noted, but their return album is cause for a small celebration, writes Caroline Sullivan
Caroline Sullivan
27, Sep, 2012 @9:15 PM

Gwen Stefani: 'The solo records were never meant to be taken seriously'
After more than a decade out of the spotlight, Stefani and No Doubt are back. They talk to Hadley Freeman about the breakup that spawned their biggest hit, spending time with the Obamas and taking eight kids on tour
Hadley Freeman
20, Sep, 2012 @10:00 PM