Grammy awards 2021: women rule as Taylor Swift and Beyoncé break records
The Covid-restrained Grammys were a mostly female-fronted affair, with wins for Billie Eilish, Megan Thee Stallion, Dua Lipa, Beyoncé and Taylor Swift
Adrian Horton
15, Mar, 2021 @7:20 AM
New rules: the destruction of the female pop role model
Somewhere between Britney and Billie Eilish, liberated by social media and their direct relationship with fans, millennial and Gen Z women claimed the right to be complicated pop auteurs
Laura Snapes
25, Nov, 2019 @1:12 PM
Miranda Lambert: Wildcard review – pithy life-lessons
The Tennessee star's seventh album is a robustly entertaining set of droll country songs about men, booze and doing the laundry

Ben Beaumont-Thomas
01, Nov, 2019 @10:30 AM
Pistol Annies: the country 'girl group' confronting divorce and darkness
Trio Miranda Lambert, Ashley Monroe and Angaleena Presley sing about life's 'harsher things' – and are topping the country charts despite a male-dominated scene
Eve Barlow
12, Dec, 2018 @12:30 PM
Pistol Annies: Interstate Gospel review – country with no time to waste
Country supertrio's new album tackles everything from divorce to prison in luscious production and wistful lyrics
Laura Snapes
02, Nov, 2018 @10:00 AM
Grammy predictions: who will win in the country and Americana categories?
Sturgill Simpson and Miranda Lambert look set to dominate country, with returning veterans such as Robbie Fulks likely winners in the folk category
Mark Guarino
09, Feb, 2017 @2:00 PM
Miranda Lambert: The Weight of These Wings review – beautifully crafted country music rollercoaster
Dave Simpson
17, Nov, 2016 @10:30 PM
Miranda Lambert: 'I'm not just that girl with fire in my head'
She has blazed a trail through the beer and testosterone 'bro-country' scene with her vitriolic songs about domestic abuse. The country renegade talks about being raised by private detectives, splitting from Blake Shelton – and kicking down doors
Alex Macpherson
28, Mar, 2016 @7:00 AM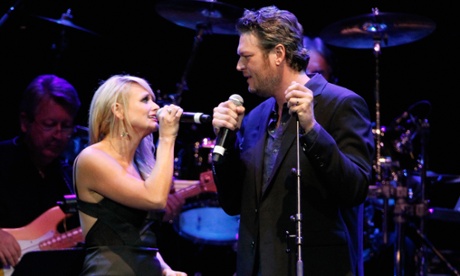 Blake and Miranda's duet ends, but country's couples will keep singing
Even since Johnny and June Cash, or George Jones and Tammy Wynette, country music's real-life romantic partners have put their private moments on record
Grady Smith
22, Jul, 2015 @10:00 AM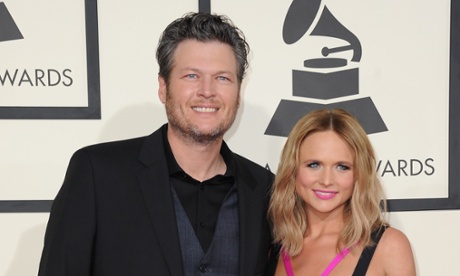 Blake Shelton and Miranda Lambert announce divorce
Country music's Beyoncé and Jay Z, whose marriage catapulted them into stardom, say they are splitting up after four years together
Grady Smith
20, Jul, 2015 @8:23 PM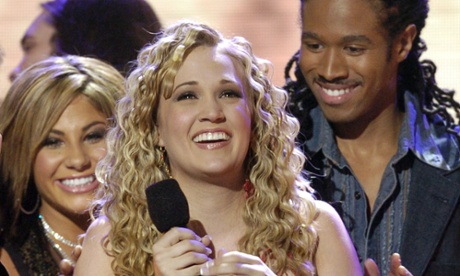 American Idol: where would country music be without it?
From Carrie Underwood to Kellie Pickler, the talent show unearthed a plethora of country music talents until The Voice came along and took up its mantle
Grady Smith
13, May, 2015 @7:35 PM
Going without make-up isn't a radical act. It's just being yourself
Country singer Miranda Lambert is being applauded for still looking beautiful without make-up. Where does that leave the rest of us?
Jessica Valenti
24, Apr, 2015 @10:45 AM