Ms Dynamite: Blast of fresh air
In the past year, there has been no more compelling pop talent than Ms Dynamite. In an exclusive interview, the Mercury Prize winner talks about race, rap... and big booty.
Burhan Wazir
22, Sep, 2002 @10:45 AM

The Mercury prize
The Mercury prize is now too po-faced for its own good. Time for a bit of honesty, says Alexis Petridis.
Alexis Petridis
20, Sep, 2002 @2:37 PM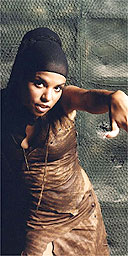 Ms Dynamite's big achievement
Ms Dynamite exploded into the national consciousness this week as the first black female performer to win the Mercury Music prize. She might be commercial - but she still rocks.
Hannah Pool
19, Sep, 2002 @10:20 AM
Comment: Ms Dynamite
There is a longstanding grumble among the small community of British hip hop artists. They feel that their work is overlooked in favour of their US counterparts as a result of the snobbery of journalists and fans.
Alexis Petridis
18, Sep, 2002 @2:44 PM

Ms Dynamite's victory blasts Mercury norms
North London's 21-year-old rapping prodigy, Ms Dynamite, last night added the £20,000 Mercury Music prize to an increasingly crowded mantlepiece of gongs.
Angelique Chrisafis, arts correspondent
18, Sep, 2002 @8:20 AM
Putting aside tacky image and dubious past
British pop awards have a terrible image problem. The Brits are tacky and universally reviled: millions watch hoping to see something go wrong.
Alexis Petridis
31, Jul, 2002 @3:28 PM
'Joyful' Mercury eschews safe bets
Bookmakers yesterday nudged the rock legend David Bowie into joint third favourite place for the album of the year, the Mercury Music Prize, in favour of a Birmingham musician born 10 years after Ziggy Stardust made Bowie a superstar.
Maev Kennedy, arts and heritage correspondent
31, Jul, 2002 @9:57 AM
Doves and Streets up for Mercury prize
Rock legend David Bowie cemented his critical comeback today as he took his place in the shortlist for the Mercury music prize, which is perceived as the "eclectic album of the year award".
Staff and agencies
30, Jul, 2002 @6:37 PM

The Mercury Prize comment: a serious shortlist for music's serious prize
Music's serious prize has a serious shortlist, says Alexis Petridis. Oh, and his money's on the Streets.
Alexis Petridis
30, Jul, 2002 @3:09 PM

Underwater love
Inspired by Destiny's Child, WWF and William S Burroughs, Birkenhead boy wonders the Coral are about to unleash one of the most intriguing debuts of the year. Imran Ahmed reports.
Imran Ahmed
27, Jul, 2002 @9:47 PM
Alpha females: The rap artist
Ms Dynamite (Niomi McLean-Daley), 21, has just released her debut album. Her latest single 'It Takes More' has been a huge hit this summer.
Clare Grant
21, Jul, 2002 @3:25 PM

CD of the week: The Coral: The Coral
Alexis Petridis
19, Jul, 2002 @9:48 PM