Meghan Trainor: 'Magazines won't airbrush me now – they don't even hide my shapewear'
The pop star explains the evolution of her style, her no-airbrushing policy and the ensemble she wore to New York fashion week last year
As told to Leah Harper
10, Mar, 2020 @1:37 PM
Big star judges can't save bland new singing competition show The Four
The new American Idol-aiming show boasts a panel of celebrity judges, including Diddy, and a prized time-slot, but it adds nothing to an already oversaturated genre
Jake Nevins
05, Jan, 2018 @5:02 PM
Meghan Trainor furious to find her face used in Australian anti-marriage equality campaign
Singer attacks 'vote no' ad and joins Ellen DeGeneres, Margot Robbie and Miley Cyrus in urging voters to enrol for postal survey
Chloe Watson
24, Aug, 2017 @7:20 AM
Am I a stepfather, her mum's boyfriend or a glorified roadie?
Andrew Mayers has helped to nurture the career of the pop star Jasmine Thompson. For him, as her star rises, the emotional rollercoaster never stops
Andrew Mayers
05, Aug, 2017 @5:45 AM
Cruel summer: where is this year's Get Lucky?
'Tis the season for an all-conquering pop anthem, but 2016 has failed to produce a sunshine hit. Should we blame it on Brexit, or is it Drake's fault?

Matthew Horton
26, Aug, 2016 @10:59 AM
Meghan Trainor: Thank You review – still an unconvincing pop star
(Epic)
Michael Cragg
15, May, 2016 @6:00 AM
Meghan Trainor: Thank You review – dance pop hurtles into romantic mush
Dave Simpson
12, May, 2016 @7:15 PM
Readers recommend playlist: songs that capture zeitgeist
Our latest Readers recommend guru gets into the spirit of the age with tunes that take us through the ages and bring us right up to date

Scott Blair
24, Mar, 2016 @12:00 PM
Meghan Trainor wins best new artist Grammy
Meghan Trainor triumphs in a category that also featured James Bay, Sam Hunt, Tori Kelly and Courtney Barnett
Tim Jonze
16, Feb, 2016 @3:18 AM
Grammy nominations 2016: Kendrick Lamar and Courtney Barnett stand out alongside head-scratching picks
Grammy nominations are always divisive but this year the odder inclusions, such as Meghan Trainor, were offset by nods for genuine outsiders
Maura Johnston
07, Dec, 2015 @8:02 PM
10 things we learned from the American Music awards
Taylor Swift and One Direction were the big winners at this year's AMAs, but Meghan Trainor, Ariana Grande and Coldplay – yes, Coldplay – provided the talking points

Michael Cragg
23, Nov, 2015 @2:28 PM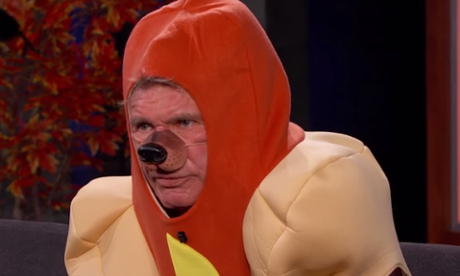 Viral video: Star Wars: The Force Awakens, Alanis Morissette and chicks
Harrison Ford dresses as a hotdog, David Attenborough narrates Adele's Hello and Winston the corgi turns stormtrooper
Janette Owen
06, Nov, 2015 @7:10 AM