Loretta Lynn: Still Woman Enough review – a spirited victory lap
Fifty albums in, the country star and guests are in the mood to celebrate
Emily Mackay
21, Mar, 2021 @1:00 PM
Loretta Lynn: Still Woman Enough review | Alexis Petridis's album of the week
An album of flinty classics and sparky duets, full of resolve – the extraordinary country singer shows no sign of slowing

Alexis Petridis
11, Mar, 2021 @11:30 AM
The greatest banned songs of all time – ranked!
Thirty years on from 2 Live Crew being banned by the Beeb, we pick 20 foul-mouthed, orgiastic outings deemed too scandalous for public consumption
Laura Snapes
14, Feb, 2019 @1:02 PM
Pistol Annies: the country 'girl group' confronting divorce and darkness
Trio Miranda Lambert, Ashley Monroe and Angaleena Presley sing about life's 'harsher things' – and are topping the country charts despite a male-dominated scene
Eve Barlow
12, Dec, 2018 @12:30 PM
Cocaine & Rhinestones: a country history lesson – podcasts of the week
A new podcast shines light on the annals of country and helps Nashville newbies figure out the lore of greats including Loretta Lynn

Rowan Slaney and Hannah Verdier
02, Feb, 2018 @8:00 AM
'Country music has become apolitical': why have acts kept quiet on the election?
Perhaps for the first time, Nashville's country musicians have determined that the risks of supporting a 2016 president candidate outweigh the rewards
Jon Bernstein
03, Nov, 2016 @7:00 PM
Loretta Lynn moves past well-trodden origins to a spot in country's pantheon
Full Circle, the singer's 55th album, is out this month and on it she retells her story for the uninitiated, while conjuring new tricks for the faithful
Mark Guarino
23, Mar, 2016 @1:43 PM
Loretta Lynn: Still a Mountain Girl review – all hail the grand ole queen of Appalachia
She's been a country music legend for more than 60 years. This documentary may not have delved too deep into her painful past or her low-down husband, but when a life story's this good, it doesn't matter how you tell it
Lucy Mangan
19, Mar, 2016 @6:00 AM
Loretta Lynn: Full Circle review – a fine set of new songs and old favourites
At 83, Loretta Lynn really does come full circle (with a little help from Willie Nelson)
Phil Mongredien
06, Mar, 2016 @8:00 AM
Loretta Lynn: Full Circle review – still a force to be reckoned with
The female fury that shook up 1960s Nashville still packs a punch mixing nostalgia with new tunes
Robin Denselow
03, Mar, 2016 @6:15 PM
Backing bands: which musicians endorse which US presidential candidates?
Vampire Weekend played a benefit for Bernie Sanders at the weekend, but which other rock stars have declared their intentions? Which candidate has bagged the big names – and is anyone backing Donald Trump?
Leo Benedictus
01, Feb, 2016 @7:08 PM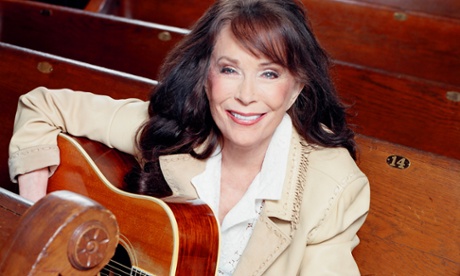 Loretta Lynn and Jack White to be inducted into Music City Walk of Fame
Lynn and White to receive tributes along Nashville's Music Mile
Tshepo Mokoena
15, May, 2015 @7:12 AM