'I thought, what would Prince do?' How we made Bleeding Love by Leona Lewis
'It came out a year after I won The X Factor. I was worried people might have forgotten me, but the song became so huge I still can't explain it'
Interviews by Dave Simpson
14, Feb, 2022 @2:00 PM
Sunday with Leona Lewis: 'I'm far from home, so reggae is comforting'
The singer on pancakes, mood music and being a godmother
Michael Segalov
19, Dec, 2021 @6:45 AM
Rockin' around the Christmas streams: why festive music is bigger than ever
As they chase a wildly lucrative market with their new Christmas albums, Gary Barlow, Jamie Cullum, Leona Lewis and more explain the financial – and emotional – pull of a seasonal hit
Michael Hann
10, Dec, 2021 @8:00 AM
The good, the bad and Harry Styles: X Factor's most memorable entrants
As ITV confirms it has no plans for a new series, we take a look back at some of the characters that the show foisted on the world
Kevin Rawlinson
29, Jul, 2021 @5:54 PM
Could Chrissy Teigen just try sending a text next time? | Harron Walker
Within hours of posting an apology on Monday, Teigen was accused of bullying Michael Costello. Maybe it's time to pause the posts and just texting
Harron Walker
16, Jun, 2021 @8:05 PM
Fears grow Sophie Grégoire Trudeau picked up coronavirus on London trip
Wife of Canadian PM met Lewis Hamilton, Leona Lewis, Julia Gillard and Idris Elba in UK
Matthew Weaver
13, Mar, 2020 @2:53 PM
The best X Factor finalists – ranked!
With the TV talent show's final taking place this weekend, we have crunched the numbers and counted the votes to put the 45 top-three finishers in order
Michael Cragg
29, Nov, 2018 @3:00 PM
From Cat Power to Coldplay: the best, worst and weirdest Rihanna covers
The Last Shadow Puppets turned vampiric, Harry Styles harked back to prog rock and Patti Smith was overcome by nerves … How 15 acts laid down their love for the queen of R&B
Hannah Jane Parkinson
16, Oct, 2018 @8:48 AM
Cats review – kitsch, dated … yet strangely adorable
There's no plot, no subtext and no apparent point, but the tunes – including Memory, sung by Leona Lewis – drill into your brain like a flesh-eating worm
Emma Brockes
31, Jul, 2016 @11:15 PM
Leona Lewis on joining Broadway's Cats: 'The show's got a lot of heart'
The X Factor made her a global star, then she provided Jimmy Page with his proudest post-Zep moment. Ten years on, Lewis is making the leap to Broadway
Alex Needham in New York
29, Jul, 2016 @4:58 PM
How to write a banger for Beyoncé
The songwriter behind some of Adele, Leona Lewis and Beyonce's hits reveals the formula behind creating a timeless knockout of a track
Interview by Michael Cragg
02, Jun, 2016 @3:56 PM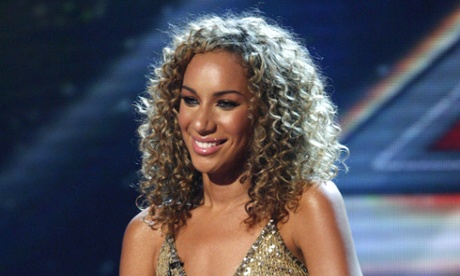 From X Factor to off the charts: why Leona Lewis can't crack the top 40
Lewis's new single Fire Under My Feet has failed to burn up the music charts. So how did she go from global superstar to slowly fading away?
Michael Cragg
15, Jun, 2015 @4:34 PM