'Nine Inch Nails is inappropriate for a Christmas party': St Vincent's honest playlist
The art-pop star was raised on Pearl Jam, wants Jacques Brel played at her funeral and thinks Iggy is sexy. But which song would she interrupt a haircut for?
As told to Elle Hunt
06, Jun, 2022 @6:00 AM
Rita Ora and Labrinth join music's protest after Wiley's antisemitic rant
Artists, producers and executives sign a statement condemning prejudice and hate speech in the industry
Vanessa Thorpe
02, Aug, 2020 @6:41 AM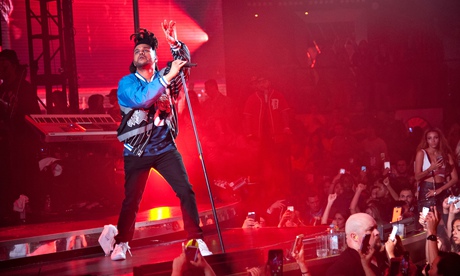 The Weeknd: Beauty Behind the Madness review – a dark seduction of the mainstream
Abel Tesfaye reaches new musical heights in this dark seduction of the mainstream
Kitty Empire
30, Aug, 2015 @7:59 AM

What I'm looking out for at Camp Bestival
From John Cooper Clarke to Janine Butcher and Mr Tumble, here are Ian Gittins's most anticipated moments for this year's event
Ian Gittins
01, Aug, 2013 @12:25 PM

Stagediving, putting the danger back into live music
It had become a rock and roll cliche – until R&B stars started putting their own fans in genuine physical peril
Luke Holland
12, Jul, 2013 @12:00 PM

Big names to play at concert celebrating life of murdered Stephen Lawrence
British acts including Emeli Sandé, Jessie J, Labrinth, Plan B, Rizzle Kicks and Tinie Tempah to play in London in September
Alexandra Topping
18, Jun, 2013 @11:18 PM

Brit awards 2013: who should win?
Find out who the favourites are for this year's Brits – and let us know who you'll be rooting for on Wednesday night
Adam Boult
19, Feb, 2013 @9:54 AM

Richard Hawley to headline Camp Bestival
Other acts appearing at family-friendly younger sibling of Bestival include the Levellers and Toots and the Maytals
guardian.co.uk/music
12, Feb, 2013 @7:00 PM

Devlin: 'You've got to be hard on yourself. It's all or nothing'
As he releases his second album, Dagenham rapper Devlin tells Killian Fox how emerging young talent keeps him on his toes
Killian Fox
03, Feb, 2013 @12:05 AM

Labrinth: stars of 2012
Killian Fox
24, Nov, 2012 @2:22 PM

Elton John to New Order: The week in music - in pictures
Grills, giant bubbles, a man pretending to be a jockey – it's all there in our runthrough of the most memorable events of another week in the world of music, travelling from the US to Madrid to Warsaw and, of course, Portmeirion

The V festival, day one – review
The Stone Roses and Inspiral Carpets offered much for Madchester fans to enjoy, while Professor Green cracked open the pop
Betty Clarke
19, Aug, 2012 @1:15 PM