'Someone called me the antichrist': behind the battles for Christmas No 1
Christmas No 1 was once a fiercely fought-over prize. From RATM v Joe McElderry, Slade v Wizzard and George Michael in Wham! v George Michael in Band Aid, winners and losers recall the great festive stand-offs
Dave Simpson
14, Dec, 2018 @6:00 AM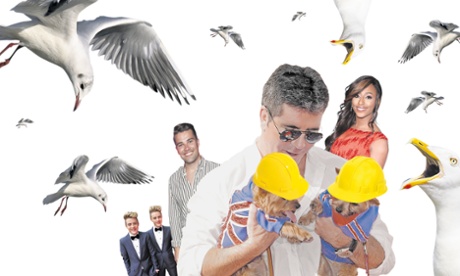 Simon Cowell loves his dogs. But does he love his former contestants as much?
The karaoke Sauron is designing helmets to protect Squiddly and Diddly from seagull attacks. But could he apply the same concern to those who have been through his fame mangle?
Peter Robinson
23, Jul, 2015 @6:01 PM

Beyoncé and Joe McElderry: that duet in full
Witness the moment the singer got together with X Factor's Joe McElderry – if only for a brief, but beautiful, moment
Peter Robinson
16, May, 2013 @5:01 PM

Dionne Warwick – review
The pop-soul icon proves a twinkly host in this charity gala, but we could have done with more of her own immaculate back catalogue, writes Ian Gittins
Ian Gittins
30, May, 2012 @5:05 PM

Top of the Pops: ex-reality TV stars expected to dominate UK charts
Will Young, Olly Murs and Joe McElderry defy talent show expectations with newfound chart success
Daniel Martin
26, Aug, 2011 @3:48 PM

X Factor's final four could all end up winning recording contracts
Cher Lloyd, One Direction, Rebecca Ferguson and Matt Cardle are fierce rivals for the 2010 title but the victor and the three runners-up could all score lucrative deals
Jo Adetunji
12, Dec, 2010 @6:01 PM

My week in pictures: Joe McElderry
A week in the life of the X Factor winner
Joe McElderry: Wide Awake – review
X Factor champion Joe McElderry drowns in the production glitz of his debut album, writes Hermione Hoby
Hermione Hoby
23, Oct, 2010 @11:05 PM
Joe McElderry: Wide Awake - review
As ever, a male X Factor winner doesn't look like matching the achievements of his female counterparts. By Caroline Sullivan
Caroline Sullivan
21, Oct, 2010 @10:40 PM

Joe McElderry covers Donkeyboy! Er, who?
Despite huge success in their home country, Norway, Donkeyboy struggled to get their song, Ambitions, played in the UK. So why have the X Factor winner's people chosen it for his new single?
Michael Cragg
20, Sep, 2010 @4:01 PM
Let people come out for all our sakes | Gary Nunn
Gary Nunn: Be they actors or MPs, it shouldn't matter who comes out in the public eye – not least because we need gay role models
Gary Nunn
19, Sep, 2010 @12:00 PM

How to come out of the closet in the tabloids
When X Factor winner Joe McElderry came out it was textbook in its execution
Pete Cashmore
06, Aug, 2010 @11:05 PM