'I love the whole crooner vibe': Aston Merrygold's honest playlist
The JLS man spent his paper round money on Usher and gets props for singing the Jackson 5 at karaoke, but which song did TikTok change his mind about?
As told to Rich Pelley
03, Oct, 2022 @6:00 AM
Jingle Bell Ball review – Ed Sheeran is all killer, no stocking filler
This poptastic Capital Radio two-dayer features strong sets from Justin Bieber, Anne-Marie and JLS, but it's Sheeran's warmth and generosity of spirit that really captures the season
Miranda Sawyer
13, Dec, 2021 @2:39 PM
Flashback – JLS: 'X Factor was a crash course in this industry. Zero to hero in 10 weeks'
Aston, Marvin, JB and Oritsé recreate their audition photo and reflect on backflips, friendships, reuniting and turkey farming
Harriet Gibsone
04, Dec, 2021 @12:00 PM
The best X Factor finalists – ranked!
With the TV talent show's final taking place this weekend, we have crunched the numbers and counted the votes to put the 45 top-three finishers in order
Michael Cragg
29, Nov, 2018 @3:00 PM
Why are you so obsessed with me? How pop fans became all-powerful
Little Mix named their album after the title their followers suggested, while the 1975 roped devotees in for their video. Pop's power reversal puts fans closer to the stars
Issy Sampson
16, Nov, 2018 @12:59 PM
Former JLS member Oritsé Williams charged with rape
The 31-year-old singer allegedly attacked a fan in a hotel room after a concert in December 2016
Laura Snapes
14, Sep, 2018 @10:11 AM
No direction: have boybands hit the end of the road?
With One Direction on hiatus and the latest manufactured outfits tanking, the future looks bleak for pop's permabuffed princelings. Perhaps it's time to bring back the dance routine …
Michael Cragg
14, Apr, 2016 @10:00 AM
Merch madness or simply clueless: when branding goes wrong big time
Rapper A$AP Rocky's upside-down American flag T-shirt firestorm joins the likes of Yeezus and boyband's condoms in celebrity merchandising failures
Tshepo Mokoena
28, May, 2015 @3:30 PM
Brit awards 2015: Rumer, Huey Morgan, Jessie Ware etc predict winners
Our panel of past nominees, including Kate Nash and Marvin Humes, discuss the good, the bad and the terminally boring at this year's Brits
Tim Jonze
25, Feb, 2015 @7:00 AM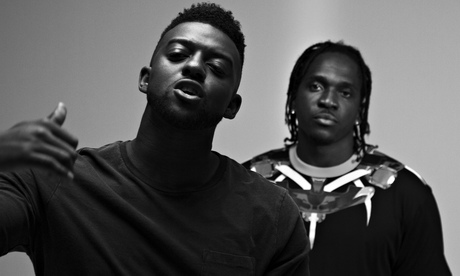 From JLS to OWS: the triumphant rebirth of Oritsé Williams
Via The X Factor, boyband success, Kanye's label and now a Jay Z-endorsed Pusha T collaboration, Williams' career revival is a lesson in how to start over
Issy Sampson
10, Feb, 2015 @9:00 AM

What I see in the mirror: Rochelle Humes
'This is going to sound strange, but I saw a picture of myself the other day and my knees looked like Winnie the Pooh'
Abigail Radnor
16, Aug, 2014 @5:00 AM

Beach Boys/JLS – review
The tunes are strong, but a Brian Wilson-shaped hole gapes at the heart of Mike Love's cynical touring version of the Beach Boys, writes Ian Gittins
Ian Gittins
08, Jul, 2013 @5:13 PM