On my radar: Jeffrey Lewis's cultural highlights
The singer-songwriter and comic book artist on the brilliance of band biographies, the joys of Jon Allen's comic books and the horrors of war
Interview by Kathryn Bromwich
06, Dec, 2015 @10:00 AM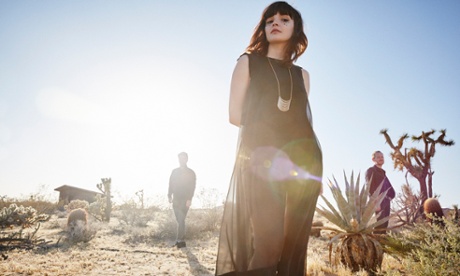 Coming up: the gigs, books and albums not to miss in November and December
The Observer's pop critic is back with another clutch of musical highlights, from Jon Savage's new cultural history, Lizzo's new album and the return of Madonna
Kitty Empire
15, Nov, 2015 @7:00 AM

Jeffrey Lewis & the Jrams review – a wordy force of nature
The anti-folk cult hero and comicbook artist from New York can stir you up with politics or knock you sideways with his sadness, writes Malcolm Jack
Malcolm Jack
22, Aug, 2014 @1:02 PM

Readers recommend: songs about buses - results
Traffic was heavy, horns were honked, but the wheels rolled on towards your awe-inspiring omnibus of routes and stories, says Peter Kimpton
Peter Kimpton
09, Jan, 2014 @2:34 PM

This week's new live music
Rita Ora | Jeffrey Lewis & The Junkyard | Holy Other | Martin Taylor/Guy Barker | Pee Wee Ellis | The Lady From The Sea/In The Locked Room/Ghost Patrol
John Robinson, John Fordham & Andrew Clements
24, Aug, 2012 @11:05 PM

Jeffrey Lewis: My NYC poetry reading with Thurston Moore, Genesis Breyer P-Orridge and Jonas Mekas
Jeffrey Lewis: Somehow I found myself reading poems with some of my avant garde heroes. But was the Sonic Youth man really praising my back catalogue onstage? Does growing older reduce your relevance as an artist? And would I ever get my tax return done?
Jeffrey Lewis
01, Mar, 2012 @5:23 PM

Jeffrey Lewis live session: how I wrote ... Try it Again
New York singer-songwriter Jeffrey Lewis visits the Guardian studios to perform a stripped-down version of new single Try It Again
Ben Kape, Andy Gallagher and Lindsay Poulton
20, Oct, 2011 @9:53 AM
Jeffrey Lewis: A Turn in the Dream Songs – review
Jeffrey Lewis might border on the twee, Rebecca Nicholson says, but he's never boring
Rebecca Nicholson
13, Oct, 2011 @10:40 PM

Jeffrey Lewis – A Turn in the Dream-Songs: exclusive album stream
Hear the brand new album from our favourite anti-folker ... and let him talk you through it, too
guardian.co.uk/music
05, Oct, 2011 @3:09 PM
Jeffrey Lewis – review
Jeffrey Lewis's name has sold the tickets, but this is a gig of equals – a rootsy, from-the-gut duo with 72-year-old Manhattanite Peter Stampfel, writes Caroline Sullivan
Caroline Sullivan
20, Jan, 2011 @5:47 PM

Jeffrey Lewis draws the Cribs!
Guest editors the Cribs ask comic book artist and tourmate Jeffrey Lewis to draw the story of their band
Jeffrey Lewis
18, Sep, 2009 @2:55 PM

Pop review: Jeffrey Lewis; 'Em Are I
Jettisoning the neurotic intimacy of his best work, the album is rather forgettable, says Hugh Montgomery
Hugh Montgomery
18, Apr, 2009 @11:01 PM