Has the mannequin challenge come to a standstill?
The meme began life in a high school and even made it to the White House. Who's acting like a dummy now?

Gavin Haynes
20, Dec, 2016 @4:00 PM
The mannequin challenge: like the Harlem Shake, but stationary
The latest in video fads sees people freeze-frame on film and has gone global in days. Striking a pose has never been so fashionable
'It became me, that was all I was': can the man who made the Harlem Shake escape its shadow?
It was the viral hit that broke YouTube records. But for its creator Baauer the Harlem Shake soon became a burden. We meet a reluctant EDM superstar
Ian McQuaid
16, Mar, 2016 @9:00 AM
The pop A-Z of 2013 - in pictures
From Morrissey's book to Miley Cyrus's wrecking ball, it's been a memorable year in pop. Here are the key moments, biggest trends and inexplicable hits
Kitty Empire, Dorian Lynskey, Tom Lamont, Leah Harper, Jude Rogers, Clive Martin and Nadia Khomami
24, Nov, 2013 @12:05 AM
Care Home Idol: rock'n'roll generation take care homes by storm - video
A talent competition for older people in residential care called Care Home Idol is producing some pop contenders. Here residents of Waterfield House care home set the dancefloor ablaze with their version of the Harlem Shake
Oxford's University's Harlem shake librarian must be reinstated | Alexander Fisken
Alexander Fisken: Calypso Nash had nothing to do with our stunt, which we planned as some harmless fun. Her sacking is completely unjust
Alexander Fisken
20, Mar, 2013 @4:42 PM
Oxford librarian dismissed over Harlem Shake video – that she wasn't in
Pity the poor librarian sacked after students made a Harlem Shake video in St Hilda's College library
Alison Flood
20, Mar, 2013 @1:38 PM
Harlem Shake, Royal Opera House style – video
Singers from London's Royal Opera House company take a break from rehearsals to add to the ever-growing collection of Harlem Shake videos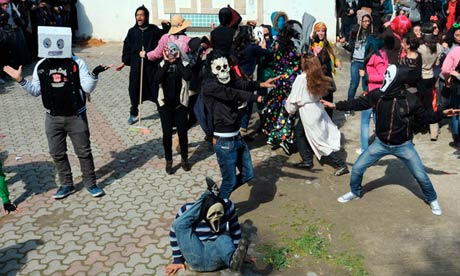 How the Harlem Shake moves to a more radical beat in Tunisia | Rachel Shabi
Rachel Shabi: The global dance craze is more than just a YouTube sensation for Tunisians using it as a form of protest
Rachel Shabi
14, Mar, 2013 @11:46 AM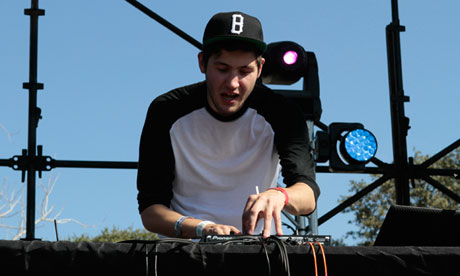 Harlem Shake: could it kill sampling?
An unexpected viral dance craze shot Baauer's Harlem Shake to the top of the Billboard charts. Almost immediately, legal letters began to arrive. So, can cut-and-paste culture continue to flourish on the internet?
Dorian Lynskey
13, Mar, 2013 @5:03 PM
Harlem Shake on WWII memorial triggers arrests- video
Police in Russia have arrested five people after a group posted a video of themselves doing the Harlem Shake dance on a WWII tank on Youtube
Mile-high Harlem Shake attempt - video
Passengers on an flight to San Diego, California, leave their seats to replicate the now infamous Harlem Shake dance