Faithless: how we made Insomnia
'MTV forced us to change the first line. It was originally: I only smoke weed when I need to'
Interviews by Dave Simpson
19, Oct, 2020 @1:43 PM
Rollo and Dido: return of the 50m-selling siblings who blundered into stardom
He's the trance titan whose band Faithless got the world raving. She's the angel-voiced sister whose talent he couldn't see. We talk euphoria and cancer with the Armstrongs

Alexis Petridis
03, Oct, 2019 @5:00 AM

Secret Garden Party 2013: what to look out for
Regina Spektor, virgin baptisms and naked trampolining are all on the cards at the Cambridgeshire festival this year. I can't wait, says Mark Beaumont. I can't wait, says <strong>Mark Beaumont</strong>
Mark Beaumont
25, Jul, 2013 @4:02 PM
The great rock'n'roll sellout
Gone are the days when bands would be scorned for getting into bed with corporate sponsors and brands, so what ever happened to "selling out"? Dorian Lynskey finds out
Dorian Lynskey
30, Jun, 2011 @9:00 PM

The Hard Sell: Fiat Punto
"In assenting to Fiat's overtures, Faithless have not so much shyly assented as dived in legs akimbo"
Louis Pattison
27, Aug, 2010 @11:05 PM
Return to splendour: the Strokes and Faithless are back
Chris Salmon hails some welcome web resurrections
Chris Salmon
18, Feb, 2010 @10:30 PM
A Leap into the unknown
Your guide to the world's mysteries? Him out of Faithless
Faithless, Sheffield Arena
Dave Simpson
10, Apr, 2007 @9:17 AM

CD: Faithless, To All New Arrivals
Caroline Sullivan
24, Nov, 2006 @12:10 AM
CD: Faithless, To All New Arrivals
You can't fault the trio's ability to talk to a crowd. But why, asks Garry Mulholland, do they speak in glib soundbites?
Garry Mulholland
12, Nov, 2006 @2:09 AM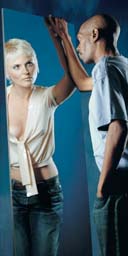 Faithless, Alexandra Palace, London
Helen Pidd
04, May, 2005 @11:31 AM

Home entertainment: Faithless
The sounds of AC/DC, Little Feat and David Bowie can often be heard in the home shared by Faithless' Sister Bliss and Maxi Jazz.
Interview by Will Hodgkinson
02, Jul, 2004 @1:49 AM