'It reeked of hope and ambition': 30 years of riot grrrl label Kill Rock Stars
Born in the Pacific north-west scene that produced grunge – but often in opposition to it – Kill Rock Stars pushed women to the front of the stage, and also gave Elliott Smith a platform
Daniel Dylan Wray
23, Apr, 2021 @8:00 AM
JJ Gonson's best photograph: a smile from Elliott Smith
'There was this cult of personality around him – the dark, tortured figure – but this shows the tip of the hat, the sideways glance: that's the actual person'
Interview by Daniel Dylan Wray
26, Aug, 2020 @1:39 PM
Needle in the hay: Elliott Smith's incomparable brilliance lives on
A reissue of his mid-90s album Either/Or has divided his followers, but almost 15 years after his death the introverted songwriter is still fascinating new fans
Melissa Locker
10, Mar, 2017 @4:10 PM
New band of the week: Andy Shauf (No 95)
Canadian singer-songwriter whose forthcoming album of lush chamber-pop is full of awkward characters and lovely atmospherics

Paul Lester
18, Mar, 2016 @2:00 PM
From Elliott Smith to Ed Sheeran: how acoustic introverts became stars
The soundtrack to Elliott Smith's Heaven Adores You is released today - illuminating an artist at odds with the new wave of confident singer-songwriters. Is it the end of the introspective male tradition that gave voice to our insecurities?
Paul Lester
05, Feb, 2016 @4:27 PM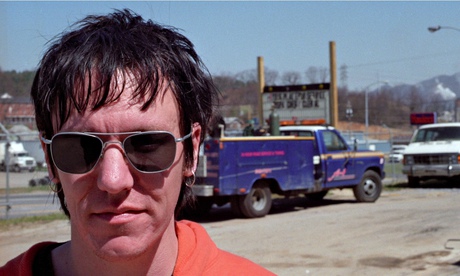 Heaven Adores You review – adoring Elliott Smith doc will purr for fans
Nickolas Rossi's documentary drifts past the late singer's drug addiction and troubled life, but captures his fragile, romantic side
Henry Barnes
07, May, 2015 @8:01 PM

John Grant – review
John Grant's tortured love affair is still inspiring superb lyrics, now matched by fierce Icelandic electronica, writes Kitty Empire
Kitty Empire
18, May, 2013 @3:00 PM

Elliott Smith reissue upsets fans
Forthcoming 'remastering' of late singer-songwriter's debut album provokes complaints for correcting mistakes of original
Sean Michaels
24, Mar, 2010 @10:36 AM

CD: Elliott Smith, New Moon
Maddy Costa
11, May, 2007 @10:55 PM
CD: Elliott Smith, New Moon
Ben Thompson on the late, sad-eyed troubadour who peaked before he was shortlisted for an Oscar, as these early gems reveal.
Ben Thompson
21, Apr, 2007 @11:11 PM

CD: Elliott Smith, From a Basement on a Hill
Alexis Petridis
15, Oct, 2004 @12:35 AM

The mysterious death of Elliott Smith
No one was too surprised when Elliott Smith - a boozy, druggy Oscar-nominated folk singer who had talked openly about killing himself - was found dead. But then the coroner's report raised a chilling new possibility: murder. By Alexis Petridis.
Alexis Petridis
19, Mar, 2004 @2:48 AM