Spice Girl among stars to begin phone-hacking claims against Murdoch empire
Melanie Chisholm, Boyzone's Shane Lynch and S Club 7's Hannah Spearritt latest to allege voicemail interception
Jim Waterson Media editor
26, Sep, 2021 @5:07 PM
Boyzone review – highs and lows revisited in an emotional farewell
The quintessential boyband, now in their 40s, sang, danced and had a laugh before a heartfelt tribute to the friend they lost
Graeme Virtue
28, Jan, 2019 @6:00 AM
The 30 best boyband members – ranked!
From the Osmonds' Donny to BTS's Jimin, boybands have produced some brilliant performers behind the hair gel. Ahead of the release of Zayn Malik's new album, we list the greatest

Michael Cragg
13, Dec, 2018 @1:00 PM
Back in bloom: how queer male pop reclaimed its star status
The 80s put the gay man front and centre of pop. Then came the Aids crisis – and three decades of demonisation, discord and displacement. Now, with Troye Sivan leading a new wave of gay stars, has change truly arrived?
Brian O'Flynn
31, Oct, 2018 @12:36 PM
Stool samples: a history of chairs in pop, from Westlife to Britney
To mark the return of the key change-loving Irish balladeers, here's a celebration of music's most comfortable accessory
Hannah Verdier
30, Oct, 2018 @9:00 AM
Richard Madden helps us get to the bottom of Bodyguard's popularity | Rebecca Nicholson
Is anyone truly being offended by sexy dramas featuring men with some of their bits out?
Rebecca Nicholson
08, Sep, 2018 @3:56 PM
Dirty laundry, bleached bumholes and Reading Uni: the secrets behind Ed Sheeran's success
From bleached bumholes to dirty laundry, the Galway Girl songwriter's output reveals a lot about his life
Michael Cragg
25, Aug, 2018 @9:00 AM
Life after boybands: how singers from Westlife, Boyzone and Bros coped when reality hit
What do you do when global fame is pulled from under you? Here, Brian McFadden, Keith Duffy and Matt Goss discuss their curious – and sometimes difficult – transitions to the real world
Tim Jonze
30, May, 2018 @5:00 AM
Pop stars in pantomime: the 90s tween music afterlife
We're in the season where the biggest pop music stars of the 90s fill theatres all over again – as the stars of pantos up and down the UK
Tshepo Mokoena
22, Dec, 2015 @12:30 PM
One Direction: which member matched which boyband stereotype?
The roles in boybands are tightly cast – so how well did the 1D boys conform to them?
Harriet Gibsone
24, Aug, 2015 @3:04 PM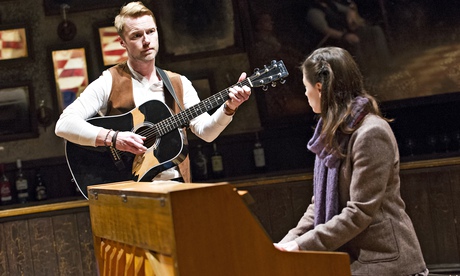 Once review – Ronan Keating hits the right notes as humble busker
The Boyzone star's acting errs on the wooden side, but there's no doubt about his singing performance, writes Kate Kellaway
Kate Kellaway
30, Nov, 2014 @12:05 AM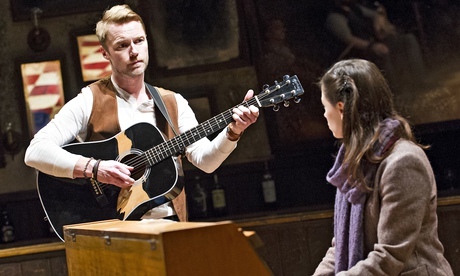 Ronan Keating in Once review – night of cracked hearts as Guy meets Girl
The Boyzone star acquits himself well but despite Enda Walsh's colourful characters, this show sounds too tasteful, writes Lyn Gardner
Lyn Gardner
26, Nov, 2014 @10:46 AM