'Someone called me the antichrist': behind the battles for Christmas No 1
Christmas No 1 was once a fiercely fought-over prize. From RATM v Joe McElderry, Slade v Wizzard and George Michael in Wham! v George Michael in Band Aid, winners and losers recall the great festive stand-offs
Dave Simpson
14, Dec, 2018 @6:00 AM
Call it a world of dread and fear, Geldof? Try eating catfish in a Lagos bush bar | Elnathan John
Nigerian satirist Elnathan John responds to Do They Know It's Christmas? – the Band Aid song that did as much to entrench myths as it did to raise money
Elnathan John
20, Dec, 2017 @7:00 AM
Still saving us from tears: the inside story of Wham!'s Last Christmas
From George Michael hogging the sleigh bells in the studio to pratfalling on the snowy video set, the beloved Christmas song is testament to the late pop star's talent – and insecurities
Rachel Aroesti
14, Dec, 2017 @4:00 PM
Ed Sheeran means well but this poverty porn has to stop | Afua Hirsch
Aid adverts featuring 'white saviours' may bring in cash but they remove dignity from those in crisis, says author Afua Hirsch
Afua Hirsch
05, Dec, 2017 @8:35 PM

Live Aid – test your knowledge of the Global Jukebox
On 13 July, 1985, the world's biggest stars played concerts in London and Philadelphia to raise money for famine relief. But what do you remember about Live Aid?
Guardian music
13, Jul, 2015 @11:53 AM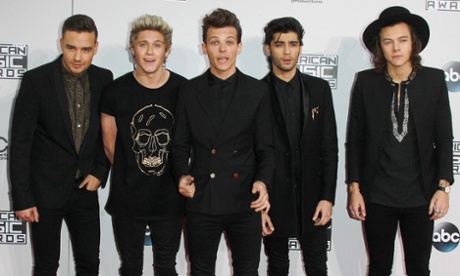 From The Beatles to Bieber, how pop stars have saved the world
Ahead of Cop21 and the SDGs, boy band One Direction have launched a humanitarian campaign. How have other pop stars contributed to development throughout the ages?
Naomi Larsson
09, Jul, 2015 @3:34 PM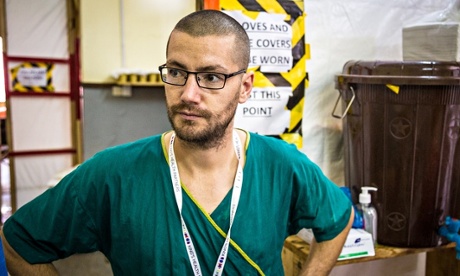 Ebola survivor Will Pooley calls Band Aid 'cringeworthy cultural ignorance'
The aid worker, who is fighting Ebola in Sierra Leone after having previously contracted and beaten the disease, says the charity single was 'just a bit much'
Ben Beaumont-Thomas and Lisa O'Carroll
09, Dec, 2014 @9:17 AM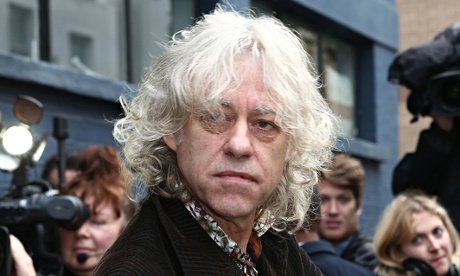 Bob Geldof urges those who've purchased charity single to 'delete and download again'
Artist and activist claims 99p download price of Do They Know It's Christmas? makes it difficult to have an impact compared to the 1984 single, which was priced at £3.50
Sean Michaels
24, Nov, 2014 @8:16 AM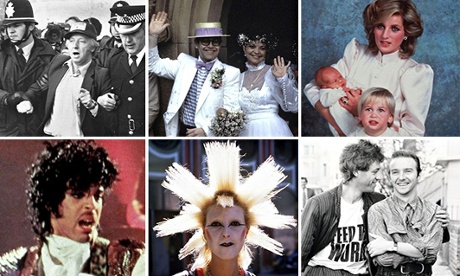 Is Ukip right – was life really better in 1984?
Two thirds of Ukip voters would like to turn back the clock to the way Britain was 20 or 30 years ago. Sam Wollastan peers back through the mists of time to see if they have a point

Sam Wollaston
21, Nov, 2014 @11:53 AM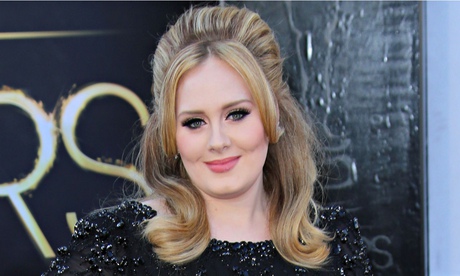 Never mind, Adele, you can always be in Band Aid 40
Stuart Heritage: The singer might be getting stick for allegedly turning down Bob Geldof's call, but her next opportunity is bound to come up in 2024
Stuart Heritage
20, Nov, 2014 @4:12 PM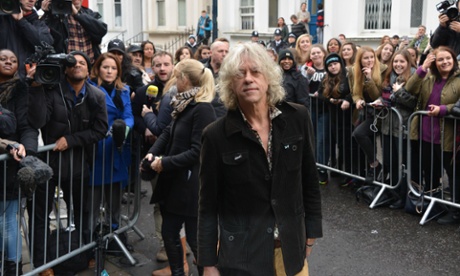 Band Aid 30 becomes fastest-selling single of 2014
Do They Know It's Christmas? charity single in aid of Africa's Ebola crisis has sold 206,000 copies since its release
Guardian music
18, Nov, 2014 @12:54 PM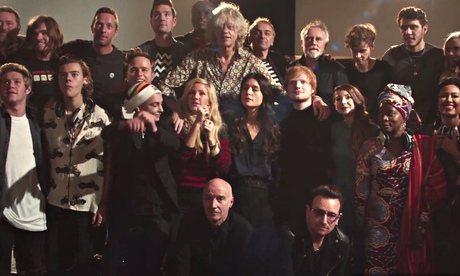 Band Aid 30: teen star + Bono + drummer = Bob's your uncle
The faces of Band Aid have changed in each of the four versions but the winning formula has been the same for 30 years. Michael Hann explains the casting
Michael Hann
17, Nov, 2014 @7:21 PM