Meghan and Harry draw praise and vitriol after Oprah Winfrey interview
Analysis: the divides were as deep as they were predictable manifestations of a culture war
Archie Bland
08, Mar, 2021 @6:30 PM
Alexandra Burke says music industry told her to bleach her skin
X Factor star also says she was told not to wear braids in order to appeal to a white audience
Ben Beaumont-Thomas
20, Jun, 2020 @3:22 PM
Beyoncé: 10 of the best deep cuts, rarities and Bey-sides
As the superstar returns to the UK, here's a sample of her lesser-known hits, featuring Solange and Dixie Chicks – plus how Lemonade changed the game
Claudia Rankine and Sam Wolfson
16, Jun, 2018 @9:00 AM
Chess review – Benny and Björn's cold war musical no match for tiddlywinks
Even Alexandra Burke can't save this lumbering story told with tracks by the Abba songwriters
Lyn Gardner
02, May, 2018 @2:07 PM
Too big for her boots? Alexandra Burke's confidence should be feted | Rebecca Nicholson
Her Strictly performances were exceptional but the British public's love of an underdog did her no favours. More's the pity
Rebecca Nicholson
18, Mar, 2018 @6:02 AM
Alexandra Burke: The Truth Is review – efficient power balladry with West End touches
Rachel Aroesti
09, Mar, 2018 @11:00 AM
Selfies! Smoking! Snogging! Why pop stars love a house party
From Beastie Boys to Beyoncé, we explore music videos' enduring obsession with red cups and riotous shower scenes
Michael Cragg
30, Jan, 2018 @9:00 AM
Strictly Come Dancing and racial prejudice | Letters
Letters: Tim Bale thinks more research is needed before deciding whether ethnicity affects a contestant's chance of winning, Sue Boulding says some took against Alexandra Burke because they thought she had an unfair head start, while Alex More points to the expected success of Anthony Joshua in another public vote
Letters
17, Dec, 2017 @6:45 PM
Strictly crowns Katya Jones and Joe McFadden in a sea of schmaltz
It was a sparkling sugar-rush of nerves for the BBC Strictly Come Dancing final, a culmination of the winning formula of fake tan, sequins and a little controversy
Barbara Ellen
17, Dec, 2017 @8:12 AM
Alexandra Burke and the trouble with reality TV and race
As a brilliant dancer fails to win votes on Strictly week after week, an unsettling interpretation emerges: that racial anxieties are the problem
Hannah Ellis-Petersen
16, Dec, 2017 @1:35 PM
Strictly Come Dancing semi-final results – as it happened
The competition got serious with a two-dance semi-final, but which of the five remaining celebrities performed best under pressure, and who didn't make the Grand Final?

Heidi Stephens
10, Dec, 2017 @7:59 PM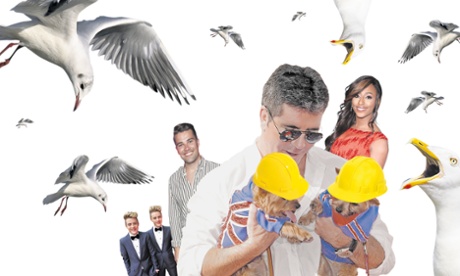 Simon Cowell loves his dogs. But does he love his former contestants as much?
The karaoke Sauron is designing helmets to protect Squiddly and Diddly from seagull attacks. But could he apply the same concern to those who have been through his fame mangle?
Peter Robinson
23, Jul, 2015 @6:01 PM