Sunday with Akon: 'I've got a bowling alley in my basement'
The singer on junk food, quietness and perfect peace
Michael Segalov
08, Jan, 2023 @6:00 AM
Music mogul Akon going ahead with futuristic 'Akon City' in Senegal
US-Senegalese star says smart city will be built in mould of fictional nation Wakanda
Emmanuel Akinwotu West Africa correspondent
01, Sep, 2020 @3:43 PM
You'll Never Walk Alone and Locked Up top chart of popular quarantine music
Listeners are flocking to hear tracks such as Don't Stand So Close to Me and Everybody Hurts as the coronavirus crisis deepens
Ben Beaumont-Thomas
27, Mar, 2020 @2:36 PM
Who says musicians lack ambition these days? Akon is building a real-life Wakanda
The rapper already owns a diamond mine. Now he plans to build a futuristic city in Senegal trading solely in the cryptocurrency 'Akoin'
Rhik Samadder
24, Jun, 2018 @2:59 PM
Aid is dead: Akon sets out the case for lighting up Africa through business
The US-Senegalese rapper best known for filling dancefloors answers your questions about electricity, music and his love of the continent
Akon,Joshua Surtees and Maeve Shearlaw
03, Dec, 2015 @5:01 PM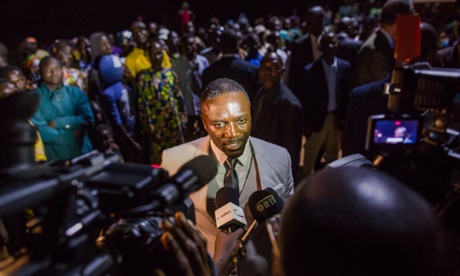 Akon: 'I don't think charities in Africa work'
US-Senegalese rapper Akon has launched an ambitious energy access project in Africa. But will it be as successful as his music?
Joshua Surtees in Paris
05, Oct, 2015 @8:42 AM

Eminem and Rihanna unite – and both secure their seventh No 1
Rihanna's guest spot on The Monster means she becomes only third artist to have seven No 1s across seven years
Guardian music
04, Nov, 2013 @3:27 PM

Stagediving, putting the danger back into live music
It had become a rock and roll cliche – until R&B stars started putting their own fans in genuine physical peril
Luke Holland
12, Jul, 2013 @12:00 PM

Musicians, stop collaborating please!
Caroline Sullivan: Jay-Z and Alicia Keys? Inspired. JLS and Dev? Pitbull and whoever? Just soulless, corporate collaborations that are ruining the charts
Caroline Sullivan
22, Feb, 2012 @5:13 PM

Akon refuses to release unfinished Michael Jackson tracks
R&B star behind Hold My Hand says the rest of his Jackson collaborations were incomplete when the singer died
Sean Michaels
22, Nov, 2010 @10:44 AM

New Michael Jackson album is 'disrespectful', says Will.I.Am
Black Eyed Peas frontman, who worked with Jackson, claims forthcoming compilation featuring 50 Cent, Lenny Kravitz and Akon seeks to profit from the singer's death
Sean Michaels
15, Nov, 2010 @12:14 PM

Fifteen years of the Mobo awards | In pictures
This year sees the 15th anniversary of the Mobo awards. Here, we celebrate the event's legacy with pictures from the past decade and a half
guardian.co.uk/music
10, Sep, 2010 @2:31 PM