Adam and the Ants: how the wild tribe revealed pop's theatre of dreams
In our series on musicians with a formative influence on our writers, Alexis Petridis on his relationship with the band for whom ridicule was nothing to be scared of
Alexis Petridis
15, Feb, 2021 @8:00 AM
From the archive: Adam Ant stands and delivers, 1982
The pirate/highwayman/pop star took four hours preparing for his photograph. By Chris Hall
Chris Hall
25, Oct, 2020 @6:00 AM
'I should have grown out of this': how pop fandom shaped us
As Pete Paphides publishes a memoir of his life in pop, our writers reflect on the childhood musical loves that made them
Pete Paphides, Alexis Petridis, Ben Beaumont-Thomas, Laura Snapes, Hannah J Davies and Michael Hann
05, Mar, 2020 @8:54 AM
I tried to see the fun in fancy dress parties – all I felt was pain and panic
Real friends won't leave you out in the cold for turning down an invitation
Coco Khan
07, Jun, 2019 @1:00 PM
What to see this week in the UK
From Lizzie to Wolf Alice, here's our pick of the best films, concerts, exhibitions, theatre and dance over the next seven days
Andrew Pulver, Michael Cragg, John Fordham, Andrew Clements, Jonathan Jones, Mark Cook and Lyndsey Winship
14, Dec, 2018 @9:00 AM
Back in bloom: how queer male pop reclaimed its star status
The 80s put the gay man front and centre of pop. Then came the Aids crisis – and three decades of demonisation, discord and displacement. Now, with Troye Sivan leading a new wave of gay stars, has change truly arrived?
Brian O'Flynn
31, Oct, 2018 @12:36 PM
Observer picture archive: Adam Ant, 9 October 1984
The singer was photographed by Tim Mercer, who regularly captured the great and the good for the Observer magazine's long-running feature, A Room of My Own.
selected by Greg Whitmore, Observer picture editor
06, Oct, 2018 @5:30 PM
Adam Ant review – still a king of the wild frontier
Ant might no longer be the lithe, dandy highwayman of his early years, but he continues to strikes a defiant pop-star pose
Ian Gittins
12, Jun, 2016 @11:56 AM
'Heroic, sexy and a warrior bravado': how Adam and the Ants redefined pop
They were a riot of makeup, feathers, tribal drums and surf guitars – and, for a brief, spectacular moment, they became the biggest band in the UK. Adam Ant and Marco Pirroni tell the story of their breakthrough
Alexis Petridis
26, May, 2016 @3:52 PM
Forget 1966, because 1981 was pop's year of revolution
While Jon Savage has been hailing the mid-60s, there's a case to be made that we're about to mark the 35th anniversary of pop's greatest year
Bob Stanley
17, Dec, 2015 @5:12 PM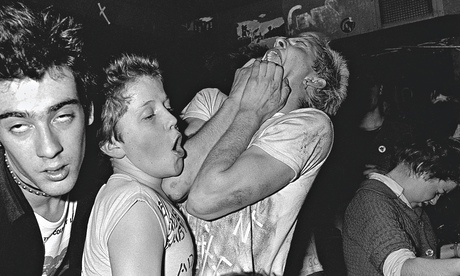 That's me in the picture: Justin Semmens at an Adam And The Ants gig at the Marquee Club, London, 1977
'Someone asked whether it was children's night, but the truth is no one bothered to check your age back then'

Readers recommend: songs about smuggling and stealing – results
Pickpockets to highwaymen, bank heists to drug smuggling, the readers' collective Robin Hood act has made a treasure chest, says Peter Kimpton
Peter Kimpton
19, Dec, 2013 @1:40 PM