McFly's Tom Fletcher looks back: 'People threw things at us in the street. These days, they just want to say something nice'
The songwriter turned children's author recreates an old photo and talks about the calm after his wild boyband days
Harriet Gibsone
29, Oct, 2022 @11:00 AM
'My coolness has disintegrated': how pop stars cope with fatherhood
Pop's mothers have told of guilt, loneliness and record-label prejudice – so do men face the same problems? Wayne Coyne, Ghetts, Thurston Moore and others respond
Rachel Aroesti
02, Dec, 2020 @12:30 PM
TV tonight: the return of pop-rockers McFly
The boyband are back with a new album and documentary examining their time away from the spotlight. Plus: the story of David Crosby. Here's what to watch this evening
Ammar Kalia, Phil Harrison, Hannah Verdier, Hannah J Davies and Paul Howlett
14, Nov, 2020 @6:00 AM
The return of McFly: will the cheeky pop-punkers finally get their due?
Despite being dismissed as teenage girl fodder, the millennial outfit were influential for a generation of bands
Jenessa Williams
30, Oct, 2020 @1:00 PM
Kat and the Band review – unlikely adventures of a wannabe pop mogul
A teenage fan persuades her idols to let her manage them – before it all goes wrong on a tour of the Cotswolds
Leslie Felperin
15, Jul, 2020 @5:00 PM
Tom Fletcher: 'Dad wanted to be in a band. I'm living his dream'
The singer and children's author on his many family creative influences, fatherhood and depression
Interview by Juliet Rix
13, Jan, 2017 @2:44 PM
No direction: have boybands hit the end of the road?
With One Direction on hiatus and the latest manufactured outfits tanking, the future looks bleak for pop's permabuffed princelings. Perhaps it's time to bring back the dance routine …
Michael Cragg
14, Apr, 2016 @10:00 AM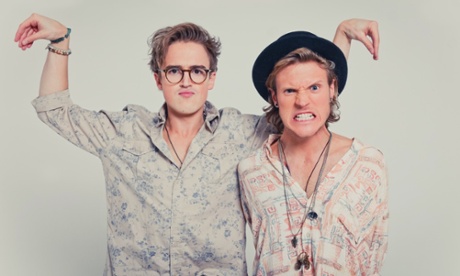 McFly's Tom and Dougie tell jokes about poo and dinosaurs on Red Nose Day
When they aren't playing with their bands McFly or McBusted, Tom Fletcher and Dougie Poynter spend their time writing the Dinosaur That Pooped books. They made this video just for us to tell us some very important jokes about poo and dinosaurs (and sometimes both mixed together). Nice to see that some adults don't bother to act their age in any way on Red Nose Day, or any other day!
Tom Fletcher and Dougie Poynter
13, Mar, 2015 @10:00 AM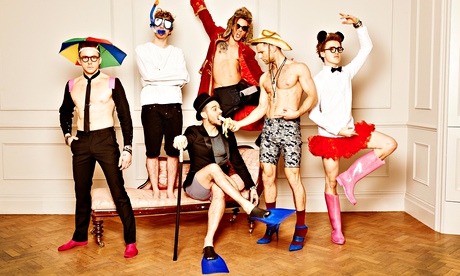 McBusted: Busted + McFly = one of 2014's most unlikely pop stories
Peter Robinson: How three Busted stars teamed up with their counterparts in McFly to become one of the year's biggest successes
Peter Robinson
18, Dec, 2014 @6:04 PM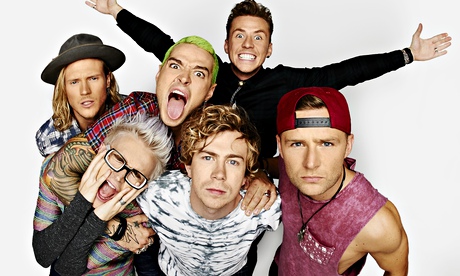 McBusted: debut album review – adolescent sentiments
The child-friendly supergroup's debut album features adolescent sentiments and thrashy songs diluted for X Factor fans, writes Paul Mardles
Paul Mardles
30, Nov, 2014 @12:05 AM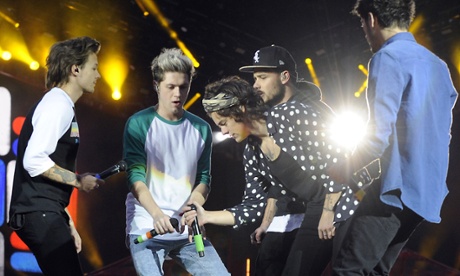 How to write a boyband hit – by One Direction's songwriters
Harriet Gibsone: It's easy, surely? Just get five good looking lads to sing any old tosh, and watch the money roll in. Not so, say three experts
Harriet Gibsone
14, Nov, 2014 @11:02 AM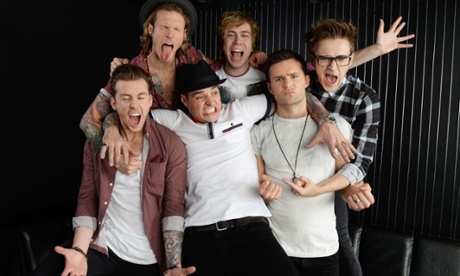 Bobbing for boobs, branded tattoos and rude snacks: it's Jackass-inspired japery at the McBusted press conference
Behind the blended pop-punk band's idiotic activities at the Hippodrome is a serious 2015 arena tour that makes a lot of money and pleases a lot of fans, writes Harriet Gibsone
Harriet Gibsone
04, Nov, 2014 @4:19 PM