Watch Africa Express at Glastonbury 2007 – video
The musical collective known as Africa Express played its first-ever proper gig at the Glastonbury festival in 2007. Here is Algerian singer Rachid Taha covering the Clash's Rock the Casbah with Damon Albarn, Billy Bragg, Baaba Maal and more
Click to download: All the dirt
Chris Salmon trudges his way through the Glasto coverage, but is more impressed with Calvin Harris's camera manner.
Chris Salmon
29, Jun, 2007 @10:55 PM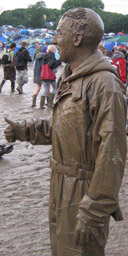 Desperately seeking my mudman
Glastonbury 2007: A place of potential serious intestinal infection, yes, but a place of potential love? Apparently
Review: The Chemical Brothers
5.5 out of 10: Sunday, 10.40pm, Other. The fact that Rowlands and Simmons are obscured from view, combined with the bizarre but oddly captivating graphics, seems to destroy all human element in the show, which is actually something the pair were very good a providing back in the day.
Rosie Swash
26, Jun, 2007 @10:12 AM
Africa Express, Park Stage, Glastonbury
Robin Denselow
26, Jun, 2007 @8:22 AM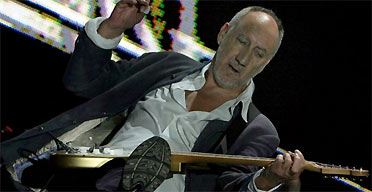 Review: The Who
7 out of 10: Sunday, 10.05pm, Pyramid stage. On the day Gordon Brown has become leader of the Labour party, Won't Get Fooled Again has a resonance beyond its crashing power chords.
Betty Clarke
25, Jun, 2007 @12:03 PM
And that's a wrap...
The Guardian Unlimited Music team is home or on its way home. For a round-up of the weekend, visit our Glastonbury special report. For all the reviews from this weekend - the Who and the Kaiser Chiefs have been added, with more to come - click here. And for all the music blog posts - new ones by Jack Penate and the Rakes have been added - visit the music blog.
Festival style: this year it was all about the legs, says Laura Barton
Laura Barton: For the most part, the bare-legged look proved successful - that glimpse of flesh between wellington boot and poncho hem proved supremely heartening amid the muddy gloom and sulky skies.
Laura Barton
25, Jun, 2007 @11:21 AM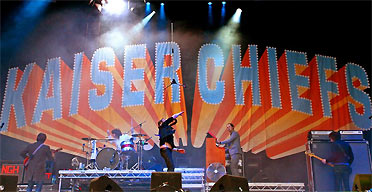 Review: Kaiser Chiefs
9 out of 10: Sunday, 8:00pm, Pyramid stage. The Kaisers played all the hits from opener Every Day I Love You Less and Less to closer Oh My God.
Review: Vitalic
7 out of 10: Sunday, 7pm, Dance East. Pascal Arbez's impeccable timing makes the efforts of Simian Mobile Disco on this very stage yesterday look just amateur.
'The vibes from the stone circle are amazing'
Patrick Barkham meets some happy campers.
Patrick Barkham
24, Jun, 2007 @11:09 PM
'Oh good, it's raining again'
Charlie Brooker had never been to a festival before. In fact he'd never even been camping. So how would he cope with the full Glastonbury experience?
Charlie Brooker
24, Jun, 2007 @11:09 PM