When the Mother Superior sang Climb Every Mountain, as a dreamy call to action to a despondent nun Julie Andrews in the Sound of Music, did she not consider that ropes, crampons, warm/waterproof clothing and a whistle to attract attention might be required? And when the Supremes released Up the Ladder to the Roof, and decades later, Lorde's Ladder Song climbed up the charts, did none of them think to ask a friend to stand and hold the base during use, and that the model, whether wooden or aluminium, of step or folding variety, should comply with HSE standards INDG455?

Squeeze drank Black Coffee in Bed, but that careless bunch should definitely have been aware of the risk of spillage and scalding, as is now required on packaging by many retail outlets. Was David Bowie sharp enough to have worn protective goggles and gloves when Breaking Glass in your room again? No! Nor was Nick Lowe - without a care in the world, he simply loved it. Manfred Mann chose to cover Springsteen - and were Blinded by the Light. Didn't they check the correct wattage of the bulb and look away before changing and switching it on, for goodness sake? And as for Electric Six's Danger! High Voltage!, the disregard for health and safety regulations is absolutely shocking.
There would be no safety without danger, no danger without a sense of safety. Safety is all about taking precautions, but your song choices can take a cautious or a carefree angle here. This week I am issuing an HSE licence to be playful, offbeat, silly even, so feel free to use song titles or lyrics from a health and safety perspective in as imaginative way as you like. As hands-on gun-toting former marine expert Jeff Cooper put it, meaning something altogether different, yet somehow appropriate for a song context: "Safety is something that happens between your ears, not something you hold in your hands."

But then again, safety is something that could be interpreted in a variety of ways - perhaps literally as a response to physical hazards. Politics is dangerous, as Imran Kahn found during a political rally. So is fashion, as Naomi Campbell found. And music is also dangerous business. Artists simply cannot help falling off stage. Bono's done it, Madonna took at trip at the Brit Awards, The Edge managed to step off, well, the edge, and Dave Grohl of the Foo Fighters had to cancel this year's Glastonbury gig, and at that very event this year I saw first hand several artists take a tumble, including passionate Future Islands frontman Samuel Herring (the bigger they come …) and the great Patti Smith, who responded with the hilarious outburst: "So I fell on my arse at Glastonbury! It's because I'm a fuckin' animal! Raaaoor!"
Your songs about safety may also take in feelings of being warm, cosy and sheltered, and safe from harm, yearning for or finding it. Or how about safety in numbers? Possibly yes, if you are an emperor penguin, a buffalo, or even a shoal of tuna under attack, and as Horace put it, it's a mutal thing: "Your own safety is at stake when your neighbour's wall is ablaze." But safety in numbers almost certainly not in the stock market, and every panic event since the 17th-century Dutch tulip mania to the extraordinarily huge and frantic recent levels in China's share trading.

Danger comes in many forms, but who better to defy it than that stunt man Evel Knievel who jumped dozens of buses and a lake full of snakes in the 1970s? His son Robbie, is the answer – he did even more daring things than his dad. But for me the most enthralling danger-safety artist is the great Philippe Petit, who did a tightrope walk between the still-standing New York Twin Towers in 1974, as depicted in the film Man on Wire (2008).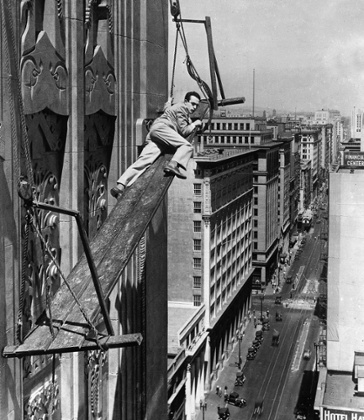 Your other heroes of fictional danger (but real stunts) may include Buster Keaton, or Harold Lloyd, or Jackie Chan. But often real danger lurks closer to home, with objects falling from shelves and sometimes dubious encounters with household objects such as vacuum cleaners all too common. Our media is rife with falling over videos, particularly when stepping on or off boats, or dancing drunk at wedddings, in the You've Been Framed-type franchises. Remember too that food hygiene, including food poisoning is also a safety-danger issue. Beware the salmon mousse for example, as shown when Death comes to claim dinner party guests at the end of Monty Python's The Meaning of Life.

But as an antidote for readers of a certain age, safety from danger was expressed with a beautiful element of innocence by the man who played the original Darth Vader, David Prowse, not to mention a sprinkle of good sense by Alvin Stardust:
So then, look both ways, and bearing in mind previous topics such as songs about accidents, doctors, and warnings, place you songs about safety (and danger) in comments below. This week's more than qualified HSE officer comes in the extremely safe skilled pair of hands of DarceysDad. Your nominations will be safe if they are put in comments below by last orders 11pm (BST) this coming Monday 20 July, for DsD's results list to be published on Thursday 23 July. Safe!
To increase the likelihood of your nomination being considered, please:
• Tell us why it's a worthy contender.
• Quote lyrics if helpful, but for copyright reasons no more than a third of a song's words.
• Provide a link to the song. We prefer Muzu or YouTube, but Spotify or SoundCloud are fine.
• Listen to others people's suggestions and add yours to a collaborative Spotify playlist.
• If you have a good theme for Readers recommend, or if you'd like to volunteer to compile a playlist, please email peter.kimpton@theguardian.com
• There's a wealth of data on RR, including the songs that are "zedded", at the Marconium. It also tells you the meaning of "zedded", "donds" and other strange words used by RR regulars.
• Many RR regulars also congregate at the 'Spill blog.