1 Madonna's legs might be made of titanium
It's hard to understand how else she withstood a fall down the stairs, dragged backwards by a dancer while performing Living For Love. But she got up and finished the song, then took to Instagram to tell her fans that she was all right. Respect where it's due, to be honest. TM
2 Ed Sheeran is a suit's wet dream
Ed Sheeran's performance showed he's a passionate and evocative musician – which other multimillion-selling star uses a loop pedal on the fly at an awards show? But his offstage demeanour betrays a man swaddled in management, the kind of guy who talks earnestly about his "Q4 prospects". His acceptance speech for the biggest award of the night had him couching success in ticket and album sales, rather than art – the ultimate example of today's free market pop. BBT
3 Ant and Dec peaked in the first five minutes of the show
The hosting duo never really shone comedically, and put in their best work when their heads were bafflingly presented on a platter after a Eurovision-like opening segment. Their gags felt tame, and all very amicable. I never thought I'd think this, but should the Brits try to tempt James Corden back from America in 2016? TM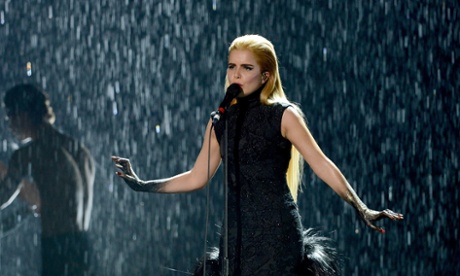 4 Paloma Faith's speech celebrated the underdog
2015 was a year of acceptance speech firsts: there was Ed Sheeran, who chose to dedicate one of his two awards not to God, his mum or his fans, but a lady named Deirdre. Then, there was Paloma Faith, whose acceptance speech for best solo female not only celebrated the "underdogs" and the "grafters", but also exposed the kooky pop singer for the evil delinquent she truly is. "I used to fly poster my posters in Hackney and I've been arrested twice for doing that," she claimed during what was the most honest and endearing speech of the night. That's not to say illegal fly postering is either acceptable or admirable. Stay in school, kids. HG
5 Take That today are Imagine Dragons in 20 years
The former 90s boyband have now revamped as a sort of poppy stadium-rock trio. To prove it they brought on that dreaded 2014 accessory, the upright tom-tom drum, channelling Imagine Dragons' Grammys performance with Kendrick Lamar and Bastille's 2014 Brits gig with Ella Eyre. "Somebody's been listening to Coldplay, eh?" said co-host Dec Donnelly after Take That left the stage. Fair. TM
6 Kanye embraced grime
Drake has been bigging up Brit crime drama Top Boy and grime MC clash series Lord of the Mics on his Instagram, so not to be outdone, Kanye West brought out tens of grime dons from Krept and Konan to Novelist, and shouted out Skepta at the end of his astonishing All Day. Nothing says "black lives matter" more than putting the creators of Britain's most daring music into the spotlight, and taunting racists with a cartoonish and chic version of their nightmares: hoods, flames, mobs. Even if you discount the Drake diss that people are already picking out of the track's lyrics, this was Kanye announcing himself as the keeper of rap's vanguard. BBT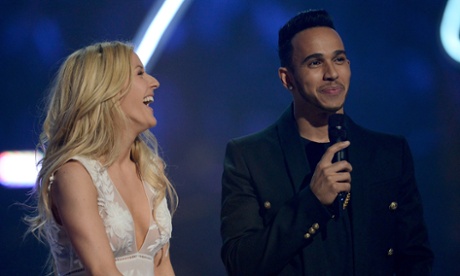 "Sorry, I have to hold myself, I can't stand," announced Ellie Goulding as she approached the podium with – who else? - the current Formula 1 world champion.
"Your dress …" stuttered a confused Hamilton. "You going to a wedding or something?"
"Excuse me!" exclaimed Goulding.
Several seconds of silence passed.
"That was a good one," said Goulding.
"No." said Hamilton.
More silence.
To produce banter this awkward on a night that involved Jimmy Carr making a joke about Madonna being on HRT certainly takes some doing. But the unique chemistry between Goulding and Hamilton was enough to make Sam Fox and Mick Fleetwood seem like Morecambe and Wise. TJ
8 After all the hype, people still don't know Royal Blood
In what is becoming a dependable post-awards show trend, a lesser-known act's win inspired a series of "who even is this?" tweets. In this case, it was Brighton garage-rock duo Royal Blood. Saying "this is a huge surprise for us, and probably for everyone here because you may not know who we are" probably didn't help their cause, but there that is. TM
9 Sam Smith painted himself into a corner
Sam Smith may have got his break from his mum pouring her City fortune into his career, but it matters not in our post-authentic world – and when he emerged, it looked like we had a proper pop star on our hands. Unafraid to sing about his sexuality and heartbreak, he flitted from UK garage (La La La, Money on My Mind) to throbbing dance (Latch) to premium ballads (Stay With Me). But then he got big in America, where emoting is king – now his big public appearances see him trotting out plodding, desperately average songs that have all the emotional complexity of a crying emoji. If he continues on this path, he'll paint himself into a corner, and become a weird footnote in Grammy history. BBT
10 Foo Fighters must have had a busy press day recently
The shouty rockers accepted their international group award in a video message. But wait – weren't those the same clothes they were wearing when they received their NME award on Wednesday 18 February and announced their Glastonbury 2015 headliner's slot? Ah yes, they clearly recorded acceptance speeches for both at the same time. Efficient, those ones. TM