It was 2005 and my desk was covered in a mountain of polycarbonate plastic and press releases nobody would ever read, and I was feeling jaded. These were the days when record companies were still getting their heads around digital, and one of the perks of a music journalist's working life was to receive untold amounts of clutter through the post; a deluge of CDs, band T-shirts, DVDs, occasional vinyl and weird, bespoke merchandise that only served to perplex. Yet such was the poor output that year that the endless pile was starting to depress me. Day after day I'd systematically work my way through the small environmental catastrophe on my desk, listening, writing scathing review upon scathing review and wondering what all the negativity was doing to my soul. We were living through a post-Libertines era of crack skiffle and what was neatly named "landfill indie". Bethnal Green Road in east London, where I worked, was teeming with bands of guileless, skinny white kids decked out in porkpie hats emoting purely in honking glottal stops. That period also saw the start of the insidious, inexorable rise of the ukulele, the ultimate modern symbol of blandification. Hard times.
In and among all the shiny refuse, however, came salvation, and I thank whoever it was that sent me the double DVD of Serge Gainsbourg's career-encompassing D'Autres Nouvelles des Étoiles because it changed my life. There are two volumes, with 88 videos in all, collected mostly from TV appearances. It begins with a nervy and rather geeky looking Gainsbourg singing jazz-inflected chansons in black and white in 1958, and ends with the worryingly dubious videos he made with his 13-year-old daughter Charlotte in 1986. And what a career in between.

Over three decades, Serge genre-hopped from jazz to pop and from funk to reggae with extraordinary panache. There were the duets with Brigitte Bardot, France Gall and Anna Karina, among others, and then with his longtime partner and muse, Jane Birkin, whom we still collectively remember as the elfin foil to Gainsbourg's raffish, open-shirted, Lee Cooper-clad, espadrille-wearing incarnation – even if we weren't there at the time. What really caught my eyes and ears initially were those rather kitsch and slightly raunchy pop videos made with Birkin for every track on Histoire de Melody Nelson. Appearing on the DVD at the outset of volume two, they were made with the most cutting-edge bluescreen technology known to humanity in 1971. When they went out on French telly, they were ephemeral vignettes of candy, but collected for posterity, they amplify the magnificence of Gainsbourg's undisputed chef d'oeuvre; by the conclusion of Cargo Culte – the final song in the video suite – I called off the search for the holy grail.
But it wasn't just Melody that had so beguiled me; from the off I was completely transfixed by everything Gainsbourg wrote and performed, and it was a little baffling that he'd evaded me for so long, hiding in plain sight. Sure, I'd heard of this arrogant Frenchman and I'd heard Je T'aime (Moi Non Plus); I knew he'd asked Whitney Houston to fuck him on live TV; I even had some drinking buddies in Dublin who spoke of him in hushed whispers when I visited, though I didn't take much notice at the time. It was ironic that, all of a sudden, Serge was now speaking to me directly, because I could barely understand a word he was saying. I wanted to know what all the dirty things he was singing about meant, so I enrolled in French classes. Six weeks of lessons later and I realised I still couldn't speak French and that it might take a bit longer than I'd planned.

I'd certainly had no interest in learning the language when I was at school – I gave it up before I'd even reached the GCSE years. There was no hint back then that I'd become what some pejoratively call a francophile; I didn't swoon over the classical French typeface Mistral, and I didn't get a twinge when my French teacher, Mrs Holloway, drove by in her Citroën 2CV. It didn't even bother me that my best friend, Kevin, and his parents got to indulge in the Normandy exotica of calvados and camembert for two weeks a year while my family holidayed in Cornwall (I lived in Cornwall, so it wasn't much to write home about, especially as we were at home).

My love of Gainsbourg did become a gateway to French culture, though, and through him I've discovered a galaxy of artists. It's an inexhaustible list and in no particular order or vintage currently includes Sébastien Tellier, Jacques Dutronc, Fauve, Christine and the Queens, Orval Carlos Sibelius, Air, Feu! Chatterton, Françoise Hardy, Moodoïd, and the Belgians Stromae and Benjamin Schoos … These records take turns on my record deck with Bowie, Roxy Music and Tom Waits. The thing that puzzles me about French culture and the UK's relationship with it is that it's right on our doorstep and yet we roundly ignore it. Is it just the language barrier or are there other issues at play? As the crow flies, Paris is only 50 miles further from London than Manchester in the other direction, and yet if you spent all day listening to the Smiths, Joy Division and the Fall you wouldn't get accused of being a mancophile, because that word doesn't exist.

Gainsbourg soundtracked my life and became a companion, inspiring me and being there during the good times and the difficult ones, too. When I gave up smoking, I vicariously puffed through Serge, who always had one lit. When I gave up drinking – which was more problematic – I vicariously drank through Serge, the "Intoxicated Man" of his own chanson. I no longer had the stomach for making a drunken arse of myself and decided to get sober, whereas Gainsbourg never quit anything in his life. Even after his first heart attack he resolved to smoke more, and later he invented the character Gainsbarre – his alter ego - who said terrible things and behaved scandalously, or at least that was how he justified it to himself. His plunge into self-destruction was almost admirable in its nihilistic ambition. It must be said that his alcoholism was the functional variety until near the very end (mine less so) and he certainly got a lot done despite that handicap.

Getting sober meant I suddenly had money in my pocket for the first time in my life, and the only thing that made sense to me at that time was to visit Paris. And so I went, and then I went again and again. I went to gigs and I flâneured and hung around drinking coffee, speaking terrible French, and I felt completely relaxed in a way I never could in London. I'm no great believer in serendipity, but sometimes life throws up coincidences that can truly astonish.

A couple of years ago I went on a date with Claire. We hit it off immediately. Unbeknown to me she'd fiendishly pretended to be based in London, because she thought if I knew that she really lived in Paris then it might put me off. Little did she know. We began dating, which soon became a long-distance relationship, and after some months of weekend visits and the rest of our evenings spent Skypeing one another, something had to give. We needed to make a decision about a future we wanted to share together. As a freelance writer I could feasibly write from anywhere, and as she was employed as a teacher in France she wouldn't be able to move back to London until the summer at least. In March 2013, Claire and I moved into boho east Paris together, and last month we got PACSed (France's version of the civil partnership). We're very happy here and she doesn't mind Gainsbourg, either, which could have been a deal breaker. I jest. Probably.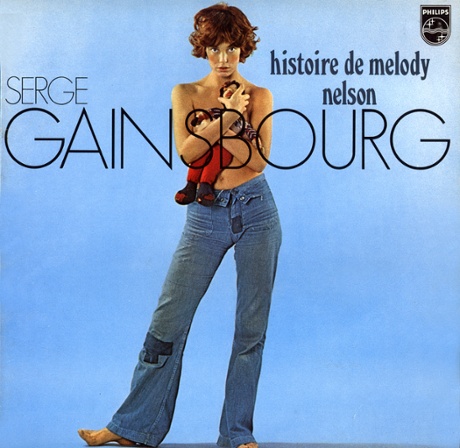 Gainsbourg lives a few miles down the road, reposing in Montparnasse cemetery, but he's everywhere in Paris, peering out of shop windows and playing on jukeboxes and sprayed in graffiti. He's France's Elvis. When I interviewed Joann Sfar, the French comic-book illustrator who directed the film drama Gainsbourg: A Heroic Life, he told me he thought Serge was like Elvis and Johnny Rotten rolled into one, such is his infamy in his homeland. I'll never get to interview Gainsbourg himself, of course, but I did get to put some questions to Jean Claude Vannier; Vannier is the genius orchestral arranger who worked hand in hand with Gainsbourg on Melody Nelson (he was curmudgeonly and gratifyingly eccentric). I've interviewed Charlotte Gainsbourg (I felt ghoulish asking her about her father) and her half-sister Lou Doillon (who was deliciously outspoken). I've not interviewed Jane Birkin, who is the closest thing to royalty in France, but she's at the top of my wishlist. Last month I had a tete-a-tete in the garden of a Montparnasse brasserie with Serge's old friend Marianne Faithfull, and when I dropped his name into the conversation she sighed and said poignantly, "I wish he was still alive."

What Gainsbourg might have achieved had he not died, in 1991, is open to conjecture, but for me there's still so much material to explore anyway. He was a prolific songwriter and penned classics for young artists from the yé-yé generation in the 60s to the franco-pop ingenues of the 80s. He was an actor, too, and he scored a lot of films of which I've only really scratched the surface. What's more, I'm still learning the language, and being able to fully understand many of his reputedly incisive double and triple entendres still seems a long way off. It's a passion that hasn't given up all of its secrets yet, and as the radio gets turned up I can only imagine becoming more enchanted as things make more sense. His lyrics are supposedly as ingenious as the music, which seems mind-boggling to me: I can't wait until the day when I've listened my way to fluency. Had I not discovered Gainsbourg, would I be living in France now? Who can be sure, though I doubt it. I can only tip my chapeau and proffer a hearty merci beaucoup. It just goes to show that you never know what might turn up in the post.