While some rock pundits continue to associate Slipknot with the nu-metal movement of the mid-to-late 90s, the reality is that the Iowans sounded its death knell. Their 1999 self-titled debut (1996's Mate. Feed. Kill. Repeat. is widely regarded as a demo, rather than an album proper) certainly exhibited a few nu-metal characteristics, but its musical core had little in common with the slick rap-rock of Limp Bizkit. Instead, as demonstrated on furious calls-to-arms such as Surfacing, Slipknot were re-appropriating the brutal, churning extremity of death metal and hurling it into a fresh context. As a result, both mainstream rock fans and underground diehards embraced the band.

Slipknot's sound has always hinged on the power and force of their riffs, but there is far more to their sound than mere metallic bombast. Eyeless is a case in point; its jittery breakbeats and squalling sound effects bring extra layers of chaos and menace to the band's runaway train momentum and fist-to-face ferocity. Lyrically, too, Slipknot went against the grain from the start, combining metal's abrupt defiance with a strain of surrealism and dark poetry that indicated a deftly expressed intelligence that has since become a hallmark of the band's music. And yes, there are few more peculiar singalong refrains than "You can't see California without Marlon Brando's eyes!"

It has long been a tradition at Slipknot shows for the entire audience to be ordered, by amiable but commanding frontman Corey Taylor, to down during the middle of this song. When its final blur of rampaging aggression explodes, the audience jump to their feet and go righteously mental. Snooty critics may mock such a simple act of physical unity, but the old cliche about heavy music providing catharsis for both its creators and those who embrace its music and culture rings particularly true when it comes to Slipknot. That a band so self-evidently extreme can command such a huge mainstream audience, while seldom compromising on a creative level, says it all about why this band have been so loved for so long.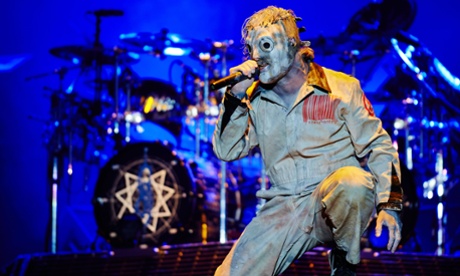 Released in 2001, Slipknot's second album, Iowa, somehow outstripped the rapacious intensity of its predecessor, taking the band into much darker and more threatening territory. Not just the only UK and US No 1 album to feature death metal blastbeats, Iowa was also evidence of a band undergoing some kind of demented collective meltdown. At times, you can almost hear nine men battering chunks out of each other while they scream with thwarted rage. But Iowa also boasted plenty of razor-sharp hooks and sublime shout-long sloganeering, exemplified by this, the album's explosive opening track.

At the other end of the sonic spectrum from their virulently infectious hits, Slipknot are also masters of a unique strain of twisted, hallucinatory sludge. Far more experimental and courageous than they are usually given credit for, the band ended their second album with this 15-minute journey into the depths of a hellish subconscious – both a warped tribute to their home state and a sustained assault on the senses that suggested that there was something rotten and wicked lurking within Slipknot's creative spirit. Astonishingly, this oppressive slow-motion tsunami of aural bile can be found on a chart-topping album.

By the time Slipknot reached their third album, they were hitting their stride as songwriters and were hellbent on experimenting as much as possible. As a result, Vol.3 – The Subliminal Verses was an album that bulged with killer melodies, brilliant ideas and moments of perfect synchronicity between the band's nine members. Duality is the album's big hit, not to mention one of biggest metal anthems of the 21st century. That now refined combination of bug-eyed sonic violence, lyrical bite and irresistible melody reached an exquisite climax here, with everything from Corey Taylor's breathy intro and that soaring, insistent chorus through to the exhilarating sound of Clown twatting a beer keg with a baseball bat … Basically, there's nothing about Duality that isn't magnificent.

One of the standard jokes about nu-metal was that the bands always had at least one apparently superfluous member cluttering up the stage. In stark contrast, being a nine-man outfit is Slipknot's secret weapon. They are, without fail, an extraordinary live act and a genuine spectacle, not least because of the fearless acrobatics of co-percussionists Chris Fehn and Shawn "Clown" Crahan. The dense and primal clatter of quasi-tribal drums is key to Slipknot's knack for sounding permanently on the edge of chaos, and it's never been used more effectively than on The Blister Exists. Towards the end of the track they turn into the marching band from Hell. It's brilliant.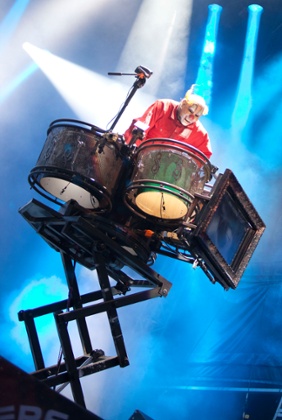 Another grand example of how Slipknot combine pointedly off-kilter arrangements and unhinged noise with tunes the size of Jupiter, The Nameless showcased the maturing of Corey Taylor's voice via an emotive chorus that would have seemed a little too overtly commercial, were it not for the scattershot, angular cacophony that precedes it. Vol.3 – The Subliminal Verses is a remarkably coherent album, considering how diverse its contents are, but it was moments like this that demonstrated how the band had taken some huge evolutionary leaps over their first decade.

2008's All Hope Is Gone eschewed its predecessor's unpredictable sprawl in favour of a more streamlined approach, but it was still another distinctly adventurous outing with Slipknot's many and varied influences colliding throughout. But every good metal band knows that the fans will always appreciate some no-frills, balls-out belligerence and Psychosocial fitted that bill perfectly. No other band /stomps/ like Slipknot and aside from its unstoppable hook, this instant live favourite has the impact of a size 14 hobnail boot on a snail. Metal elitists have always dismissed Slipknot as lightweights, but it's a fairly feeble charge given how relentlessly brutal they can be.

A tiny whiff of Alice In Chains permeates the menacing fog of Gehenna for a few brief moments, but in every other respect this is a classic example of how Slipknot can never be credibly accused of courting mainstream audiences. Songs like Dead Memories and Snuff may have given the impression that the band were softening up on All Hope Is Gone, but tracks like this reveal the truth. A slithering, lurching ooze of a song, Gehenna exists in a world a million light years from nu-metal's blank-eyed swagger. As much as Slipknot embrace certain shock rock tropes, their missives from the abyss have always come across as sincere, which may go some way to explaining how a band that sound like this can still headline arenas and festivals.