Some contend that the Beatles were the first boyband, but the Monkees were the first group purpose-built to actually be one – or to play the part of one, anyway, in the eponymous 1960s sitcom. The band themselves thought they'd been hired to portray "a rock'n'roll band", as Mike Nesmith put it, but they were a boyband by default – their boyish looks and chipper pop-rock attracted a huge constituency of young girls. Steppin' Stone was the B-side of I'm a Believer but also became a single in its own right in late 1966. It couldn't be more different from the jaunty I'm a Believer. The twangy guitar and disdainful, spat-out vocals are closer to Merseybeat, or perhaps the raw early Kinks, and the lyrics are a scornful takedown of a social-climbing ex-girlfriend. In the fade-out, singer Micky Dolenz – the only Monkee who actually appears on it, everything else being played by session musicians – screams himself into hysteria. It's not hard to see why the Sex Pistols would later cover it.
Gloria Gaynor's disco version, recorded three years after the Jacksons hit No 1 with this song, better captures the spirit of the lyrics: few could have surpassed the queen of disco as she squared up to the cheating partner she couldn't bring herself to leave. Michael Jackson, by contrast, hadn't reached his 12th birthday when the Jacksons made Never Can Say Goodbye in 1971, and couldn't address the subject with Gaynor's fervour. What sells the Jackson 5 version is exactly what Gaynor's take lacked: innocence, optimism and the purity of his 11-year-old voice. Even when he hits the pain-crescendo of "There's that same unhappy feeling, there's that anguish, there's that doubt," he blithely coasts through it. Well, when you're 11, "anguish" is something you feel when your new bike gets a puncture. Yet the track is stunning: Michael's performance is glorious, his brothers' harmonies spot-on and the subtle backing track is garlanded by a darting flute riff.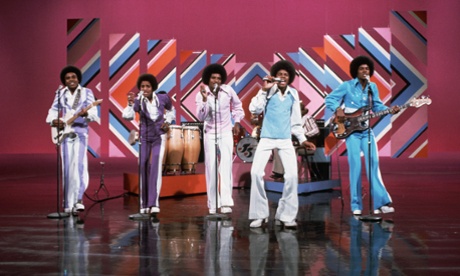 The earlier success of Edinburgh's Bay City Rollers gave fellow Scots Slik a boost. The Glasgow foursome duly seized their moment in 1976 with Forever and Ever, written by former BCR songwriters Bill Martin and Phil Coulter. It's a curio influenced by early 60s "teenage tragedy" songs; you could also argue that its doominess prefigured goth by several years. It starts with a funereal church organ, and the atmosphere is further chilled by a tolling bell and faux-Gregorian chanting. Eventually, singer Midge Ure – making his first appearance on a hit single – gloomily chimes in with: "As it was in the beginning, then so should it end / Don't let a lover become just a friend." Those first 40 seconds are possibly the most melodramatic ever recorded by a 70s boyband – when the incongruously bouncy chorus finally kicks in, it does little to lighten the mood. (An earlier version of the song by contemporaneous boyband Kenny, by contrast, takes the song up-tempo, to its detriment.) There's religious imagery throughout – "Ashes to ashes, dust to dust / Will love last forever? I know that it must" – and the wonder is that this actually reached No 1, briefly establishing them as major players. The follow-up, Requiem, was also strikingly desolate, proving heavy going even for the teenage girls who'd bought the first single; it only reached No 24 and Slik never had another hit.
Slik's predecessors, the premier boyband of the 70s, weren't the musical wimps their detractors claimed. There was a proto-punk snarl to some of their singles, they dabbled in disco on others and in 1977 they executed a complete change of direction. Harry Maslin, who'd just produced David Bowie's Station to Station, was brought in to oversee their new album, It's a Game, and he gave them a Philly-soul makeover that made them sound like a different band. This song is heavy with synths, strings and horns, yet light on its feet. Just two-and-a-half minutes long, it breezes in and breezes out again, piloted by Les McKeown's airy lead vocal. During the middle eight, guitarist Eric Faulkner whips off a creditably funky break, and the rhythm section is spot on. Sadly, the Rollers were in decline by then, and the song lacked the anthemic chantalong quality of earlier smashes like Shang-a-Lang (which, by the way, influenced the embryonic Sex Pistols). Consequently, it was too slick for their remaining fans, too lightweight for their older siblings. Though it made the top 10 in North America, it was their lowest-charting single in Britain, its sophistication falling on deaf ears.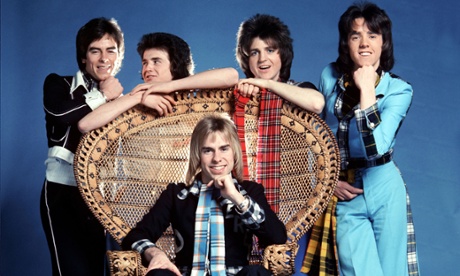 Though best remembered as the testbed for George Michael's solo career, Wham! were extravagantly endowed with pop nous. Michael and pretty-boy bandmate Andrew Ridgeley had exactly the right payload of cuteness and feigned naughtiness, and 19-year-old songwriter Michael had an astonishing grasp of melody and dynamics. On their first two records, he also steered away from the usual boyband lyrical preoccupations: debut single Wham Rap! was about youth unemployment, and Young Guns warned of the danger of settling down too young. Michael's lyrics pitilessly highlighted the reality of teenage marriage: "A married man? You're out of your head / Sleepless nights on an HP bed / A daddy by the time you're 21/ If you're happy with a nappy then you're in for fun." Though the song sounds dated – its bleating synth refrain has "1982" written all over it, and "HP bed" will baffle anyone under 40 – it's still tremendously propulsive. What really lifts it to glory is the vocal duel between Ridgeley and backing singer Shirlie Holliman (later of Pepsi & Shirlie). Playing the young bride-to-be, she sneers at Michael: "Tell this jerk to take a hike!" Groom Ridgeley vainly tries to placate her ("Sugar, he don't mean the things he said!"), and the whole song combusts.
The opening words of this 1988 single – "I get down to dry my hair with a little touch of gel" – aren't the ones Bros's manager wanted. His suggestion was that they start the song with "Hair covers my body, and my muscles feel like steel". Concerned that their young female audience, known as Brosettes, might be nonplussed – none of the band looked as if they had hair anywhere except on their heads – they nixed the idea and opted for the less smutty line. Even without that knowledge, which really perks up the song for me, I would have loved this track. Released while Bros were at their short-lived peak, it's a splendid example of attitude plus technology. It opened with a flurry of synth drums, which gave way to three minutes of compressed keyboard wonkiness that sounds like something experimental poppers Propaganda might have cooked up. (The three Bros members played conventional guitars and drums, but it's nigh on impossible to detect them amid the synthesised squees and braps of the backing track.) Then there was Matt Goss's baby-panther snarl as he demanded to be treated like a man rather than a boy. "I'm tired of the boy thing, I've got other things to do," he growled. "I'd like to be in politics, can't take another trip to the zoo." The fact that he sounded about 15 – he was actually 19 – makes it even more piquant. Marvellous.
A wonderfully idiotic song that owes a good deal to George Clinton's Atomic Dog, in terms of swampy funkiness, not to mention barking sound effects. The New Kids put a truculent 90s spin on the theme of an unfaithful partner being no better than a dog, muttering: "Don't think you can jerk me around / Now your ass is in the pound." A mid-song rap by hip-hop duo Nice & Smooth extends the canine metaphor, listing the brands of dog food the wronged narrator was saving up for his two-timing sweetie: "Here's the ChuckWagon … here's the Ken-L Ration and the Alpo too." Given that New Kids' audience was teenage girls, it's striking how full-throttle this song is: the band's tough-guy act feels like the real thing here, especially when they pile into the rumbling chorus ("Dawg! Dirty dawg! Oh, you're so damn dirty").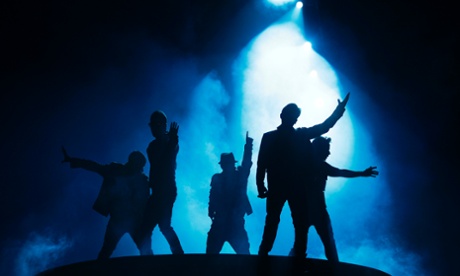 There's a case to be made for Robbie Williams's solo version of this strummy acoustic 1995 smash, which he covered on his first few tours after leaving Take That. He did it as a Ramonesesque punk howl – his little way of sticking two fingers up at its writer, Gary Barlow, and distancing himself from his ex-band's soft-centred balladry. But the original, featuring Barlow's doe-eyed lead vocal and cascading harmonies from the other four, is just as succulent. Say what you like about Barlow, but he inarguably has a gift for melody and arrangement, and Back for Good, which he claims to have written in 15 minutes, is one of his finest. It's become a classic guilty pleasure for people who wouldn't normally admit to liking a soft-pop love song – but why feel guilty? There's something about the way Barlow's voice shoots up an octave as he delivers the line "Got a fist of pure emotion" that makes the song easy to relate to.
Though Blue were conceived as the Brit answer to late-90s US teen titans N Sync and the Backstreet Boys, their first single ploughed its own furrow. All Rise had few of the elements that defined boyband music at the time: no hip-hoppy swagger, no glossy in-the-club beats. Instead, it's understated R&B with a trace of folk, and accented by that least cool of instruments, the accordion. If singer/MC Simon Webbe hadn't dropped a superfluous rap into the middle – most boybands of the era had a rapping member who injected grit as required – it could have been a lost 60s single. Distinctive and moreish, it's a fantastic debut; 13 years later, it's still a one-off – as different from the usual boyband run of things as accordions are from synthesisers (though both were used on the song). And although the girl-cheats-on-boy subject matter is familiar, there's a cute twist: the song is set in a courtroom, where the girl is on "trial" for lying (and wearing bad hair extensions, no doubt). "Objection overruled … the jury will decide … I rest my case!" they sing ringingly. It was a song that was hard to top, and they never did.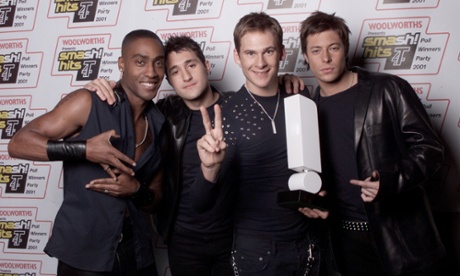 A significant problem faced by modern British boybands is the genre's narrow musical parameters. On the one hand, there's the pop-rock of McBusted and the Vamps; on the other, the rinsed-out R&B of Kingsland Road. Any group that diverges from those templates sounds wildly original, which is why Glad You Came, by British/Irish quintet the Wanted, is the only post-2010 song on this list. As with Blue's All Rise, accordion plays a central part on the Wanted's 2011 single, giving it a dash of cartoon-French melancholy, and the lyrics cleverly interlock, with each song-line starting with the last word of the previous line. It doesn't sound impressive in print, but hearing it ("Turn the lights out now / Now I'll take you by the hand / Hand you another drink / Drink it if you can …") is strangely hypnotic, particularly because each member sings a line in turn. It's a showcase for their strong voices, and it turns out that Max George – the one who pops up in the tabloids from time to time – has an especially resonant one. Not coincidentally, this was the Wanted's only hit in America.