2012: Bill Frisell The Great Flood

It's odd that a harrowing documentary about one of America's most catastrophic disasters ended up being one of the most uplifting and transcendent shows of 2012's London Jazz Festival. Guitarist Bill Frisell provided a live soundtrack to Bill Morrison's film about the 1927 floods that engulfed the Mississippi Delta. Morrison uses antique, bleached-out footage of the deluge (complete with harrowing shots of wrecked houses and washed up cattle carcasses) to tell the story of half a million flood victims who were left homeless. Yet, amidst the biblical horror, what shines through is mankind's resilience. One unforeseen consequence of the tragedy was that displaced blues musicians ended up migrating to the big northern cities, which meant that this previously insular folk music was recorded, electrified, forced into myriad fusions and turned into a global phenomenon. Frisell's distinctively wobbly guitar sound and Ron Miles's haunted trumpet captured perfectly that sonic journey, from blues to bluegrass, from ragtime to Americana, gospel to R&B.
2011: Hermeto Pascoal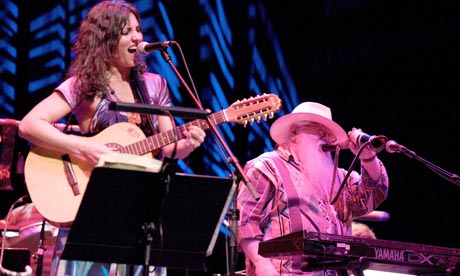 If any single jazz-inspired artist embodies the music-festival spirit - not just the London Jazz Festival, but almost any festival - it's the extraordinary Brazilian multi-instrumentalist and composer Hermeto Pascoal. LJF organisers Serious first brought Pascoal over in 1985 for the LJF's forerunner, the Camden Jazz Week, and his riotous conjunctions of Brazilian music, classical morphings, jazz, and solos on instruments from accordions to bottles, bells, kettles and his own manically gabbling voice have filled halls on his UK trips ever since. A 75-year-old Pascoal played a three-hour show at the 2011 LJF, and though the balance of his own sextet and a local big band wasn't always ideal, a programme that took in a free-jazz flute account of Dave Brubeck's Raggy Waltz, a dazzling solo set from bandolim star Hamilton de Holanda, collisions of Happy Birthday and Round Midnight and a blitz of improv on conventional and invented instruments rightly brought the house down. (JF)
2010: Sonny Rollins
Sonny Rollins' regular headlining appearances at the Festival over the years were due for a special Royal Albert Hall accolade in 2013, until a respiratory problem forced him to pull out. Before that glitch, Rollins' imagination and stamina had accompanied him all the way to his 80s, and his 2010 LJF performance was one of his finest - despite striking shows that year from Charles Lloyd, The Bad Plus, and a thrilling and unexpectedly jazzy one from pianist Robert Glasper. But though the newly-octogenarian Rollins rummaged in his usual bag of ballads and fierce calypsos, he barely slackened his intensity over a straight two-hour set, played an unaccompanied Ellington medley bubbling with fresh ideas, and stalked the stage on the grooving Global Warming as if he was never going to wind down.
2009: John Dankworth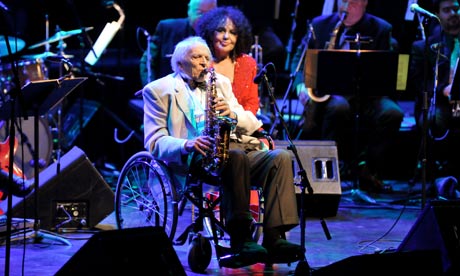 The London Jazz Festival went the extra mile to celebrate musicians, campaigners and educators John Dankworth and Cleo Laine at the Royal Festival Hall in 2009 - enlisting a big band, a choir and a string quartet to represent their sweeping achievements over 60 years at the top - but in the end it was Sir John himself, on a single whisper-quiet alto sax solo, who brought the packed house to its feet. It was one of the most poignant events in the festival's history because the ailing star's appearance was doubtful until moments before he was wheeled onstage, and he was clearly summoning up fleeting reserves to play at all. But the audience was primarily moved by the music, not by sympathy. Dankworth's soft, clarinet-like sax sound told a unique story, from falling in love with American jazz in the 1940s, through a lifetime of making it his own, and finally playing a farewell to the music, and the audience he and Laine had helped build. He died a little over two months later, on 6 February, 2010.
2008: Jack DeJohnette/Sibongile Khumalo

The last weekend of the 2008 festival left a clamour of typical LJF memories. A dishevelled trio playing Jingle Bells on trumpet, accordion and plastic-can percussion on Hungerford Bridge, ten Japanese baritone saxists honking their way around Foyle's bookshop, pianist Neil Cowley's whistlestop gigging all over town - and most memorably, the great American drummer Jack DeJohnette's radiant QEH gig with South African singer Sibongile Khumalo, Grammy-winning pianist Billy Childs, and an impromptu band including Britons Byron Wallen (trumpet) and Jason Yarde (sax). A classical vocalist with free-improv, straight-jazz and African traditional-singing skills, Khumalo was a revelation whether soaring operatically, cruising on Latin grooves, or soloing in Miriam Makeba-like percussive clickings, and DeJohnette's closing tom-tom solo was as melodic as a collection of songs. The gig symbolised the LJF's culture-crossing breadth, but also its confidence that a hastily-assembled group can be inspirational if the recruiting is smart enough. JF

The sold-out Royal Festival Hall can be attributed to the presence of Barry Adamson, the erstwhile Magazine and Bad Seeds bass player. He'd taken a break from making (real and imaginary) film soundtracks to reinvent himself as a theatrical Las Vegas-style crooner, with a band that leapt between rough-and-ready garage rock and meticulously arranged soul-jazz. However, it was a saxophonist signed to Adamson's label, Matana Roberts, who more than held her own in this huge venue. Roberts had already garnered something of an alt-rock following – she'd guested with the likes of TV On The Radio and Godspeed You Black Emperor, while her Chicago quartet here featured the scribbly guitar of Jeff Parker from Tortoise – but this was an uncompromising, full-on session that suggested brave new directions for the acoustic quartet. Roberts's alto sax squawked and swooped and went deep into ecstatic free jazz territory, but there was always a narrative thread linking her improvisations that kept the audience enraptured. (JL)
2006: EST/Polar Bear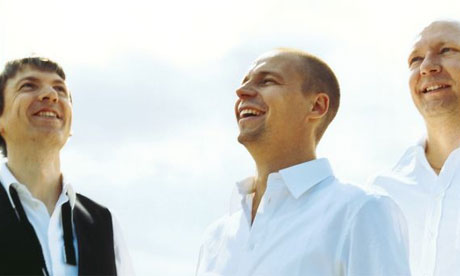 Pianist Esbjorn Svensson's trio had been around for over a decade (and in two years would be felled by the gifted Swede's tragic death) and acquired international supergroup status when they shared this LJF bill with new postbop-meets-Radiohead British quartet Polar Bear. The bands were different, but they could both entice young audiences with an improvised instrumental sound that reflected world-music, classical forms and avant-rock at least as much as jazz. Polar Bear, sometimes rather mournful, played a fast, rough-edged set reflecting drummer Seb Rochford's restrained power and new recruit Leafcutter John's spiky electronics. EST showcased their new Tuesday Wonderland album, and if the mix was becoming familiar, Svensson's soft touch, Dan Berglund's guitar-like double bass, and stretched improv exchanges that reflected their long association together, worked its old magic. (JF)
2005: Maria Schneider

Jazz as passers-by tend to characterise it - busy sax and brass lines, straight-swinging drumming, strings of solos - has always had its place on the LJF, but the programmers have always sought to steer their shows away from the generically predictable. The luxurious orchestral sound of the former Gil Evans apprentice composer Maria Schneider provided an unforgettable example in 2005 - on an LJF year of hot competition for unusual jazz incarnations, including Jason Yarde's Britten Sinfonia collaboration with classical pianist Joanna McGregor, and Coltranesque saxist Charles Lloyd's dialogues with tabla star Zakir Hussein. But Schneider's orchestra was an ethereal magic act, billowing with throwaway horn motifs good enough to imply whole hidden pieces, diaphanous flutes hovering behind plummy flugelhorns, and quietly punchy Gil Evans-like chords behind Donny McCaslin's tenor sax on the exultantly beautiful Hang Gliding. (JF)
2004: Graham Collier
The late British composer Graham Collier was good at firsts - first British student to graduate from Boston's Berklee jazz school, first British jazz musician to win Arts Council funding, first to spot the talents of the Django Bates circle when he mentored the London rehearsal band that became Loose Tubes in the 1980s, first jazz professor at the Royal Academy of Music. Collier had been a big influence in British jazz for almost 40 years when he celebrated all that and more on the 2004 LJF, in a dazzling display of updates and new work that, as ever, emphasised his encouragement of great improvisers - trumpet legend Harry Beckett, and saxophonists Chris Biscoe and James Allsop were among the soloists in a classy big band. Beckett's warm, chuckling sound - and John Marshall's drumming - are big features on the composer's Aberdeen Angus, which got an updated outing on the 2004 LJF show. (JF)
2003: Joe Harriott Tribute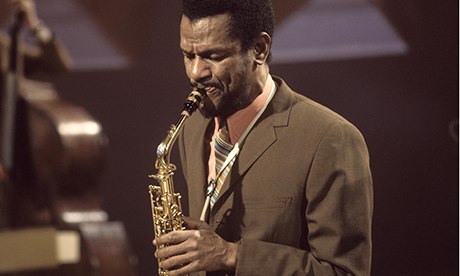 It seems extraordinary now, but when this tribute concert was announced, Joe Harriott (1928-1973) had almost slipped off the radar, his records no longer in print, his name absent from jazz encyclopaedias. But fellow alto saxophonist Soweto Kinch was part of a new generation who were determined to reclaim Harriott's extraordinary legacy. Here was a black British musician who'd pioneered free jazz independently from the likes of Ornette Coleman; who'd introduced the music of his native Jamaica into the jazz vocabulary; who'd explored Indo-jazz fusion long before the Americans had made it hip. Kinch assembled a young band, featuring pianist Andrew McCormack and trumpeter Byron Wallen, to interpret music from Harriott's albums Genius, Free Form and Abstract. But he also joined a trio of veteran musicians who had all worked extensively with Harriott – pianist Michael Garrick, bassist Coleridge Goode and percussionist Frank Holder – with a combined age of 250. (JL)
2002: the Norwegian invasion
There were lots of Europeans making a splash at 2002's London jazz festival – you could have seen Portuguese singer Mariza, who now headlines arenas, making her low-key UK debut, and Polish trumpeter Tomasz Stanko in the Queen Elizabeth Hall. But, throughout 2002, it was Norway's vibrant music scene that had started to make a splash across London, and a few were still around by November. Veteran pianist Ketil Bjornstad was at the Purcell Room playing deliciously minimalist settings of John Donne poems, featuring Aneli Drecker on vocals and Jan Bang on electronics, while singer Mari Boine was taking the atmospheric Arctic folk music of the Norwegian Sami community into electronic territory at the South Bank. Most startling of all were the Scorch Trio, who gatecrashed a six-hour Adventures In Sound concert at the South Bank. Even up against stellar talents such as Matthew Shipp, DJ Spooky, Evan Parker and Matthew Bourne, it was the Norwegians' mash up of thrash metal, low-volume improvisation and electronic gurgles that seemed to open new musical doors. (JL)
2001: The Wayne Shorter Quartet
An 80 year-old Wayne Shorter is the biggest star of this year's LJF, but the quartet that added a new chapter to his prolific playing life only formed in 2000 – and this performance at the Royal Festival Hall unveiled it to British audiences. Shorter arrived with the young trio of Danilo Perez (piano), John Pattitucci (bass), and Brian Blade (drums), and when the protracted roar of welcome finally died down, he edged into action with typically elliptical tenor-sax swoops ending in half-suppressed yelps, hung his faintly mournful sound way behind Blade's emerging staccato pulse, fastidiously threaded his way through a churning ensemble sound, and was fragile and austerely poetic against Pattitucci's mellifluously accurate bowed playing in a long soprano-sax exposition late in the set. A real standout in the LJF story, the show was the work of a great jazz virtuoso, but just as importantly a great creative collaborator. (JF)
2000: Paul Motian with Chris Potter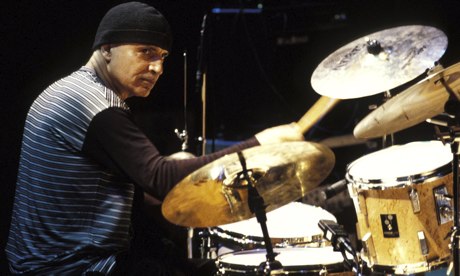 There were certainly funkier gigs, and shows waving more obviously populist flags during the millennium-year LJF, but drummer Paul Motian's acoustic trio with saxophonist Chris Potter and bassist Marc Johnson took the honours for group empathy, sax inventiveness, and mastery of texture and colouration at a drumkit. In those respects, their Purcell Room gig distilled what jazz, at its most conversationally spontaneous and cliche-free, can be all about. Potter, nowadays one of the most acclaimed jazz saxophonists in the world, played beautiful improvisations on bumpy Ornette Colemanesque tunes, dreamy tone-poems and the occasional camouflaged standard, Johnson was dynamic as a counter-melodist and cello-like as an arco player, and Motian's call-and-response exchanges with both were as musical and appropriate as drumming gets. Here's Motian, Potter and pianist Enrico Pieranunzi in Rome two years later. (JF)
"I don't see myself as a jazzer," said Wyatt. "But jazz is the fountain from which I drink, so it's not surprising if I piss some of it out in my records." Wyatt didn't actually take part in this tribute – he and his wife Alfie watched from the Royal Box while some of his favourite musicians performed delightfully woozy, expansive versions of his songs, ranging from 1974's Sea Song up to 1997's Free Will And Testament. Wyatt's voice was once described, by Ryuichi Sakamoto, as "the saddest sound on earth", and trombonist Annie Whitehead and singer Julie Tippetts managed to reimagine that mournful timbre, with light relief provided by trumpeter Harry Beckett and some of Wyatt's old Canterbury scene pals (Phil Manzenera, George Khan, Didier Malherbe). These elegant arrangements proved the adaptability of Wyatt's music, and many of these songs have since become oft-recorded fixtures of the jazz and rock canon. Wyatt, of course, was back at the South Bank two years later as curator of the Meltdown Festival. (JL)
An acting role in Robert Altman's Kansas City (in which she played Mary Lou Williams) gave pianist Allen a window of celebrity, assisted by brief spell on major label Polygram. It combined to make her 1998 album The Gathering something of an event, and the subsequent gigs were assisted by an all-star band, including Allen's husband Wallace Roney on trumpet and Robin Eubanks on trombone. Allen had long left behind the cryptic, headache-inducing rhythms of the M-Base school from which she emerged, but she had become skilled at embedding these influences deeply. Throughout this concert she threatened to lurch into full-on jazz rock but, by holding that power in reserve, she made it all the more effective. (JL)
1997: Charles Lloyd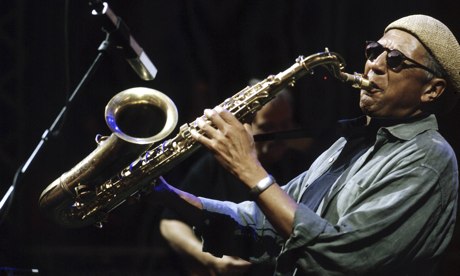 The LJF became the Oris London jazz festival (the first time one of its sponsors shared the title), was up to 130-odd gigs, and now embracing with equal ambition and enthusiasm African-American legends like McCoy Tyner and Charles Lloyd, newer stars from the same roots like Roy Hargrove, Fred Hersch and Danilo Perez, and many of the cultural energies aglow in London – from India, the Caribbean and Africa. The severe deconstructivist scrutinies of legendary British noise/improv group AMM even shared 1997's broad programme. But the comeback of American saxophonist Charles Lloyd (an early jazz-fusion hero from the 1960s who had discovered the then unknown Keith Jarrett) was one of that festival's most memorable events. Lloyd appeared with a superb group including Swedish pianist Bobo Stenson and drummer Billy Hart, played material from his new Canto recording for ECM, and revealed in his autumnal years that his control of nuance on a tenor saxophone, the implication of melodic movement with the merest whispers and sighs, was a whole new force to be reckoned with in contemporary jazz. (JF)
1996: Mike Westbrook's Bar Utopia
After the emergence of his creative and original big band in the late 1960s, British composer Mike Westbrook was heralded as one of a handful of UK jazz musicians staking out ground not necessarily already cultivated by Americans. Westbrook and his vocalist/composer wife Kate began applying jazz methods to European music-theatre, cabaret, brass-band music, settings for poetry and opera, and a lot more. For this year's festival, they presented what they called the Orchestra of Smith's Academy (a private joke about Smith's Hotel in Glasgow, where Mike Westbrook had apparently had a eureka-moment while composing) on a rich repertoire reprising landmark originals like The Cortege, a casually dissonant arrangement of It Don't Mean A Thing if it Ain't Got That Swing, and then Bar Utopia – containing some of the most jubilant and open-handed Westbrook music in years, full of typically slithery, jostling themes, lots of uncluttered blues and bebop, riffs that reverberated like Hit The Road Jack, and a big, thumping trad-band finish. (JF)
1995: Art Ensemble of Chicago
By the time it came to the 1995 LJF, the Art Ensemble of Chicago was the longest-living big-time free-improvising band in the business, joining African-American musical traditions with exhilarating blasts of pop, gospel and blues. An even more startling chemistry this show revealed was the enthusiasm of the jazz-loving chancellor of the exchequer of the day, Ken Clarke - who reportedly went backstage after the 150-minute straight-through show for animatedly detailed discussions on free-jazz with the band members. The AEC showed that free-improvised jazz could be joyous, swinging and theatrical, as agile as a bebop group, as raunchy as a blues band – or as sonorous as a drum-choir – they brought a raft of Senegalese drummers into this gig to emphasise that effect. This was also the year the LJF started to expand, spreading over town with gigs at Watermans, the ICA, Shepherds Bush Empire, Blackheath and elsewhere. (JF)
1994: Clusone Trio
Chick Corea, Jack DeJohnette and Joshua Redman were among the stars of the second London jazz festival, but just how firmly this new event's roots were planted on both sides of the Atlantic - as opposed to plenty of glitzy earlier UK jazz festivals, which mainly staged globetrotting American tours – was symbolised by Britain's Django Bates with Delightful Precipice, and Holland's Clusone Trio. The group comprised virtuosic drums eccentric Han Bennink and classically trained but surreally unpredictable cellist Ernst Reyseger, with Netherlands-resident American saxophonist Michael Moore. Their laterally lyrical set that year spliced quiet bop, strutting calypso, Bennink's mixture of drum virtuosity and circus pratfalling (he drummed on his kit, on the floor and on his teeth), and some delectably soft and impressionistic free-playing, as if they were some kind of wackily cool free-improvising Jimmy Giuffre group. The winds of jazz tastes were changing direction, and the Clusone Trio were the embodiment of it. Here they are in the first flush of their 10-year game with jazz, in 1990. (JF)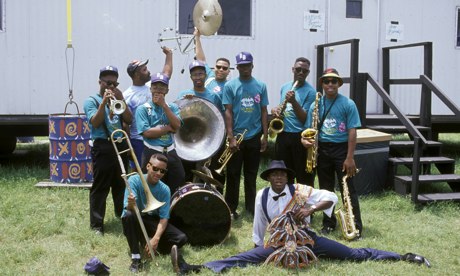 Some might have considered that the Serious/Speakout operation, as it then was, had bitten off an indigestible mouthful when it launched the London jazz festival (as a three-borough, multi-venue event built on the foundations of the old Camden jazz festival) in 1993, but they began with a confident shout that has reverberated through the decades since. At Islington's Union Chapel in May that year, the young Rebirth Brass Band from New Orleans played the opening night (alongside British soul, jazz and blues legend Carol Grimes) as if it was a resounding finale, and in their combination of roots jazz, Headhunters funk, pop and reggae, they were the perfect harbingers of the idiomatically freewheeling and inclusive LJF yet to come. That year's festival, embracing Nitin Sawhney, Stan Tracey, Anthony Braxton, and a Shape of Jazz To Come crossover event at the Forum, were early indications of the process under way. (JF)
London jazz festival 2013 takes place from 15-24 November at venues across the capital