A tour guide is showing people around Harpa, Reykjavik's new-ish, architecturally bonkers conference centre and concert hall. There are banners for the first Icelandic Sonar draped around its many foyers. "Today," she cheerfully explains, "we will mostly have young people dancing to the different beats."
Having already spawned several city babies from its Barcelona mother hub, Reykjavik feels like a natural home for Sonar. It does electronic music well and parties even better. It's strange, then, that there are only moments when this feels like a festival.
There are a couple of problems at Sonar Reykjavik. One, the lineup is incoherent. There's a strange pacing here, lifting and deflating moods. The excellent Sisy Ey, a local sisters who produce a sort of upbeat 90s-ish diva house not unfamiliar to fans of Azari & III, pack out the biggest hall early on the first night, only to see it empty when Thugfucker – really not as fun as they sound – follow it with a too-cool set of dry tech-house. There are DJs hammering out huge party sets at 8pm to an empty carpark in the basement, while Asgeir Trausti – "like an Icelandic Bon Iver", a local tells me, not enthusiastically – plays at 10pm when people are limbered up for dancing. It's disjointed.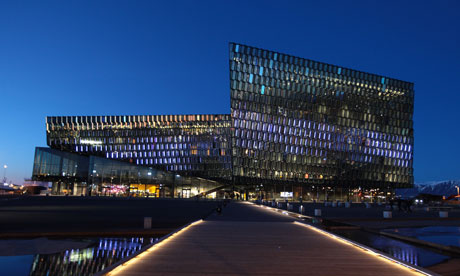 The second problem is that it's really loud. I realise that in light of all the Hyde Park drama of recent years, it feels churlish to accuse a music festival of pumping the volume up. But my hearing has been dampened by a good few years of music writing and I still found this tough (I've been to dance shows in the US of similar noise levels where staff have handed out earplugs on the door). Some acts made the most of it, like the completely crackers Ghostigital, who look as if they're fronted by a drunk TV host in the middle of a Studio 60-style meltdown, and sound not unlike that too, with a jumble of woodwind, turntables and distorted drum'n'bass. More subtly, a day later, James Blake shakes the bones of his audience with an astoundingly mammoth bass sound that felt like palpitations. I'm not a Blake fan – he needs to stop warbling, take a deep breath and get on with it – but this wobbled the walls and the floor, to stunning effect, particularly on more upbeat tracks such as CMYK.
However, as with most small, new festivals there are plenty of unexpected treats. A DJ set from Gluteus Maximus, a duo made up of DJ Margeir and President Bongo, of GusGus (I swear at least half the acts here are members of GusGus), is what I thought Thugfucker would look and sound like. There are two people in Satanic hoods lifting weights at either side of the stage as strobe lights flicker. John Grant, who lives in the city and is about to release his wonderful new album Pale Green Ghosts, pops onstage for a quick guest spot. A man growls "I wanna go down on you" ominously, while sporting what looks suspiciously like a leather cap. It's all gone a bit sexklub.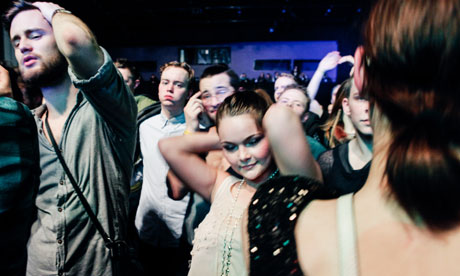 Similarly arresting, though less in a sexy way, more as if they're thinking about killing you, are Germany's Diamond Version, an aggressive, austere onslaught of experimental techno. "Science for a better life … technology for innovators … the power of choice … OUR MISSION" runs a giant digital ticker tape behind them, as a pounding drone-dirge rings out. It's the first thing that sounds truly impolite and it's thrilling. I've seen standalone concerts at Harpa before, and it's a spectacular venue, but maybe it isn't meant for a festival such as Sonar. In this context, it feels too formal, too sterile. However, there's certainly potential for Sonar to be right for Reyjkavik.