Sometimes a record inspires belief even among the most sceptical.
When news arrived late last year that Bobby Womack had been in the studio with Damon Albarn and producer Richard Russell, it sounded unlikely. Although he'd made an appearance on the last Gorillaz album, the singer hadn't made a record of his own in more than a decade, and that was a Christmas album. The Womack story is one of highs and lows, and for two decades this scion of 60s soul been a crack addict. The chances that he'd now create – to his mind – "the best thing I've ever done" – were slim.
That quote about his achievement comes from Womack's interview with Alexis Petridis in May this year (a leading contender in any rundown of the best interviews of 2012); it took place at Womack's hospital bedside in California, complete with interruptions from a nurse intent on administering the 68-year-old his medication. In it, Womack delineated the debt the owes to his forebears: Marvin Gaye, Jackie Wilson, Wilson Pickett and especially Sam Cooke (Womack was also Cooke's protege – and after Cooke was shot dead, he married his widow and mired himself in scandal). To make a record with the singer from a Britpop band and a producer he didn't know surely amounted to a considerable leap of faith.
The same could be said for that pair, even if Richard Russell has form in this area after working with Gil Scott-Heron on I'm New Here in 2010 (his first release of original material in 16 years and also his last ever album). Russell also runs XL, the independent label responsible for Adele's 21 – a record released last year, but which is still the third bestselling album of 2012. "Never in my 50 years have I had the president of a record company come in and play with me," Womack subsequently related, adding: "I didn't understand a lot of things they were doing, to tell you the truth.
"I'd say: 'Damn, what the fuck is that?' They said: 'That's you! Took your voice, speeded it backwards.' I would never have dreamed of doing stuff like that, but I wanted to related to the people today."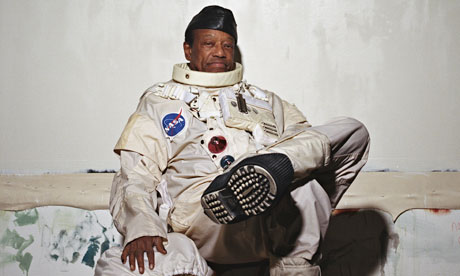 The record that emerged was only 37 minutes and 12 seconds long, but it amounted to a career resurrection. The contrast was between Womack's still extraordinary voice and the skeletal electronic arrangements: drum pad brushes, strings, spacey piano chords. Some critics posited the idea that Russell and Albarn were trying to emulate the grainy sound of a Burial record (perhaps mindful of the excellence of Jamie xx's deft reworking of the Scott-Heron record as We're New Here), but to these ears the album didn't sound self-consciously modern; instead, intentionally or not, the bass on If There Something Wasn't There brought to mind Massive Attack's Blue Lines, while the harpsichord on Whatever Happened to the Times carried that same ethereal quality as Primal Scream's Higher than the Sun. Lana Del Rey's guest appearance on Dayglo Reflection could have been there to curry favour with trend-chasers but it didn't jar; likewise with Malian singer Fatoumata Diawara, who featured on Nothin' Can Save Ya. In fact, it felt as if both had happened to wander into Albarn's studio at a propitious moment and were then roped into the project, but that improvisatory quality made the results feel all the fresher.
Elsewhere, there were points at which you suddenly remembered that Albarn had written the record: the "sha-da-doo-dah" refrain on Stupid, for instance. But for the most part, Womack inhabited the songs wholly.
It's been a year marked by great albums by some of his peers – Bob Dylan, now 71, with Tempest; and Leonard Cohen, 78, with Old Ideas, in particular. Both of those records, as their titles betray, concerned themselves with a settling of scores, even among the wisecracks. The same can be said of The Bravest Man in the Universe, with the wisdom on display feeling well earned. Sometimes that meant a tone of melancholy and regret; but there was also the uplifting warmth of Love Is Gonna Lift You Up (with Jessie Ware on backing vocals), or even the beserk closing stomp of Jubilee (Don't Let Nobody Turn You Around), the most fun that could be found on record in 2012.
(But to rewind: while we're on the subject of more necrotic rock revivalism, do also bear in mind the Rolling Stones, whose first ever UK No 1, It's All Over Now, Womack wrote and originally recorded; and note what he said to Alexis Petridis about Mick Jagger: "Some people never grow up if you give 'em too much. They gonna be assholes, then they just become a bigger asshole.")
Most affecting of all, however, was Womack's take on the old spiritual Deep River, on which everything was stripped away, leaving just the singer and his guitar. Here was the definitive proof that "Bad as I been, I can sing my ass off, better than I could before" – and that bad as Bobby might have been, there is still a deep connection that leads from him back to his soul forebears to the gospel roots of this music. For the listener with no religious leanings whatsoever, in his performance there was a reminder of the higher power of music.
Oh, and never mind showing that he still had some tricks up his sleeve: with its image of Womack's crooked thumb, what album had a better sleeve this year, too?