Erasure's new album – their 14th! – is something of a change for the band. The clue is in the title, Tomorrow's World, which fits neatly with their fresher, more up-to-date sound. This comes courtesy of producer Frankmusik who has taken the Erasure trademark – great tunes and lots of synths – and made it sound like a record from 2011. Let us know what you think in the comments section below. But first, here's the band's track-by-track guide …
Be With You
Andy: The song is really a hymn to a lover, telling them don't forget me even though I'm far away. In the demo version of this song, the verses were slower and less frantic.
Fill Us With Fire
Andy: This is one of my favourite songs from the album and had the working title "Big Song". It's about salvation, spirituality and enlightenment – and a lot of what's going on in the world today.
What Will I Say When You're Gone?
Andy: This is one of the most personal songs on the album, covering the things happening in my life at the time and the things I was dealing with. Written in New York, it had the original working title of "Geese".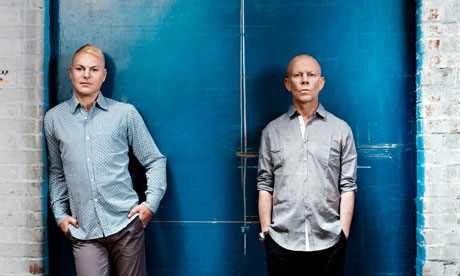 You've Got to Save Me Right Now
Andy: We recorded a demo version of this in Maine in Vince's studio and it was one of the first songs we received back from Frankmusik after he had worked his magic. This was going to be the first single from the album, but was changed at the last minute.
A Whole Lotta Love Run Riot
Andy: This is another of my favourite tracks on the album. Frankmusik did a radical reworking of the song from the original demo. It was recorded in New York, I loved the way it turned out as a full-throttle disco tune. This song is about the fame game, and that you're worth more dead than alive – which is very sad.
When I Start To (Break It All Down)
Vince: This is the first single from the album and had the working title "Tender". It was loosely based on Love Me Tender by Elvis Presley –
then it got mashed up.
I Lose Myself
Andy: This is really just about being out and having a great time. And is probably one of the songs that has changed the least from the original demo.
Then I Go Twisting
Andy: This had the working title "UK Vibe 2". The song is just about letting go and thinking "What's the point of everything?!" It's a simple song, just a reflection of modern life in the UK. But I like it.
Just When I Thought It Was Ending
Andy: The final song on the album. Again, it's another personal song …